2012 - Year of the Real Estate Recovery?
Posted by Debbie Drummond on Thursday, December 29, 2011 at 3:24 AM
By Debbie Drummond / December 29, 2011
Comment
As 2011 comes to an end, we are seeing several indicators that the real estate market is beginning to improve across the U.S., and in Las Vegas in particular. From the Wall Street Journal, we have today's article which outlines several indicators ranging from National Assoc. of Realtor's report that pending home sales jumped to the highest level in 19 months in November.
A second article in today's Wall Street Journal outlines that the big Hedge Funds have been "buying housing-related investments, betting on a rebound".
The above stories are from a National viewpoint. In Las Vegas, we are seeing our inventory continue to dwindle. As of today, December 29, we only have 9253 single family homes, 1612 condos and town homes, and 401 high rise condos available for sale. We sold 37,207 single family homes, 9086 condos and town homes and 852 high rise condos through the Greater Las Vegas Association of Realtors MLS over the past 12 months. This breaks down to a 3 month supply of single family homes, 2 months of condos and town homes, and a 5.6 month supply of high rise units. While the high rise inventory may look more like a balanced market, if you look at the newer, most desirable buildings such as SOHO, Newport, Turnberry Towers, Trump, etc., the inventory is much more limited. In fact, in that category we expect 2012 to be the year when buildings such as Turnberry Towers, the Martin and even CityCenter to start selling their remaining,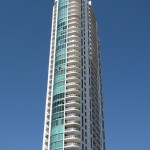 never sold inventory.
I've repeated many times that NAR views a six month supply of inventory as a balanced market. More than that favors buyers and less than six months favors sellers. We have definitely entered the "seller" inventory. While the prices are currently low, a prolonged period of low inventory will see pressure raising prices.
In addition to the declining inventory available, a recent article in Realtor magazine outlines a brighter employment future in Las Vegas. In a list of the top six States for job growth, Nevada came in second to Texas with a 2.9% growth predicted over the next five years. Lower unemployment, is the best possible answer to our housing crisis. It will help new buyers qualify for a mortgage and help existing owners hold onto their homes.
While we don't have a crystal ball, I would encourage anyone thinking of buying to act sooner rather than later. Prices may not go sky-rocketing right away, but your choices are likely to be more limited. On the bright side, if you are not prepared to act now, we do have some very nice options coming online for new construction.