2016 Home Design and Market Trends
Posted by Debbie Drummond on Thursday, January 28, 2016 at 6:34 PM
By Debbie Drummond / January 28, 2016
Comment
NAHB's International Builder's Show is all about the latest design trends. It was held in Vegas last week and we saw some awesome products. The show was packed. A sure sign that things have changed since the doom and gloom years of the housing collapse. This is a great show to attend if you are serious about Real Estate. The show also covered the economic outlook and the demographics of today's buyers. It's a must go event for anyone involved in the housing market.
Exciting Design Trends for 2016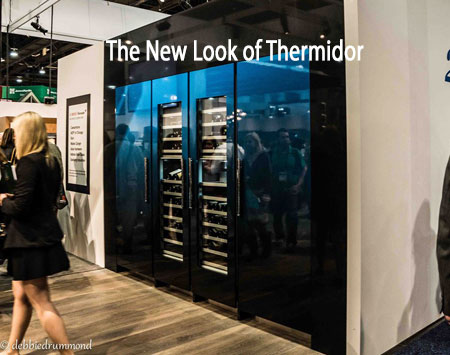 Before we get to the economic news for 2016, the new design trends are awesome. Our favorite was the "Culinary Preservation Centers" by Thermidor. Judging from the number of people jumping in front of the camera to open them, they're a hit. These refrigerators are colorful, bold and offer wine coolers as part of the design. No wonder they tied Lowe's Holoroom by Marxent for Best Kitchen Product. The Holoroom is an amazing 3D Virtual Tour to help users design their kitchen. We give the prize to the Thermidor "Preservation Centers". Holoroom users are going to want the Thermidors in their kitchens.
Thermidor's new Preservation Centers are more of a high end product. The new "Black Stainless" appliances are likely to show up in more homes. "Black Stainless" will replacing it's shinier cousin that has been popular years. LG had the new "Black Stainless" on display at the show. View all the winners of NAHB's "IBS Product Winnerss at 2016 International Builders' Show"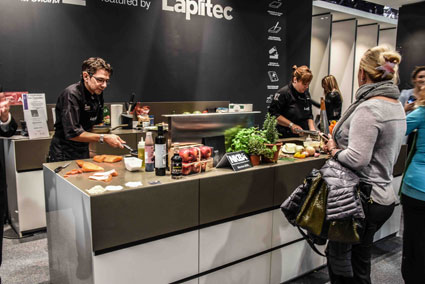 Hard surface floors and counter tops were well represented on the exhibit floor. We're not big fans of carpet so we didn't go looking for it. In hindsight, we didn't notice it on display either. From the presentations we joined, hard surfaces are the trend. Caesarstone introduced their new colors. We liked the clean cool feel of the Statuario Maximus. The Tuscan Dawn would be a great look for someone who prefers the earth tones. It will be a few months before we see them in showrooms and homes.
Rivals to Caesarstone included Lapitec. Their booth featured Chef Mario Cassineri from Best Chef's America 2013. Cassineri cut produce, chicken and fish on the Lapitec hard surface counters. He whipped up a dish of sauteed chicken, cherry tomatoes and asparagus. Then he served it on the bare counter. Finished it with a spinkle of green onions and poured a balsamic reduction over it. After putting it on serving plates, a wipe down with a damp cloth left it spotless.
Clean up was easy, just water and a cloth. We asked what happens if you have a clean freak who insists on using abrasive cleansers? He said, "no problem". Lapitec can withstand sharp knife blades, oils and even a steel wire brush. Lapitec's on my list when we opt for a new kitchen. Could be a great flooring option with our pets too.
Other trends to expect in 2016
"The average size of a new construction home was 2721 sf in 2015", Rose Quint, NAHB's VP Survey Research. Quint doesn't expect a the average size to decline much until we see more first time buyers. First time home buyers tend to buy homes that are 20% smaller and 34% less expensive. An increase in first time buyers would need more affordable, smaller homes.
What do new home buyer's want?
Walk in closets in the master bedroom and separate laundry rooms. Energy star appliances, low-e windows and programmable thermostats are high on the list. Open floor plans with great rooms are preferred over formal dining and living rooms.
Jill Waage, BHG Brand Executive Editor agreed with Quint's findings. She pointed out the popularity of outdoor living spaces for entertaining family and friends. Buyers want covered patios, man caves, she sheds and even pub sheds in the backyard. What they don't want in the backyard is maintenance.
The Best American Living Awards (BALA) included "Intimate Outdoor Spaces". Fire pits and seating for intimate get togethers are the rage with today's buyers. Think cozy rather than the baseball sized backyards of yesteryear. This is good for Las Vegas home owners since the majority of our homes are on less than a quarter acre.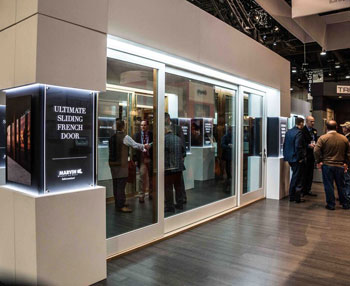 Outdoor living goes hand in hand with retractable glass walls. Our show favorites were the NanaWall or Marvin's "Sliding French Door". This is another trend that has become popular in the Las Vegas climate. It started in custom luxury homes. Toll Brothers, Richmond American, Pulte and many production builders offer retractable doors. Why wouldn't they be popular in Las Vegas? Our climate lends itself to outdoor entertaining most of the year. Plus, we don't have mosquitos or many pests to interfere with our outdoor entertainment.
Last but not least, bathrooms continue to be an important area in the home. New home builders are trying to create the spa bath. Kohler reports white is still the top selling color for fixtures followed by Biscuit. Undermount sinks continue to be the most popular, with pedestal sinks gaining popularity. Faucets are moving beyond brushed nickel to champagne, copper and other shades.
Housing Headed to Higher Ground in 2016
"Job growth has been averaging 240,000 per month over the past two years," NAHB Chief Economist David Crowe. GDP is expected to rise slightly this year. Along with the strengthening economy, foreclosures have fallen almost everywhere. And pent up demand is bringing buyers back to the marketplace. David Berson, chief economist at Nationwide Insurance, agreed "most housing markets are looking healthy". He sees rising incomes boosting housing formations this year.
Frank Nothaft, chief economist at Corelogic also sees good things ahead. As he said, we're still 7% below the 2006 peak. Nothaft commented on the question that many of us are curious about. He expects to see interest rates gradually increase .25 to .5 per cent this year. Even so, that's still going from "cheap to low". And National home sales should rise 4-5% this year. That includes a 13% increase for new construction homes. He predicted National home prices will increase 4-5% this year. He expects them to return to peak prices by mid-2017.
The three economist agreed that this should be a good year for housing. Builders are expected to build 840,000 homes this year, up 18% from last year. Housing remodeling should show a 1.1% gain year over year. Builder's top concerns include the availability of developed lots and a shortage of labor. Those are issues we have already seen in the Las Vegas market. As the old saying goes, you can't make more land.
Who Will Be Buying Homes in 2016?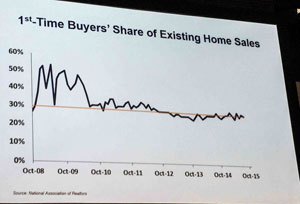 In spite of the media hype about millennials and first time home buyers, their numbers remain sluggish. In 2008 they accounted for over 50% of homes sold. That dropped to 30% by 2010 and has hovered around 30% since then. The experts we listened to at IBS don't expect the millennials to return to the 50% number this year.
In 2016, Baby Boomers will be one of the leading factors in the housing market. We saw their influence last year when they accounted for. Dan DiClerico, Senior Home Editor at Consumer Reports presented "The Real State of Real Estate". He expects the demographic make up of home buyers to be the same in 2016 as they were in 2015. Only 28% of 2015 buyers were in the 25-34 age group. If you combined the 45+ age groups, they made up 46% of the market. Boomers aged 55-64 made up 17% of buyers. Ages 65-74 made up 14%. Combined they were 31% of the home buyers.
The first of the baby boomers will turn 70 in 2016. They're preparing for their retirement now. Builders are studying their preferences and preparing to build homes to suit their needs. In the Las Vegas Real Estate market, we have several Retirement Communities that are popular. A few of those, like Sun City Summerlin are getting a little dated. We were happy to learn two of our builders will open 55+ communities this year. Toll Brothers is opening Regency at Summerlin. Lennar is opening Heritage in the new Cadence master planned community. We look for other builders to follow suit based on the demographics.
Search Las Vegas Homes For Sale