8 Super Home Selling Tips for Summer
Posted by Debbie Drummond on Wednesday, June 17, 2015 at 12:42 AM
By Debbie Drummond / June 17, 2015
Comment
Summer's one of the hottest home buying and selling seasons in most real estate markets. It's the favorite season for families with children in school to buy and sell. Summer of 2015 is finding low inventory of homes for sale in many areas. The limited inventory can give seller's an advantage. You still need to prepare your home for the market if you want top dollar. These simple tips will get you off to the right start.
Curb Appeal is Sexy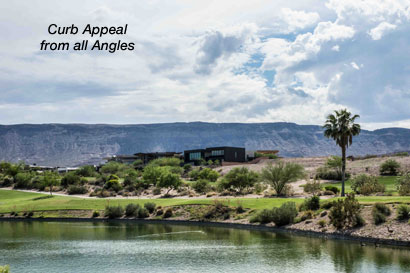 This is true when selling your home at any time of year. Having an inviting, attractive front yard with an alluring home is your first step to success.
In the Summer it's important to check all sprinkler heads and irrigation systems. Make sure they're keeping things from drying out in the Summer heat. Replace any dead or dying plants. If you have desert landscaping, add tinted rocks as accents and as replacement for any barren spots. In "10 Steps to Great Curb Appeal", Karen Highland points out "elbow grease pays off". If you don't have time to do the touch up paint, power wash and other fixes, hire someone.
Clean and Declutter
The goal is to neutralize the home so buyers can picture themselves living in it. Go ahead, pack up those family photos, the trophies and other personal knick knacks. Put away all the items on your kitchen counter except for the most essential. Leave a coffee pot and toaster, maybe a blender. You can find great tips in "Things To Put Away When Selling Your Home".
Once you've packed away all the knick knacks, it's time for a thorough cleaning. Few things will turn buyers off more than entering a home that's dirty. Clothes on the floor, dirty sinks and bathroom fixtures, dirty carpets are not the way to get top dollar for your home. You need to give it a good dusting. Polish the counter tops and wood surfaces. Have floors professionally cleaned if possible.
Once your home is clean, make sure you maintain it for showings. Hire a maid service to do the deep cleaning and weekly cleaning if necessary.
Marketing
Professional photos and videos are crucial when selling a home at any time of year. On hot Summer days, buyers will start by viewing homes online. They'll narrow down the homes they're seeing based on the images available. Insist that your agent have high quality photographs taken.
Today's cell phones are capable of taking good photos for sharing on social media. You need high resolution photos to market your home. If the Realtor takes their own pics, they should be using a DSLR camera. You should review the photos. Make sure they aren't using photos that are so dark you can't make out your home's features. Better yet, hire a Realtor who uses a pro to photograph their homes.
When hiring a Realtor, it is crucial that you hire someone who understands how to market properties online. Especially in the Summer heat, buyers prefer to pick out a dozen or so of their favorite homes to view in person. Photos, videos and written descriptions have to show that your home is a "must see", even on the hottest day. The photos need to be good but realistic.
Part of marketing your home once it's listed for sale will be maintaining it. You will want to keep it as clean, tidy and uncluttered as it was in the photos. All your best efforts may be wasted if the home looks beautiful in the photos but buyers find it's filthy when they step inside the door.
Home Value Reality Check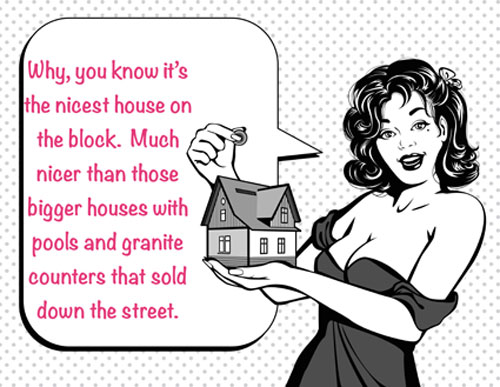 Over-pricing a home will have negative affects at any time of year. If you plan to succeed in selling your home over the Summer, hire an experienced Realtor who will help you price your home to sell. Online home evaluations may be entertaining but they are far from reliable.
Your neighborhood expert will use nearby homes that have sold recently. They will compare the upgrades of your home to the comps. They will take the competition into consideration. These factors, combined with how your home shows will help you determine the best list price. In the Las Vegas Real Estate market, 50% of the homes that closed last month sold in 30 days or less. Price right to sell it before Fall arrives.
Keep it Cool
Going from an air conditioned car to 100 degree heat can dampen anyone's mood. Set your thermostat so buyers are greeted with a comfortable temperature inside. It should be pleasantly cool but not freezing. If you have ceiling fans, leave them on. Stock the fridge with bottled water and maybe a few other beverages. Leave a note asking the buyers to help themselves to a cold drink will go a long way on a hot day.
Hire a Pro
Less than 10% of Homeowners who try a For Sale By Owner succeed. There are many "Reasons Why For Sale By Owners Fail". Your chances of selling your home during the Summer season are better if you hire an experienced agent. They will market your home and get the online exposure you need to get it sold.
Interview at least 3 Realtors who have worked with sellers in your area. Ask about their experience, their specific marketing plan for your home and for references. Find out if they're staying up on the latest legislation and how recent changes may affect the sale of your home. Have they had complaints against them with the Real Estate Division? Are they Full Time Realtors? Are they good communicators who return phone calls, texts and emails promptly?
Prepare for market changes
Sellers who are list their home this Summer will have an added obstacle to face. The Real Estate community is preparing to follow new CFPB regulations. The Consumer Finance Protection Bureau will begin enforcing new rules on August 1. Many banks are already implementing the new procedures in preparation. The new rules are designed to protect buyers.
The new procedures include items that will be important to sellers. For starters, lenders have to provide a "Loan Estimate" form to buyers within 3 days of closing escrow. This form must be accurate. If the cost of an item comes in higher than estimates, the lender can be responsible.
The new forms and strict enforcement are slowing the process down. Lenders are double and triple checking everything. We've heard it may add an extra 7 or even 10 days to the time required to close escrow on a home. This will impact sellers who are trying to close escrow on a new home concurrently with selling their home. It becomes critical that your agent stay in contact with the buyer's agent, their lender and the Escrow Officer.
Another item the CFPB will be enforcing is the rule that buyers can choose the Title company. This rule was already on the books but not enforced. Over recent years, banks used the lack of enforcement to their advantage. Banks insisted that buyers use their Title company when purchasing a foreclosed home. Sometimes the bank's Title company/escrow officer were in a different State. Closings were often delayed. Buyer's who challenged the bank's choice of Title company generally lost out on the foreclosure deal. Having dealt with this issue as a buyer's agent, we're not disappointed with the changes.
As a listing agent, we prefer when we're allowed to pick an experienced Escrow Officer. Someone who meets deadlines, returns calls and emails. While we prefer choosing someone who is diligent, a good listing agent can work with most Escrow officers. The choice of Title company should not be a negative impact on sellers as long as the listing agent communicates with the buyer's agent and Title company. You do want to verify that your agent is staying up to date on all these changes.
Summer Home Selling Success
Hiring the right Realtor, preparing your home and pricing it right are the keys to getting your home sold for Top Dollar. Once you have your home listed for sale, feel free to go enjoy that Summer vacation while your agent gets your home SOLD. Just remember to check your voicemail and email often. You'll want to know when your agent gets offers on your home.