Advantages to Buying a New Construction Home
Posted by Debbie Drummond on Thursday, November 18, 2021 at 9:52 AM
By Debbie Drummond / November 18, 2021
Comment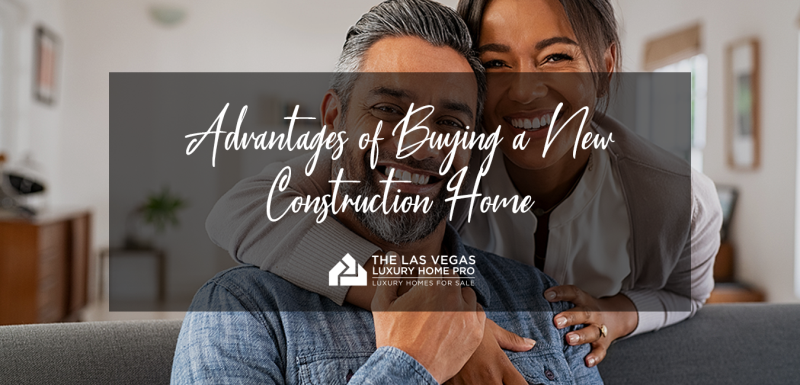 Today's home buyers have a lot of choices when it comes to finding the perfect new place to live. But from all the latest design trends to the potential cost savings and peace of mind, it's easy to see why buying a new construction home might be your best option. So if you're considering buying new construction in Las Vegas but are still on the fence so-to-speak, here are just some of the potential advantages you can look forward to when opting for a newly built home or condo.
Move-In Ready
Because the home is brand new, it is move-in ready. You won't have to worry about replacing things like flooring, adding a new coat of paint or any outdated appliances. Everything is new, so you should be able to move right into the home and start living in it as soon as all the contracts are signed at closing. You also won't have to worry about waiting for the home's former owners to move out.
Lower Maintenance Costs
A new construction home also likely means lower maintenance costs. Because the home comes with new appliances, new heating and air and new plumbing, you probably won't have to worry about costly repairs for quite some time.
New Home Warranties
Oftentimes you'll have a warranty period too, so someone else covers the cost if there are any problems during a certain period of time after you purchase the home. This can give a little peace of mind in the event something isn't working quite right. Home repairs to tend to be costly, so having a new home warranty that covers certain big ticket items in your home means you won't be stuck with extra bills in the near future.
Interested in buying a new construction home in Las Vegas?
Search
Las Vegas new construction homes for sale
, or Contact Debbie Drummond, local new construction expert, for help with all your new construction home buying needs!
More Energy Efficient
New appliances and more modern construction methods also translate to a more energy efficient home. This will probably mean lower utility bills each month, which is another great cost saving reason to purchase a new construction home.
Modern Floor Plan
Depending on the age of a home, an existing home can look dated. Color schemes and finishes are big giveaways when it comes to a home's aesthetic age. When you purchase a new construction home, you're often greeted with an open floor plan, tall ceilings and thoughtfully designed spaces that fit with a more modern lifestyle.
Modern Style Points
A new home also just looks more modern. You don't have to worry about peeling away the past owner's "stylish" wallpaper or well-traveled flooring. With a new construction home, you're sometimes able to help pick out things like countertops, cabinetry, paint, tilework and flooring.
New Community & Amenities
Oftentimes a new construction home means living in a new community. There are certainly plenty of amenity-rich existing communities, but newer communities often add in things like a community clubhouse, a swimming pool, sports courts and walking trails for outdoor recreation.
The First Occupants
Finally, there's just something about buying "new", and that's the case whether it's new clothing, a new car, or in this case, a new house. When you purchase new construction, you get the advantage of being the very first person or family to live in the home. This means no worries about people with pets living in the home, or past smokers living in the home. Even if these aren't things you're personally worried about, you just can't beat the feel and attraction of a new construction home.