Beat the Competition And Sell Your Home This Spring
Posted by Debbie Drummond on Tuesday, March 3, 2015 at 11:23 PM
By Debbie Drummond / March 3, 2015
Comment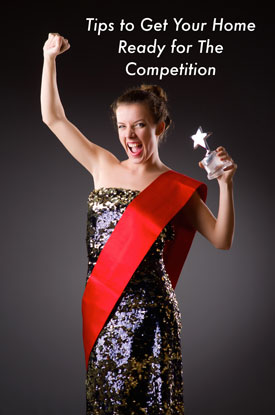 Homeowners think of Spring as the prime selling season. Warmer weather brings buyers out. Families who want to move before the next school year start searching for new homes in the Spring. This can make the Spring a great time to sell your home. You may find the competition a little stiffer since other home owners also wait to list their homes in the Spring.
Selling your home in the Spring compares to a combination of a beauty contest and an athletic competition. You want your home to have curb appeal, great marketing and a price that attracts buyers. You want your home to outshine other homes in the neighborhood.
How Do You Beat The Competition To Get Your Home Sold?
Take each of the following tips and grade your home on a scale of 1-10 as the judges do in the Olympics and you will know where you need to improve. When you score high on all categories, you're in a good position to take the prize. High scores get rewarded with a home that closes for the highest price in the least amount of time.
Spring Cleaning - No one wants to buy a home that isn't clean. Homes with dirty floors, stove, etc., makes buyers wonder if sellers neglected routine maintenance. If cleaning isn't your strong point, hire a maid service to give your home a good cleaning. Have the service return as needed while the home is for sale. Thorough cleaning can help eliminate unpleasant smells like pet odors and cigarette smoke.
Catch up on Maintenance - Chipped or peeling paint? A new coat of paint in a neutral color may be in order. Change all the AC filters. Replace the batteries in smoke detectors. It's a small thing but chirping smoke detectors will annoy buyers every time. Go through each room of your home and make a list of any basic repairs that may be in order. If your home is looking a little dated, you might consider some inexpensive home improvement projects.
Clutter Free Home - Cleaning is the start of this. On top of cleaning, start packing away all your little knick knacks, personal items and photographs. Buyers don't care to see all your memories. They need to imagine making their own. Besides, you'll be ahead of the game when your home goes into contract and you have to pack.
A friend of ours in Palm Springs recently sold his home. Knowing what a collector he is, we were happy to see the photos of his condo. His agent had convinced him to put away all the trinkets, souvenirs, and toys that he kept. That allowed them to move some shelves out of his bedroom which made it look bigger. His condo looked great and it sold above list price in only two days.
Curb Appeal - Don't forget the landscaping. Check to see which plants need replacing after Winter. Spring is a great time to add a few inexpensive plants that will add a pop of color. As Spring sets in, you may also need to trim some of the fast growing shrubs and plants back. Even desert landscaping may need a little freshening up. Maybe a new layer of rocks.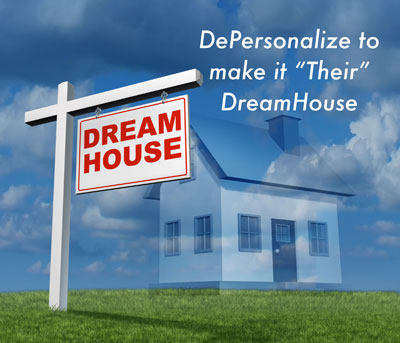 Stage It - Studies have shown that staging a home may not result in a higher price but it helps get the home sold quicker. Some would argue that properly staged homes do get better prices. Once the home is clean and you've removed the clutter, you can take some steps to stage it yourself. The goal of staging your home is to allow buyers to picture themselves living in it. In "Stage Like a Pro" Lynn Pineda provides some terrific tips for staging your own home. If you need help, professional home staging services can be worth the investment.
Hire The Right Agent - It's surprising that many home sellers will hire a friend, family member or the first agent they call. It's best to interview at least three agents. Make sure the agent you hire is a full time Realtor who is knowledgeable about the market in your neighborhood. A tip from Joe Manusa and Bill Gassett in "How To Find the Right Realtor When Selling Your Home"
Choose Your Agents Online - Word of Mouth is Great Until It Isn't
Make sure the agent you hire will provide top notch marketing. This includes professional caliber photographs. Our cell phones can take great pictures for sharing with our friends on facebook. They're hardly the quality photo you need to show your home to potential buyers. We live in an internet world and today's sellers should require good photos for buyers to view online.
Find out how easy it is to contact the agent. Do they answer their phone most of the time? When they miss a call do they get back to you right away? How quick do they respond to emails. These are important things to know when buyers and other agents are trying to reach them with questions about your home. You don't want to hire the agent who takes a day or more to respond.
Don't hire the agent who offers the lowest commission. Things like professional photos and advertising cost money. If you're getting a discount on the commission you will likely get a discount on the marketing and service. Be careful about hiring an agent who agrees with your price if they don't have the comps to show it's realistic. It's unfortunate, but some agents will tell you the price you want to hear in an attempt to "buy" your listing. When your home doesn't sell they'll start trying to get price reductions. In the meantime you've lost valuable time on the market.
Price To Sell - An experienced agent who knows your neighborhood will be able to show you what has sold that is comparable to your home. You should listen to them and price your home so that it is competitive with the other homes in your area. A tried and true pricing technique is to be the "best value" within a 2-3 mile radius.
If your home is in good shape and has great marketing, being the "best value" doesn't mean the "lowest price". No curb appeal? Needs maintenance and TLC? Stained carpets and not clean? Then you may have to be the "lowest price" to qualify as the "best value".
Pricing high so you have room to negotiate will only result in more days on the market and a lower price. You want to be the beauty that everyone wants enough to pay a slight premium. Price your home right and you won't have to negotiate as the buyers realize they have to meet your price or risk losing out to someone else.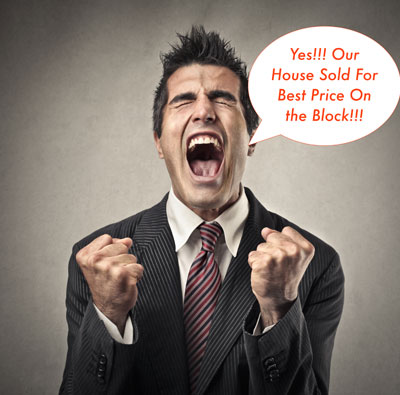 Showing - You've hired the right agent. The clutter is gone. Now it's show time. So you answer the door and start pointing out all the upgrades and features of your home. NOT!
When buyers come to see your home, you should disappear. Allow your agent to leave the key in an electronic lockbox so other agents can let themselves in. Buyers are uncomfortable when the seller is present. They will not feel free to talk about changes they might make or how they might adapt the home to their taste.
Try your best to accommodate all showing requests. Sellers are often annoyed when an agent calls wanting to show the home in only a few hours. If the buyer is from Out of State, they may not have the option of coming back at another time. Turning them away can be turning away a motivated, qualified buyer who came into town just to buy a home.
We do see luxury home sellers requesting financial info before allowing showings. This is understandable in the highest price ranges. It can also offend qualified buyers who don't want to share their personal info until they see if your home is the one they want to buy. Use this requirement with caution. Allow your agent to bend the rules if it seems appropriate.
Spring is Just Around the Corner, Is Your Home Ready?
Is your home ahead of the competition in the Spring Selling Market? Does it score an 8 or better for being clean? How's the curb appeal? Clutter free? If your home doesn't score at least an 8 on any of the items, correct the issues until it does. An 8 is the minimum, but a perfect 10 is best. Once your home has a high score, hire a Realtor who is a 10. Let them help you price your home right and get ready to move.