Best Hiking Trails for Las Vegas Locals
Posted by Debbie Drummond on Wednesday, May 31, 2023 at 2:36 PM
By Debbie Drummond / May 31, 2023
Comment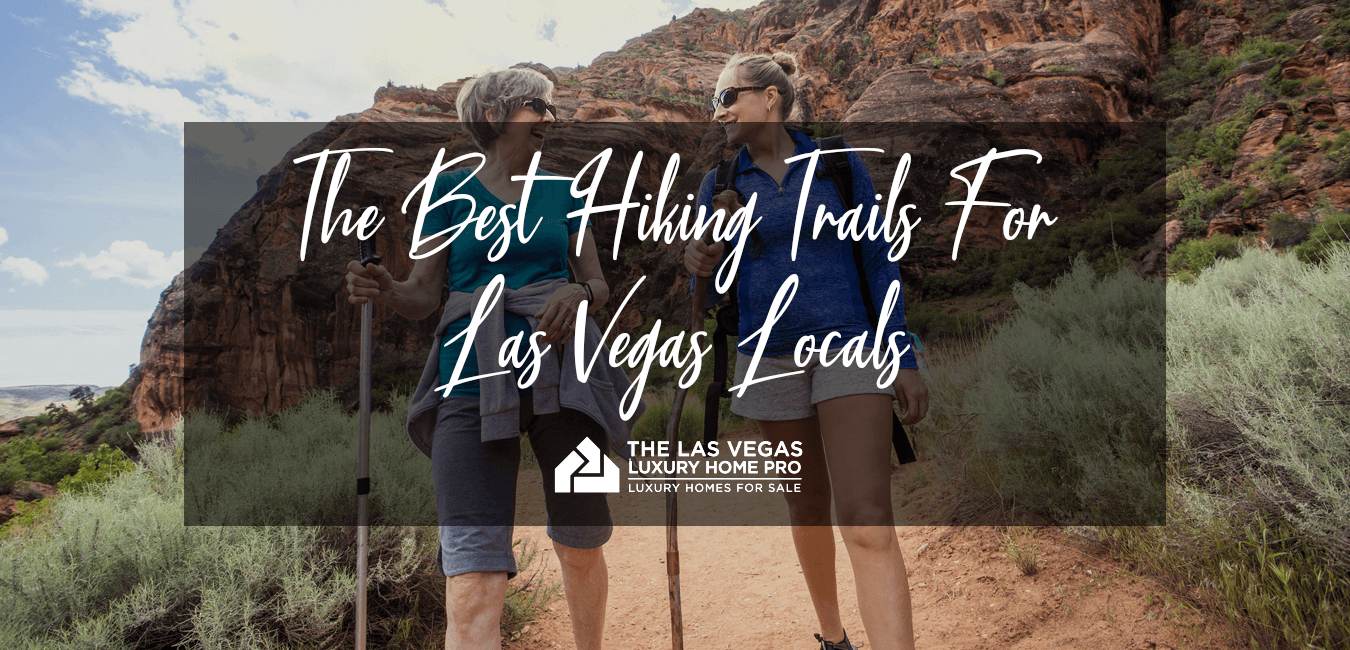 Bordered by mountains on virtually all sides, Las Vegas is a city that is rich with opportunities to enjoy outdoor activities without having to travel very far. The nearby mountains offer countless trails for walking, hiking, and biking, and no matter your level of experience there is no shortage of excellent trails for you to explore. Las Vegas locals should consider taking advantage of all of the area's stunning hiking trails that offer the opportunity to interact with nature as well as countless magnificent views.
Mary Jane Falls
Located a forty minute drive outside of Las Vegas is Mary Jane Falls, which is part of the Spring Mountains. The trail at Mary Jane Falls is 3.2 miles from beginning to end, and hikers consider the trail to be of moderate difficulty. Your trek through the mountains culminates at a waterfall as well as a number of different caves. Along the way you will pass through areas that are forested with ponderosa pines, providing a bit of shade from the often hot desert sun. This trail is unsurprisingly popular, so visitors who wish to avoid crowds are encouraged to get an early start. Keep an eye out for Big Falls as you traverse the path; Big Galls is another more challenging trail nearby that leads to another stunning waterfall. Mary Jane Falls is free to enjoy, but only open from April through December.
Fire Wave
Valley of Fire State Park is a sight that must be seen to be believed, and Fire Wave Trailhead is the place to do just that. It also happens to be one of the most heavily frequented trails in the park, so this is definitely a trail to start early in the day. Fire Wave, as the name would suggest, is situated directly in the sun, resulting in seasonal closures during the peak of summer. Fire Wave is a fairly easy trail and is only 1.5 miles round trip, making it the perfect trail for beginners. At the end of the trail, you can take in the breathtaking view of the orange and red rocks that together form what looks like a natural wave.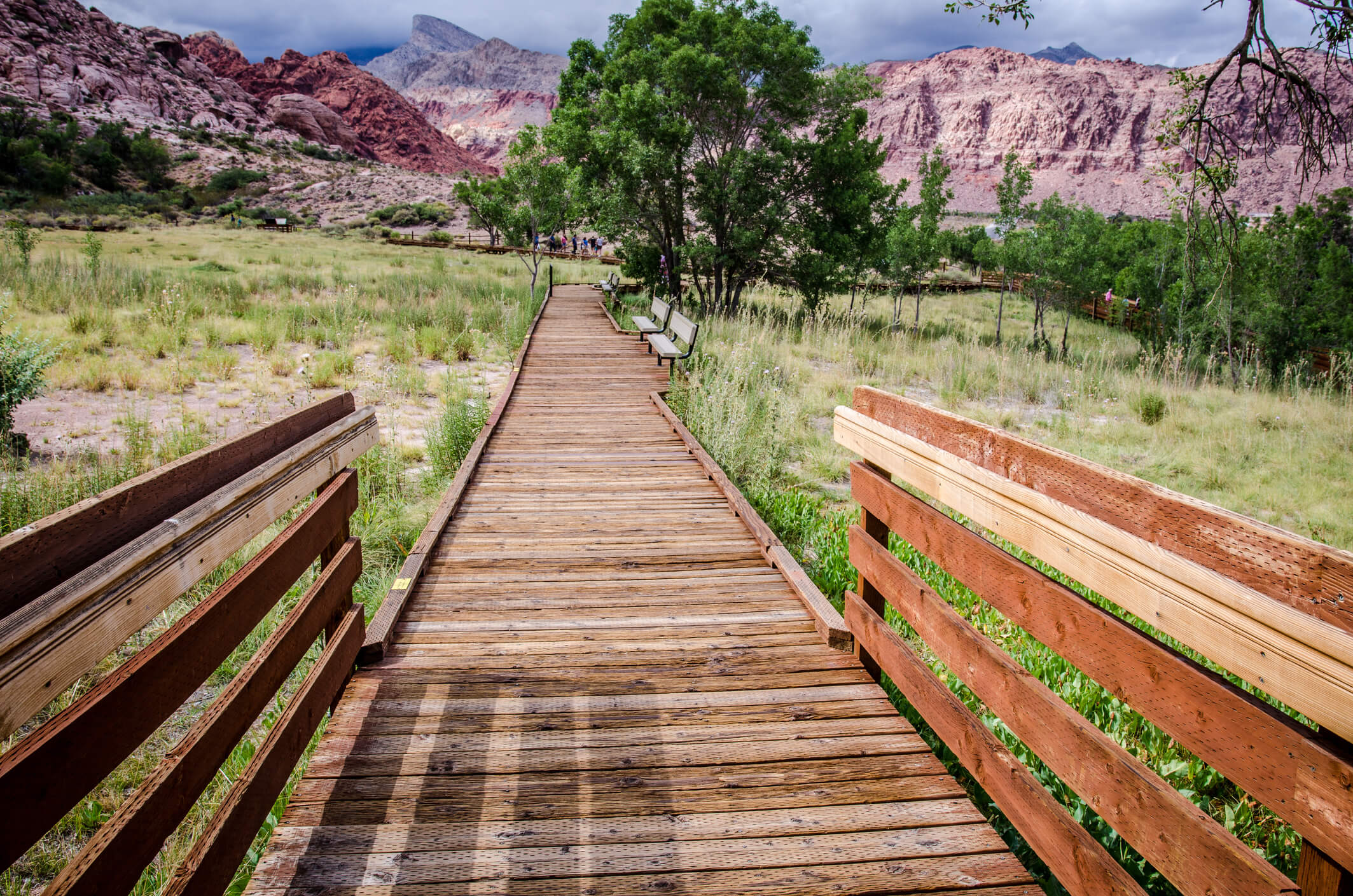 Historic Railroad Trail
Though the Historic Railroad Hiking Trail is easy enough for beginners to enjoy, it is also 7.5 miles round trip, which means you'll want to pack water and snacks for the journey. As you traverse this trail, you'll explore abandoned railroad tracks and tunnels that date back to the 1930s. Signs recounting the trail's history are posted along the way so you can learn quite a bit as you hike. Dogs are permitted on the Historic Railroad Trail, making it the ideal path for the whole family to enjoy together. The trail ends at the Hoover Dam Visitor Center where you can continue your journey of exploration once you've taken in the views of the desert landscape and Lake Mead.
Gold Strike Canyon Hot Springs
For the more seasoned hiker, Gold Strike Canyon Hot Springs may quickly become a route of choice. The six mile-long trail is situated about half an hour outside of Las Vegas, and along the way you will have the chance to take in views of gorgeous red rocks, thriving wildlife, and beautiful bighorn sheep. The trail features a set of eight ropes that lead you down through different boulders, which many agree is the most difficult part of the hike, so be sure to wear proper footwear for the trek. At the bottom, you'll discover hot springs and hot waterfalls and as you continue along the trail you'll find yourself at the Colorado River.
Lone Mountain Loop Trail
One of the easiest and most easily accessible trails in the Las Vegas area is Lone Mountain Loop trail, which can be found in Northern Las Vegas. The mountain is located just beside the freeway amidst a sprawling residential area, and it has become a popular destination among residents because of its convenient location. Lone Mountain's primary trail is 3.2 miles long and is fairly flat and therefore easy to explore. It winds all the way around the mountain, leading to impressive views of the Las Vegas Strip that can't be found anywhere else.
Related Lifestyle Content For Las Vegas Locals: