Discover the 10 Best Kid-Friendly Activities in Las Vegas, NV
Posted by Debbie Drummond on Wednesday, June 2, 2021 at 6:30 AM
By Debbie Drummond / June 2, 2021
Comment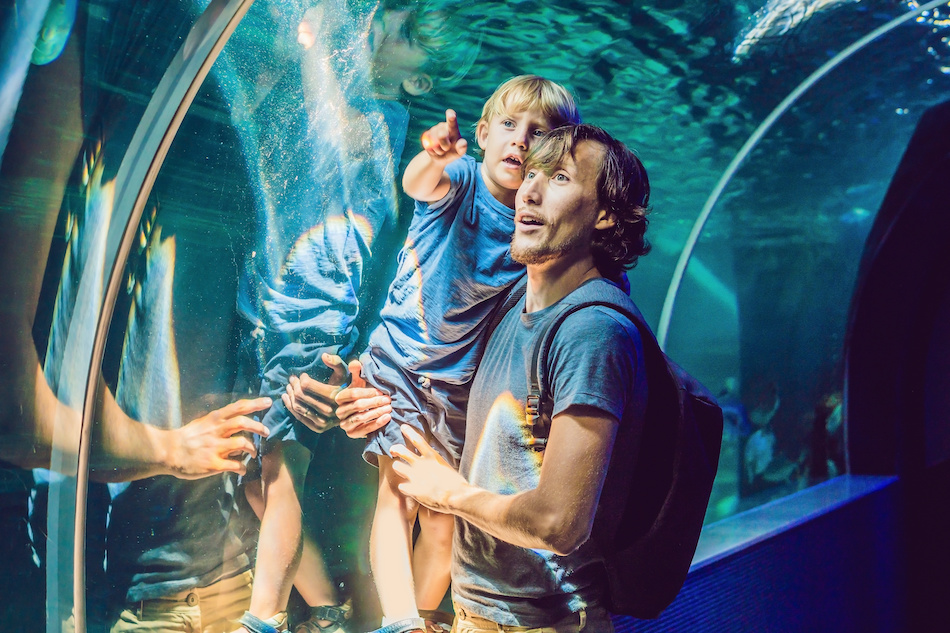 While Las Vegas is often revered as an adult theme park, there are numerous kid-friendly activities available on The Strip. Parents and guardians can have a wonderful time with their toddlers, children, and teenagers. Ranging from free shows to fully-fledged amusement parks, visitors of all ages are sure to have a fun time at any of these ten kid-friendly attractions in Las Vegas.
Discovery Children's Museum
The three-story-tall Discovery Children's Museum features eight interactive exhibits and activities for children of all ages. Whether kids want to paint, experiment, fantasize, play in the water, investigate, or climb a 70-foot tower, there is something for every child at the museum.
Hershey's Chocolate World at NYNY
Hershey's Chocolate World is a free attraction that features over 800 varieties of Hershey's chocolates. The 13,00 square foot facility offers tours, is home to the chocolate Statue of Liberty, and provides custom chocolate bars. Kids will love the smell of chocolate filling the air as soon as they walk through the door.
M&M's World at Showcase Mall
M&M's World in Las Vegas was the very first M&M's store ever constructed. Rainbows of M&Ms are available for kids to choose from, in addition to hundreds of merchandise items. M&Ms can also be customized for any child or any occasion.
Shark Reef Aquarium at Mandalay Bay
Shark Reef Aquarium is home to over 2,000 animals. Children can get up close and personal with sharks, stingrays, sea turtles, and more. There are even piranhas and Komodo dragons on site. Add-on experiences include stingray, shark, or sea turtle feeding.
Siegfried & Roy's Secret Garden and Dolphin Habitat at The Mirage
Siegfried & Roy's Secret Garden and Dolphin Habitat features exotic creatures like white tigers, leopards, and lions. Add-on activities include painting with dolphins and dolphin meet-and-greets. Older visitors might enjoy yoga with dolphins and dolphin trainer 101, as well.
The Volcano at The Mirage
The Volcano erupts every hour from 8 p.m.–11 p.m. seven days a week. The explosions are incredibly tall and sure to capture anyone's attention. With live fireballs and an exhilarating soundtrack, The Volcano is a wonderful kid-friendly activity in Las Vegas.
The Adventuredome Indoor Theme Park at Circus Circus
The Adventuredome is a 5-acre indoor amusement park. Rock climbing, bungee jumping, mini-golf, arcade games, and more are available. Additionally, free clown shows happen every hour. For children who love thrills and adrenaline, g-force roller coasters are available to ride.
Bellagio Fountains and Conservatory & Botanical Gardens
The Bellagio Fountains and Conservatory & Botanical Gardens are wonderful kid-friendly activities and a nice change of pace for the whole family. The water show runs every 30 minutes before 8 p.m. and every 15 minutes after 8 p.m. The gardens are open 24/7 and feature various exotic plants throughout the year.
Downtown Container Park
Downtown Container Park is an open-shopping center with a children's playground. Before 9 p.m., children are welcome to run around and have a great time. Themed restaurants and live entertainment are available seven days a week.
Las Vegas Mini Grand Prix Family Fun Center
Las Vegas Mini Grand Prix Family Fun Center has provided fast-paced fun for over three decades. Visitors can race go-karts, ride amusement parks, and play arcade games. A visit to the Grand Prix can last a few hours or all day! Single-ride and unlimited-ride packages are available, in addition to delicious food on-site.
Have a Blast in Vegas
When planning a vacation in Las Vegas, adults can rest assured that their children won't have to be left out of the fun. Many of these kid-friendly activities are right on The Strip, making it easy to get to the attractions from the hotel. Whether families have toddlers, older children, or teens, there is something for everyone. The only question families need to ask themselves is what attraction they want to visit first.