Best Neighborhoods in Las Vegas
Posted by Debbie Drummond on Monday, April 5, 2021 at 3:34 PM
By Debbie Drummond / April 5, 2021
Comment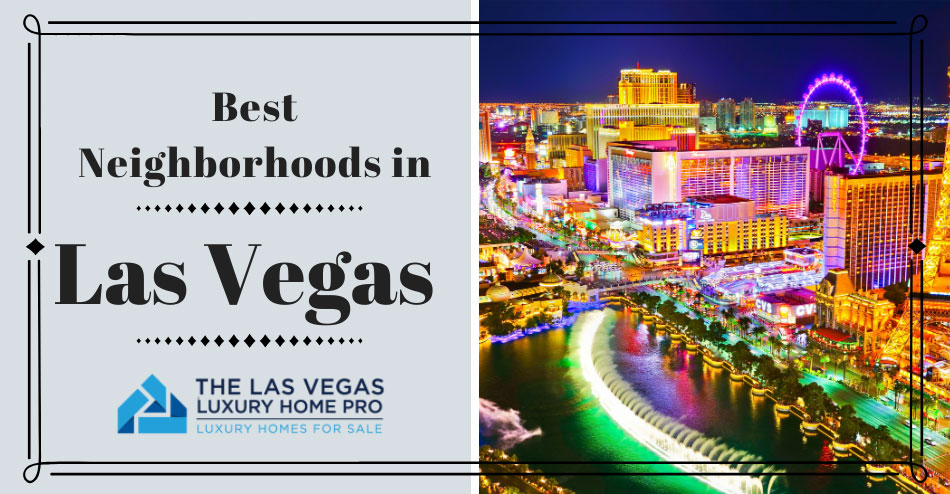 Many people have the misconception that Las Vegas is a city primarily fueled by entertainment and gambling, coming awake only at night under the glow of the neon lights. However, more than 600,000 people live in the city, and more than two million people live in the surrounding metro area—nowhere near the Strip. Despite its reputation as Sin City, there is a multitude of great neighborhoods in the Las Vegas area that are filled with amenities like outdoor recreational activities, shopping, and world-class dining. Here are some of the best neighborhoods to consider when deciding to move to Las Vegas.
Downtown Las Vegas
Downtown Las Vegas Amenities
24-hour mall with light shows
SlotZilla Zip Line
Drinking and Dining options
Fantastic array of casinos
Historic Heart of Las Vegas
Discovery Children's Museum
Downtown Las Vegas, commonly referred to as DTLV, is not the same thing as the part of Las Vegas known as the Strip. However, DTLV is probably the most traditionally urban of all the Las Vegas neighborhoods. Here, residents live primarily in high-rise apartments. It is both practical and possible to live in DTLV without a car.
This section of town was once the hotbed of activity in the 1950s and 60s, but parts of the area fell into disuse over the years. Recently, the area has seen a massive push toward the revitalization of various historical buildings that fell into disrepair. These buildings are now home to storefronts that beckon neighbors and visitors alike to stop in for a cup of pour-over coffee, purchase locally-made furniture, or even get a tattoo. Restaurants in the area represent many cultures and price points from fast and casual to fine dining.
DTLV is made up of several smaller districts. The Fremont Street Casino District is home to the first casinos in the city. These establishments, in existence prior to the Strip draw still draw visitors interested in gambling and the history of old Las Vegas. This is where you will find the Fremont Street Experience, a canopied street where casinos are connected to each other via canopy and nightly shows of light and sound rule supreme.
The Fremont East Entertainment District is an area just east of the Fremont Street Experience. The city took on a massive street-level improvement project in recent years in this area. The city allotted more than $5 million to Fremont East to bring pedestrian-friendly streets, lush landscaping, and a retro vibe to the district.
The 18b Arts District contains numerous art galleries, studios, and stores with a high concentration of purveyors of vintage goods and antiques. This funky area hosts a popular monthly festival called First Friday, where local musicians and artists can show off their work. A stroll along the streets in the Arts District will allow you to take in or purchase the work of local artists selling their wares. Here, you'll find a mixture of Art Deco and 60s chic apartments for dwelling.
Symphony Park, another area of the DTLV, was purchased by the Las Vegas Redevelopment Agency and the city from the Union Pacific Railroad in 1995. This 61-acre tract of land will eventually be developed to contain mixed-use retail, medical, hotel, and residential developments. It is located to the west of Fremont and Main Streets. The Cleveland Clinic Lou Ruvo Center for Brain Health, a performing arts center, and a children's museum have already been constructed in Symphony Park.
The Las Vegas Medical District is also located within the DTLV area. There are plans to expand this part of town from its current size of 200 acres to at least 680 acres. A significant portion of this expansion will house the new University of Nevada Las Vegas School of Medicine.
The Financial District is the last of the areas located within the DTLV area. The majority of this district consists of office and government buildings including city hall, the United States Courthouse, and the Regional Justice Center.
Downtown Las Vegas Hotspots
The Lakes
The Lakes Amenities
Near Spring Mountains
Near Red Rock Canyon
Planned Community
Canyon Gate Country Club is nearby
One of several master-planned communities that surround Las Vegas, the area known as The Lakes was developed in the 1980s and early 1990s in the western Las Vegas Valley. There are over 29,000 people that choose to live in this rather small neighborhood that takes up only two square miles of land.
If location is important, The Lakes is enchanting because of its proximity to several major outdoor recreation areas. Red Rock Canyon National Conservation Area is an unbelievably beautiful canyon containing hiking and trails as well as camping is just seven miles away. The Lakes is also close to the Spring Mountains, a mountain range with greater biological diversity than anywhere else in the state of Nevada.
At the heart of this community, however, is Lake Sahara. Offering beauty, recreational opportunities, and a backdrop for beautiful living, there are homes in nearly every size and shape near the lake, from tiny apartments to opulent lakefront abodes. This desert oasis with wide, pedestrian-friendly streets and mature pine trees is only a 15-20 minute drive from The Strip and a 10-minute drive from Summerlin.
Huntridge District
Huntridge District Amenities
Huntridge Circle Park
Historic Huntridge Theater
Near the Vegas Strip
Nightlife nearby
Quality restaurants nearby
You'll find historic homes and buildings in the Huntridge District, located in what is considered "old" Las Vegas. A mixture of cozy cottages and classic ranch-style homes dot the area's neighborhoods. Huntridge District is a quick 10-minute drive to The Strip and is located along the Maryland Parkway to the south of downtown.
The Huntridge Theater, an iconic building designed in the streamlined modern style is in this area of town. The theater was designed by S. Charles and opened in 1944 during World War II. The building was purchased by an investor in 2019 with plans for rehabilitation and revitalization.
The Huntridge District is home to 16,115 people. The area is described as dog-friendly and somewhat walkable. Positive aspects of the Huntridge District community include ample parking and well-manicured lawns. Overall, the Huntridge District is highly ranked in terms of amenities, and affordability.
Huntridge District Hotspots
Queensridge
Queensridge Amenities
Guard Gated Community
Luxurious Homes
Beautifully landscaped corridor
Views of Spring Mountains
Red Rock Conservation Area
Las Vegas Strip within 15 min.
On the west side of Las Vegas is the small planned community of Queensridge. The idyllic location between downtown Las Vegas and Summerlin attracts many people to this affluent area where the average home price is just over $1.4 million.
Queensridge is a guard-gated community whose entrance is marked by bronze horse sculptures outside a beautifully landscaped lane. The neighborhood was developed by Christopher Homes between 1996 and 2003. Most of the 605 homes in Queensridge are expansive and sit on oversized lots with views of the nearby Spring Mountains and The Strip. Some of these houses are golf course homes and back up to Badlands Golf Club, famous for its three distinct nine-hole courses. The smallest homes in the neighborhood are around 2,100 square feet in size.
Two residential skyscrapers, dubbed One Queensridge Place, are located within this neighborhood and offer luxury homes to residents. The twin buildings are 233 feet high with large windows and are rumored to contain among the most expensive condos in the entire United States. Condo prices in One Queensridge Place range in price from $1.2 million to $20 million, with the average price coming in at $2.3 million.
Queensridge feels secluded and private. However, the shopping areas and restaurants in Summerlin are only a short drive away. It is plain to see why people are attached to the region of the city.
Southern Highlands
Southern Highlands Amenities
Southern Highlands Golf Club
Southern Foothills of the Las Vegas Valley
Tree-lined streets
Many parks & Trails
If premier golfing is an attractive feature for a neighborhood, look no further than Southern Highlands. Here, golfers bask in the glory of the Southern Highlands Golf Club, an 18-hole private course designed by the legendary golf architect Robert Trent Jones, Sr. and his son Robert Trent Jones, Jr.
There are 10 neighborhoods within Southern Highlands, another planned community. Southern Highlands is also a short drive to the airport and has easy interstate access for those who commute to work. There are over 2,300 acres of land in Southern Highlands, and most neighborhoods are replete with lush trees lining the streets and walking and biking trails meandering through the roads of the neighborhoods. There are six parks in total, two of which are dog-friendly. There are both public and private schools within this community, providing options for education. This area also contains a wealth of shopping and dining options and is a short drive to The Strip.
Southern Highlands Hotspots
Las Vegas Neighborhoods for Every Need
With the high employment rates in the Las Vegas area and easy access to every type of entertainment imaginable, it is easy to see why Clark County, Nevada saw the second-largest population growth in the United States in 2018. This is just a small selection of some of the best neighborhoods in the area, and there are plenty more worth discussing if planning a move to Las Vegas. For expert advice and local real estate insight, contact Debbie Drummond at Simply Vegas Real Estate with The Las Vegas Luxury Home Pro at (702) 354-6900 to get more information on which Las Vegas neighborhood might just be your perfect new Las Vegas home.