Best Outdoor Activities in Las Vegas: Las Vegas Outdoor Recreation Guide
Posted by Debbie Drummond on Thursday, March 25, 2021 at 10:57 AM
By Debbie Drummond / March 25, 2021
Comment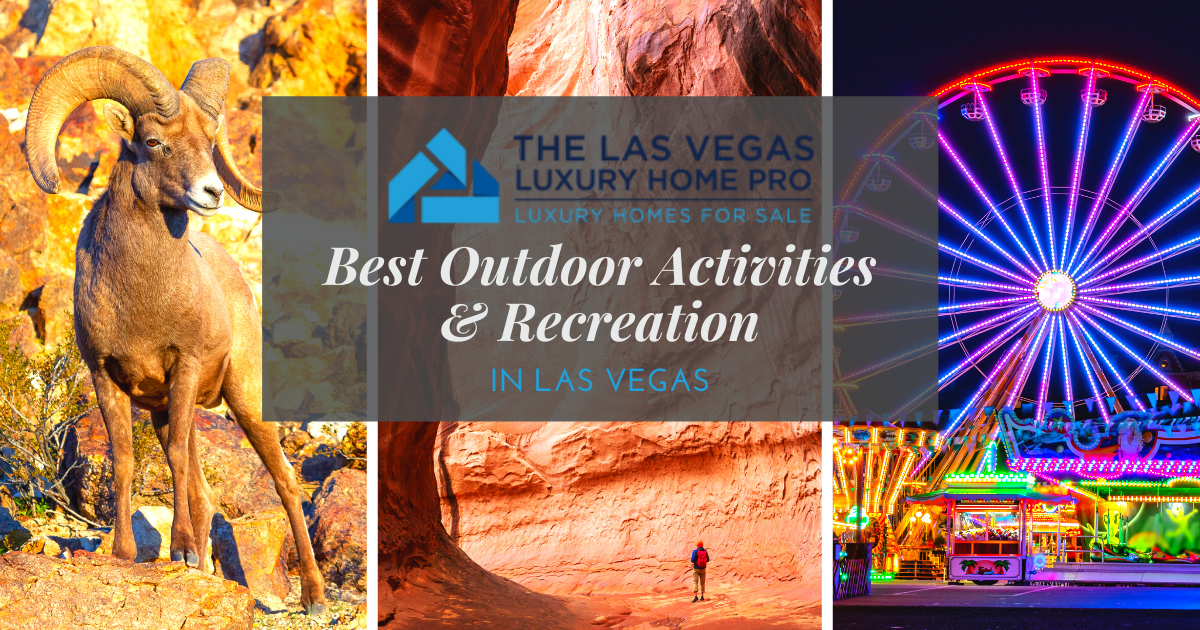 When people think of the bustling city of Las Vegas, Nevada, being indoors at one of the many prominent casinos, clubs, or restaurants may be the first thought that comes to mind. Truth is, for those who live in Vegas or would like to visit, their activities do not have to be limited to the indoors. The warm desert weather and beautiful geography of this location lend themselves to some fabulous outdoor activities to enjoy in and around Las Vegas, like golfing, cooling down in the water, or enjoying the many offerings of the strip. Here's a list of some of the most popular outdoor recreation options in Las Vegas.
Water Recreation in Las Vegas
Las Vegas Water Recreation
Lake Mead
MGM Grand Pool Complex
Mandalay Bay Beach
Wet 'n' Wild Water Park
Garden of the Gods Pool Oasis
The Tank at the Golden Nugget
Sure, it's usually pretty dry in the desert, but that doesn't mean that there isn't some water in and around Vegas to enjoy! In fact, Lake Mead, America's largest reservoir, spans more than 750 miles of shoreline. This man-made lake was created by the construction of the Hoover Dam and lends itself to many types of outdoor water activities such as swimming, boating, fishing, or simply enjoying a day near the water from one's waterfront home.
Though they aren't quite out in nature, Las Vegas is also known for some of its great outdoor pools at the hotels around the strip to enjoy swimming, floating, relaxing, or partying in the water. MGM Grand's lazy river and pool complex offer 6.5 acres of fun with four swimming pools, three whirlpools, and cascading waterfalls throughout, with fabulous amenities like daybeds and cabanas for relaxation.
For some other great pools and water recreation, people also might want to check out Mandalay Bay Beach, an 11-acre aquatic playground complete with a wave pool, lazy river, and lagoon, or have some fun at the Wet 'n' Wild Water Park. Some other popular Las Vegas pools include the Encore Beach Club at the Wynn, Garden of the Gods Pool Oasis at Caesar's Palace, or The Tank at the Golden Nugget, which allows people to swim along with sharks.
Las Vegas Hiking & Biking Trails
Las Vegas Trails
Cottonwood Canyon Trail
Calico Basin Trail
Old Spanish Trail Park
Hualapai Canyon
Pecos-McLeod Trailhead
For those who want to take their walking shoes off the strip and more into the scenic areas around Las Vegas, there are many hiking and biking trails to be explored.
Summerlin Cottonwood Canyon Park Trail's 3.1-mile trail is used by many for walking (with or without their dog), biking, and viewing some beautiful wildflowers in the area.
Not too far away, people may want to also check out the Calico Tanks, which are part of the Red Rock Canyon near Las Vegas. This moderate to strenuous hike spans just over two miles and offers fantastic views of the city, along with some interesting history, geology, and fun along the way.
Also in the Red Rock Canyon National Conservation Area and showcasing exquisite rock formations like sandstone peaks and canyons is Lost Creek Falls, which, at the right time of year, leads to a beautiful waterfall (the only one in the entire park).
Las Vegas Parks
Parks in Las Vegas
Lorenzi Park
Floyd Lamb Park
Centennial Hills Park
Clark County Wetlands Park
Bob Baskin Park
Rainbow Family Park
Red Rock Canyon National Conservation Area
The parks near Vegas highlight some unique and special sights in the area, like its beautiful spreading canyons and rock formations.
As mentioned previously, the Red Rock Canyon National Conservation Area is one of the most popular and stunning parks in the area, located just 17 miles west of the Las Vegas Strip on Charleston Boulevard/State Route 159. Visited by more than two million people each year, this site was designated as Nevada's first National Conservation Area back in 1990. The landscape at the Red Rock Canyon National Conservation Area is known for its climbing and hiking opportunities.
For a different kind of scenery, Floyd Lamb Park at Tule Springs offers lakes, lush vegetation, unique wildlife, and views of the Sheep and Spring Mountain Range. This traditional working ranch also gives visitors the opportunity to learn some history about the park and its surrounding area.
Mojave Desert Adventures
Things to Do in the Mojave Desert
Mojave National Preserve
Joshua Tree National Park
Cima
Zzyzx
Located in between Las Vegas and Los Angeles, the Mojave National Preserve is a must-see. This vast desert park offers some peace, quiet, and beauty away from the more metropolitan areas. This huge park has many options to choose from, so people may want to plan out the exact parts of the park they would like to visit and experience ahead of time. Some popular destinations and stops include Zzyzx Road, Black Canyon, Essex & Cedar Canyon Roads, and Nipton, Ivanpah, & Lanfair Road. Whether people want to drive, camp, hike, or anything in between, there are many things to do and places to see at the Mojave National Preserve.
For a fun and different way to explore this area, Las Vegas Outdoor Adventures offers Mojave Desert ATV Tours that let people ride around the desert and see its sights in 1 1/2 hours. This shorter tour allows people to have some motorized fun on their own ATV, with the convenience of a pick-up location right on the Las Vegas Strip.
Historic Sites in Las Vegas
Las Vegas Historic Sites
Old Las Vegas Mormon Fort
The Springs Preserve
Little Church of the West
Heartland Mansion
Why not combine the great outdoors with learning some history? Las Vegas has a few sites where people can do just that.
At Old Las Vegas State Mormon Fort, visitors are able to see the historic remains of an adobe fort built by Mormon missionaries along a spring-fed creek in 1855. This state historic park is home to the first permanent, non-native settlement in the Las Vegas Valley, and has a creek that is known to be the only free-flowing body of water for miles around.
Additionally, The Springs Preserve is unlike many other outdoor areas around Vegas, featuring a Botanical Garden, the Nevada State Museum, Butterfly Habitat, Origen Museum, and much more. With over 75 permanent exhibits, an indoor theater, and traveling exhibit space, the Origen Museum combines the words "original" and "generations" to showcase the history of the area. Some of its popular exhibits include the Flash Flood Exhibit, Live Animal Exhibits, and Hoover Dam Exhibit.
Adrenaline Rushes in Las Vegas
Exciting Rides in Las Vegas
Big Shot
Insanity
X-Scream
SlotZilla
Big Apple Coaster
Circus Circus Adventuredome
There are many ways to get hearts pumping when you move to Las Vegas. If that's the kind of experience that people are looking for outdoors, there are some great thrill rides for them to try out in the city.
The Stratosphere Hotel, Casino and Sky Pod (nicknamed "The Strat") in Vegas has a few thrilling rides. Shooting its riders 160 feet in the air at 45 miles per hour all in a few seconds, their Big Shot ride provides a view of the Las Vegas Valley—right before shooting riders up and down again at a height of 1,081 feet. But if being attached to something is too easy, people can also choose to dangle off the side of a building at over 900 feet on the Insanity. Lastly, The Strat has one of the most popular rollercoasters on the strip, the aptly named X-Scream.
For more dangling and taking in the Vegas lights and sites, zip-lining at SlotZilla is available, which is an 11-story, slot machine-inspired zip-line attraction. With two options to choose from, people can try the Zip-Zilla at 7-stories high and 2 blocks long, or the Super-Hero Zoom at 11-stories high and 5 blocks long.
Those looking for something to still get the adrenaline pumping on The Strip (but maybe a bit less so than the options above) can try out New York-New York Hotel and Casino's Big Apple Coaster, or one of the many rides and attractions that can be found at Circus Circus's Adventuredome.
Enjoy the Outdoors in Las Vegas
With so much to do and see in and around the city, people can always plan a trip to spend more time in nature or just enjoy the great outdoors in the Las Vegas area. People aren't limited to staying inside or under the neon lights when having a great time in this city; they can try out one or more of these many outdoor activities to experience a new side of Vegas that perhaps they haven't seen before. If you're looking for a Las Vegas home that's open to the great outdoors, contact Debbie Drummond at Simply Vegas Real Estate with The Las Vegas Luxury Home Pro at (702) 354-6900 and get started finding a Las Vegas home that's the ideal fit for you.