Best Suburbs in Las Vegas: Las Vegas, NV Community Living Guide
Posted by Debbie Drummond on Friday, March 26, 2021 at 12:15 PM
By Debbie Drummond / March 26, 2021
Comment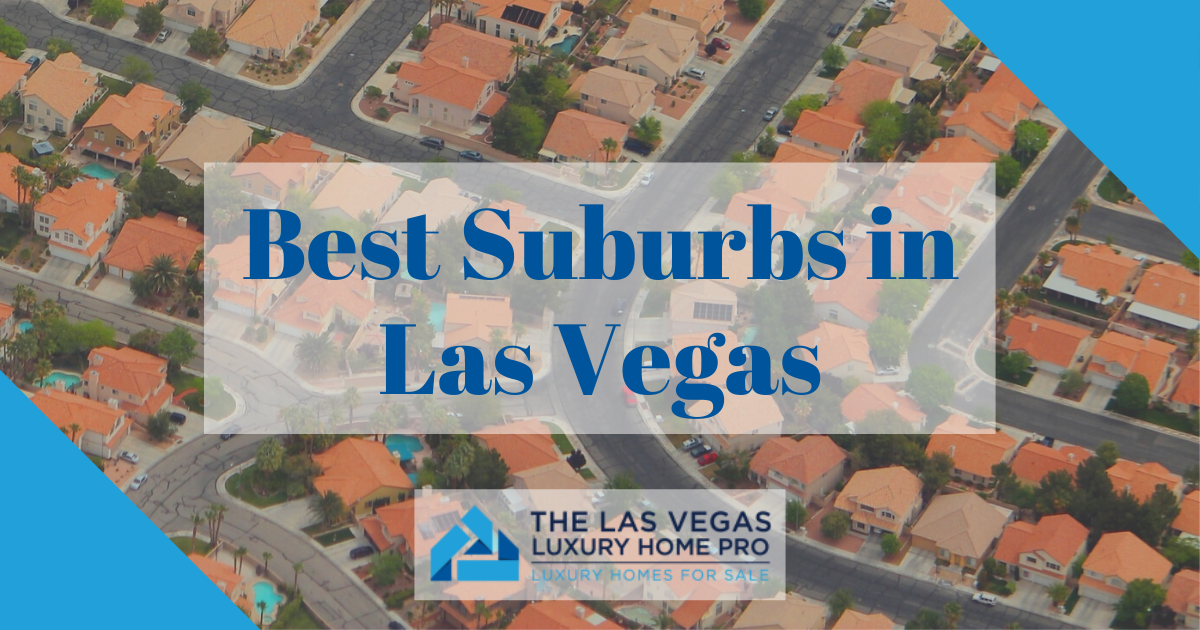 The Las Vegas Valley is home to Nevada's largest urban area, the Las Vegas metro area. Las Vegas metro has been synonymous with Clark County Nevada since 2003. Geographically, it is an area defined by the valley's basin, surrounded by mountains on all sides. The valley is home to the state's three largest incorporated communities, as well as 11 unincorporated towns governed by Clark County.
The area has seen rapid growth since the 1990s, tripling its population. The following suburban communities of Las Vegas offer residents easy access to the Las Vegas Strip while maintaining the feel of a suburban neighborhood and offering plenty of local amenities. Explore the luxury of Las Vegas without the price tag by living in one of these popular suburbs of Las Vegas.
Henderson
Henderson Amenities
Artisan Booze District
Water Street District
Henderson Symphony Orchestra
10 golf courses
66 city parks and trails
Mass transit service
With an estimated population of about 320,189 residents, Henderson is the second-largest city in Nevada. Henderson is located in the southeastern end of the Las Vegas Valley. The city got its start in the 1940s as the site of a magnesium plant supplying the U.S. war effort. After the war, 14,000 employees left. The state stepped in, the plant was sold, and the city incorporated six years later in 1953.
Henderson's residents are attracted to the city's award-winning, master-planned communities, favorable business environment, and proximity to the Las Vegas Strip. Henderson is home to Nevada's largest recreational facility as well as its only scenic bird preserve. The median list price in Henderson for all homes is just under $400,000.
Summerlin
Summerlin Amenities
150-mile trail system
250 parks
Las Vegas Ballpark
10 golf courses
Summerlin Hospital
Summerlin is a master-planned community in the Las Vegas Valley, partially within the city limits of Las Vegas and partially within Clark County. This suburb was developed on what was originally land purchased by Howard Hughes. But, Hughes never relocated his company there, and following his death, the corporation overseeing his land holdings announced it was developing the 25,000-acre area into a series of master-planned communities. By 1990, the first Summerlin residential village, park, and school were complete.
Development continues in Summerlin to this day, with over two dozen commercial and residential villages. Residents enjoy Summerlin's Downtown, which opened in 2014, offering 106 acres of shopping, dining, and entertainment to visitors and residents. Summerlin features over 25 parks and more than 150 miles of trails. The median list price in Summerlin for all homes is $369,500, which is a 5.6 percent year-over-year increase.
Boulder City
Boulder City Amenities
Lake Mead Marina
Boulder City Theater
Three golf courses
Sloan Canyon National Conservation Area
Boulder City Art Guild and Gallery
Lying 26 miles southeast of Las Vegas, Boulder City is home to about 16,153 residents. This suburb got its start as a place to house workers contracted to build the nearby Hoover Dam. Boulder City has the rare distinction of being a community fully planned under government supervision because the size and scale of the Hoover Dam project necessitated more than a temporary arrangement. Boulder City was ranked sixth among the top 15 cities to retire to, by Monday Magazine.
In addition to tours of nearby Hoover Dam, visitors to Boulder City will find plenty of outdoor recreational opportunities, like golfing, hiking trails, and bike paths. Residents enjoy Boulder City's historic downtown, the hub for Boulder City restaurants, local art, and antique shops. The median list price for Boulder City is $332,000, up 5.4 percent year-over-year.
Enterprise
Enterprise Amenities
Exploration Peak Park
Southern Highlands Golf Club
Mountain Bike Trails
Enterprise is an unincorporated community of 164,314 people, situated in the Las Vegas Valley. It was founded in 1996 and is a suburb of nearby Las Vegas.
In 1905, the town of Arden was formed to accommodate housing for miners who worked at nearby gypsum mines. The name "Enterprise" was later used to refer to its newly formed school district, and eventually, the entire community.
Enterprise appeals most to those looking for a community with a suburban feel and an array of schools. It is considered one of the state's best suburbs to live in. The local economy is primarily supported by the arts, recreation, accommodation and food service, entertainment, and real estate rental and leasing sectors. The median list price in Enterprise is $355,000 for all homes, up 7.6 percent from over a year ago.
Sunrise Manor
Sunrise Manor Amenities
Three golf courses
Frenchman Mountain Trailhead
Sunrise Trailhead
Sunrise Manor is an unincorporated community, located east of Las Vegas. It is set in Clark County, Nevada, at the base of the Frenchman Mountain. With a population of 192,934 residents, Sunrise Manor would be one of Nevada's largest cities if incorporated.
Sunrise Manor was created by the Clark County Commission in 1957 to block the area's annexation by North Las Vegas. Originally, the community consisted only of its current-day northern portion, but in 1980, the community of Vegas Creek was dissolved and added to Sunrise Manor. In 2018, some residents of Sunrise Manor proposed incorporation, with the proposal to combine with the nearby city of Whitney.
The median list price in Sunrise Manor for all homes is $232,000, trending 5.5 percent higher than a year ago. Residents of Sunrise Manor are attracted to the city's proximity to Las Vegas, as well as its lower cost of living, amenities, and weather.
Discover the Best Suburbs in Las Vegas
There is a wide range of communities in Las Vegas, but the best suburbs of the city offer residents the convenience of proximity to all the entertainment, excitement, and employment opportunities that Las Vegas has to offer, but with the local amenities and suburban feel that appeal to so many.
From outdoor recreational opportunities to local arts and culture, these communities provide an alternative to the glitz and glamour of Las Vegas, while still offering an easy commute into the city. Many of these suburbs have thriving downtowns in their own right, with local restaurants, shopping, and attractions. From new, master-planned neighborhoods to historic communities, these suburbs have much to offer residents and visitors alike. If you'd like expert advice on which Las Vegas suburb may be the perfect fit for you, contact Debbie Drummond at Simply Vegas Real Estate with The Las Vegas Luxury Home Pro at (702) 354-6900 to talk to a local real estate agent and discover the ideal Las Vegas home for you today.