Buying a Las Vegas Home Without a Homeowner's Association
Posted by Debbie Drummond on Wednesday, May 2, 2012 at 9:13 PM
By Debbie Drummond / May 2, 2012
Comment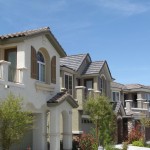 Buying a Las Vegas Home Without a Homeowner's Association is an option that we see more and more buyers considering. This past week-end, I started working with new clients from California who have never owned a home in a homeowner's association and they were puzzled about why we don't have more homes that aren't in HOAs.
As a California expatriate, I know how they feel. The only time I lived in a community with an HOA was a condo. My single family homes were never governed by an HOA until I moved to Vegas. One reason my new clients aren't crazy about HOAs is they have noticed most of the homes in them look very similar. They live in West L.A. and homes in their current neighborhood have charm and there's variety in the style of homes as well as the colors and the landscaping.
While looking at a few of the communities where they can buy new construction homes, they were curious about whether they could paint their house a different color. In the typical homeowner's association, you are allowed to paint your home but the overwhelming majority have architectural review boards who will approve the colors you're allowed to paint.
In all fairness, the HOAs are trying to avoid having the community turn into a Vegas version of Haight Ashbury. We have a building on the West side at the corner of Rainbow and Flamingo that has offended neighbors for years. This building is home to 702 Traffic. We have never been inside their office and have no idea how effective they are but their hot pink building grabs your attention as you drive by.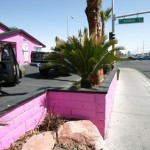 And in San Francisco's Haight Asbury District, it wouldn't stand out in the least. On a street in a quiet, residential area it would. As much as the neighbors may have complained, Flamingo and Rainbow have become such a busy intersection that the powers that be have allowed the building to keep the color that the owner refers to as Fuchsia but the neighbors have compared to Pepto Bismol.
Homeowner's Associations have their good points. They can fine the neighbor who lets their landscaping get overgrown or dead. They may maintain common areas within the community and they will definitely maintain the gate if it's a gated community. But they can also restrict. That tree you wanted to put out in the backyard may not fit their guidelines. You may not be able to put a basketball hoop in the driveway.
Another common complaint we hear is about the HOA fees. I've had buyers who were even curious about whether we could negotiate the HOA fees. Afraid we don't get to negotiate those and yes, there is every possibility that they can be increased in the future.
Ideally, HOAs will operate in the homeowner's best interest to preserve property values and maintain a pleasant atmosphere for all to enjoy. Over recent years, homeowners who were unhappy with their association have increased to the point that the state now has an official Ombudsman for homeowners to contact for disputes with their HOA.
Nevada State Law requires that home buyers who are purchasing in a Common Interest Community, be provided with a current copy of all the Associations Bylaws, Rules and Reguations, Articles of Incorporation, Financials including operating budget and reserves, etc. Homebuyers are allowed five days from midnight of the day this "Resale" package is delivered to them for reviewing all the materials. I highly suggest buyers take time to read the documents. Find out if you can park cars in your driveway over night or paint your home the color you want. If you cannot live with the rules and regulations of the community, you are allowed to cancel the purchase and you should because the chances the community will bend their rules to allow you to do something that it prohibits are slim and it isn't worth taking that risk.
Buying a home without an HOA may be your best option if you are fond of homes that are a little unique. If you want a home that can be painted the color you prefer and you can landscape as you see fit, there are some great little communities that are not in HOAs. You will still be governed by County, State & Federal rules and zoning ordinances but you can normally paint the color you want.
Freestanding homes can be found in areas all around the Valley. You won't find them in the master planned communities like Summerlin, Green Valley, Southern Highlands, etc., but we can find them close to those areas. If you would like more information about buying a Las Vegas Home without a homeowner's association give me a call at (702)354-6900.