Buying a Pool Home? Pool Home FAQs
Posted by Debbie Drummond on Thursday, May 14, 2015 at 11:47 PM
By Debbie Drummond / May 14, 2015
2 Comments
Spring buying season and warm sunny days have home buyers dreaming of pool homes. Homeowners question how much the pool adds to their home's value. Buyers question whether it will be good for their resale.
Does a Pool Add To My Home's Value?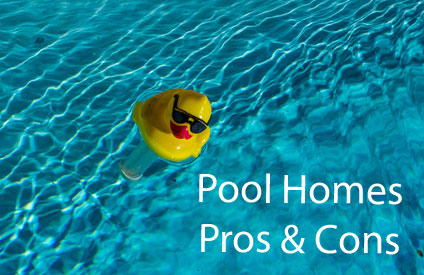 How much value a pool adds is one of the most common questions. In some parts of the Country, a pool can take away from resale value. If your climate only allows 2-3 months to enjoy the pool, you should ask your local Realtor how it affects value. That isn't the case in the Southwest. Our warm sunny days make it possible to use a pool more than in most other parts of the Country. From San Diego to Santa Barbara to Phoenix and Las Vegas, pool homes are in demand.
How much an appraiser will allow for a pool will vary from one home to the next, based on the size of the pool and the comps. You can expect to pay at least $10K more for a home with a working pool. This value would be for a modest, smaller home. In the mid-price range, add $30-$50K for a pool.
Real estate expert Bill Gassett lists swimming pools in his five worst home improvements. We love our pools in Las Vegas. It is understandable that they won't add value to a home where snow lingers until late Spring. Even in a hot climate, resale value alone isn't a good reason to add a pool. If you won't enjoy the pool, there are other projects that will give you a better return on your investment.
Buying a Luxury home?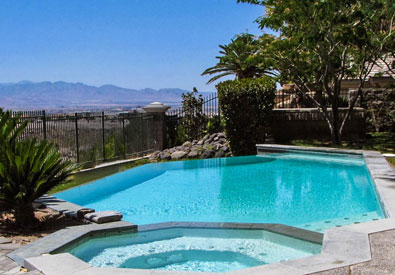 Having a pool is almost a necessity when when you go to sell a luxury home in Las Vegas. In twelve years of working with Las Vegas luxury home buyers, only once have I found a luxury home buyer who preferred not having a pool. Once you reach the $2M price range, homes without pools are scarce. A search of the Las Vegas MLS shows 217 homes that were listed over the past year for $2M or more. Only 9 of those homes did not have pools. Five of the homes without pools were new construction homes. Only four of the resale homes didn't have pools. Is this because homeowners who can afford a pool prefer having them?
In the luxury home market, having a pool doesn't just add to value. Not having a pool could detract from value since most luxury home buyers expect a pool.
Why Should Your Home Have a Pool?
Fitness and recreation - swimming is great exercise. We're seeing an increasing number of retirees buying pool homes so they can use the pool to stay in shape. On top of the fitness benefits, jumping into a pool and swimming a few laps is a great way to wipe away the day's stress.
Entertainment - Even if you're not a swimmer, pool parties are fun. On summer evenings, you and your friends will enjoy hanging out by the pool. The pool can be an attractive center piece for any backyard. If you have kids, having a pool can make your house "the" place to hang out.
Escape the Summer Heat - On our hottest days, you will enjoy being able to hop in the pool and cool off. Swimmers and non-swimmers like to lounge in the cool water.
Aesthetics - Being able to gaze out at a pool on a sunny day adds appeal to the living room, dining room and any spot that has a view of the pool. It's something that you can enjoy while you live in the home and it will add to your home's backyard appeal when you're ready to move on.
The Cons of Owning a Pool
While most people who can afford a pool home prefer having the pool, they aren't for everyone. If you and your family would never use the pool, you shouldn't spend the extra money to buy a pool home. On top of whether you would use it or not, here are some other points to consider -
Cost of the pool - The cost of a pool starts with having it put in. The lowest price we've heard for installing is $30K. And now that our construction workers are going back to work for builders, don't be surprised to see that increase. The latest, contemporary pool with water and fire features can set you back more than $100 thousand. The most luxurious pools with can easily cost as much as an entry level home.
Maintenance Costs - If you have the time and ability, you can maintain your own pool. If you're unable to take care of it, consider a pool service. Maintaining your pool includes adjusting the chemicals in the water and cleaning the filters. On occasion draining and power washing are necessary. As the pool ages, it may need to be re-surfaced.
Regular maintenance will extend the life of your pool. Las Vegas pool companies charge anywhere from $60/month to $175/month on average. The fee will vary depending on the size of pool and the company providing the service. A dependable pool service who will show up even when you're out of town will earn their fee.
Proper maintenance will help extend the life of the pool equipment, but things will need fixing. The solar panels for heating a pool can save on energy costs, but they tend to start leaking after a few years. Pool pumps may need repairing or fixing. If you're buying a home with an older pool, you will want to allow for those un-expected repair expenses.
Liability - If young children will be present, consider having protective screening placed around the pool. The screens can prevent a toddler from wandering out to the pool while no one is looking.
Your homeowner's insurance may also be higher if you own a pool. One of the home inspectors we work with routinely advises buyers to take swim and CPR classes. He may be going a bit far with this advice, but it certainly wouldn't hurt to be prepared.
What Type of Pool Is Best For Your Home?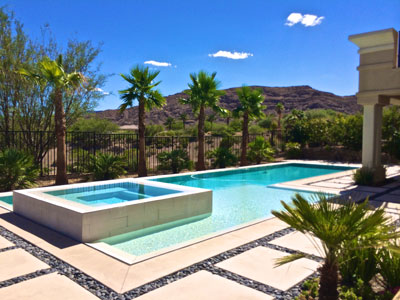 After deciding that the pros outweigh the cons, you should research different types of pools. Above ground pools are common in some States, especially areas where pool season is brief. We seldom see them in Las Vegas. As Anita Clark points out in "Above Ground vs In Ground Pools", above ground pools are less expensive. In ground pools will add more to your home's resale value in Southwestern States.
We are seeing more "spool" type swimming pools. These are a combination of spa and swimming pool that take up less space. As a result they're less expensive to build and maintain. Spools are new and we haven't seen many of them in Las Vegas. We may see more if water becomes more scarce.
A look at popular home publications will show that pools are in all shapes, sizes, and styles. Once you've given some thought to the size and style pool you want, it's best to interview a few contractors. On top of comparing the contractor's prices and reputations, what type of pools are they recommending? Are they incorporating the latest technologies into the design? If possible look at pools they have built.
Before deciding on the material for a pool, try swimming in one with a similar material. Pebble tech pools have been popular for years now but not everyone likes them. Some complain that the pebble tech pools stick to your swim suit.
Building your own pool is expensive. It can be a hassle to build. Once you've had it built, you'll have years of enjoyment and in some real estate markets, better resale value.