China Town Las Vegas Offers Great Eats
Posted by Debbie Drummond on Friday, March 2, 2012 at 3:57 AM
By Debbie Drummond / March 2, 2012
Comment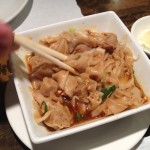 China Town Las Vegas is relatively new in comparison to the famed China Town in San Francisco, but it is growing and for us foodies, that's a good thing. For the past several months, we've been hearing about a place on Jones at the edge of China Town in Las Vegas that is serving up some great, authentic Chinese food. We finally had a chance to stop in for a late lunch and China Mama lived up to all the hype.
We started with the "Steamed Pork Buns", also referred to as "Soup Dumplings" because they're stuffed with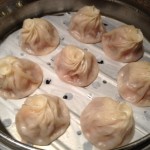 ground pork and a little soup stock. I'm a fairly skilled cook and have made my own Sui Mai, Fried Won Tons and other dim sum items before. I cannot imagine how they manage to get the soup stock inside these delicate little won ton skins. Don't know how they filled them with the soup stock and kept them so uniform, but we were glad they did. The dumplings were served along with a small dish that had slivered ginger in it. Traditionally, you pour black vinegar over the ginger and dip the dumplings in the ginger, getting a piece of ginger to eat along with the dumplings. While that's tradition, we like it spicy and chose to top ours with the excellent house made chili garlic paste which we had requested. Reviews on Yelp and in local food articles had mentioned the dumplings but we had to try the "Spicy Wonton". Turned out to be another "not to be missed" dish. Tiny little bits of pork were stuffed into the won tons which were steamed, then served in a chili oil with finely ground peanuts and minced green peppers. The silken texture of the noodle combined with the mildly spicy sauce was heaven.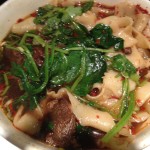 We decided that leftovers would mean we didn't have to cook later, so we tried two other dishes which we'd read mostly positive reviews of. We asked that they make our Beef Stew Noodle Soup extra spicy, and they did. We tried the wide noodles which he liked, but I'm more partial to the thin ones. The beef in the soup was nice and lean. The broth was spicy as we had requested with just the right amount of greens for flavor and color. It is definitely a dish we'll try again. For the finale, we had read glowing reviews of the Stir Fried Crispy Beef and we agreed that it was delicious. One of our pet peeves about Chinese Restaurants in Las Vegas is they tend to do stir fried beef, chicken, etc., with a ton of vegetables and only a little bit of the meat. Not so at China Mama. There were slivers of carrots but the number one ingredient in this dish was the beef and it was a good quality of lean beef. Next time we'll have them up the heat in it a little. The way they prepare it would be more than spicy enough for the average diner, but we tend to like spicy hot.
Overall, we were very pleased that we had a nice lunch with fresh, good quality ingredients. They do pronounce on the front of their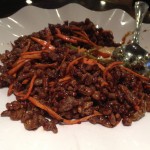 menu that they don't use MSG and "we use vegetable oil only". Considering the freshness of the ingredients, which was obvious in the flavor, even of their chili garlic paste, we felt they were well priced. The booths were comfortable and we will be back to China Mama. It has definitely made our list of favorite restaurants in China Town Las Vegas. Unfortunately, China Mama doesn't seem to have a website, but we did find their menu on EAT24 for those who want to order for pick-up or delivery.