Dangers of Over Improving Your Home
Posted by Debbie Drummond on Tuesday, October 27, 2015 at 7:28 PM
By Debbie Drummond / October 27, 2015
1 Comment
Your home can be one of your most important investments. Proper maintenance and updates will preserve and improve the home's value. Carefully consider improvements before making them. Bill Gassett explains, some improvements can even harm your home's value. Others may not have a good Return on the Investment.
Pride of Ownership in Your Home
Listing agents like to boast that a home shows "true pride of ownership". This usually means the owners have taken excellent care of the home. One of the most common criticisms we hear when showing homes is "it's so dated". We hear this in all price ranges, from entry level homes to luxury homes. If your home is more then ten years old, you should consider whether it needs a few updates. This is especially true with a luxury home. When viewing a home priced at $1 Million or more, buyers expect to see a home that looks like a million.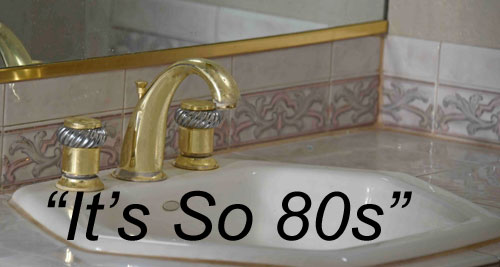 Does it still have gold/brass faucets in the bathrooms? Does it have the same trim around the shower doors? If it does, buyers are likely to comment "it's so 80's". Changing out those fixtures is a fix that shouldn't cost you a ton. Updating fixtures to more contemporary styles can make your home more appealing to buyers. Dated tile or corian countertops are tell tale sign that it's an older home. Consider switching to granite or a contemporary finish like quartz. This is another update that doesn't have to cost a fortune.
Old Jacuzzi tubs are another turn off. They can be soothing but studies show they may be difficult to dis-infect. Today's buyers don't want to bathe in a Jacuzzi that's looking old and worn. If you must have a jetted tub try replacing the old one with one of the newer, easier to disinfect models. Air tubs are becoming popular. They may not be more sterile than the whirlpool tubs. The current trend is for deep soaking tubs and free standing tubs.
At our house, we like to pick at least one project to update or repair each year. Last year it was the cool deck around our pool. Before that we changed to all stainless appliances. Then it was replacing carpet with tile floors throughout. This Summer we updated the master bath. Replaced the old Jacuzzi with a Kohler deep soaking tub. Instead of the gold brass faucets, we have brushed nickel. The nice but dated tile surround that was so 80s, is now a contemporary spa look.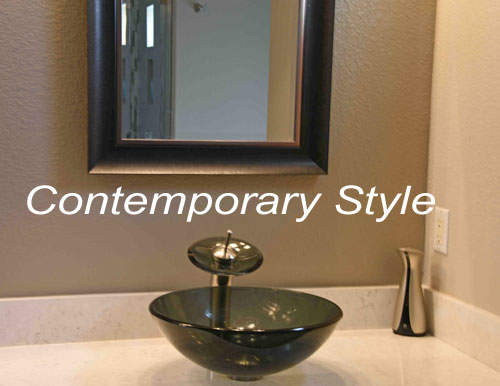 We're not planning to sell our home anytime soon. When we do list our home, it will be competing with new construction homes down the street. The improvements should help. In the meantime we get to enjoy them. Any home owner should consider making upgrades to keep their home looking current.
There are some upgrades that can be over the top. Adding a pool isn't a good idea in some parts of the Country. In Las Vegas, a pool will add some to the value of your home but you may not get a 100% ROI. Adding a lavish pool with fire pits and water falls may be overkill unless you live in a luxury home community. A simple pool and spa will give a better ROI in the average neighborhood.
Have You Over Improved Your Home?
We recently met with a couple who own a beautiful home in a gated community. They bought it as a new home when the housing market was just starting to collapse. The builder had dropped their price down from $700k to $512K. This included $120K in upgrades. Their home has tile and wood floors throughout. Other upgrades include custom closets and upgraded cabinetry, crown molding and upgraded baseboards. The kitchen features upgraded granite counters with undermount sinks and stainless appliances. The bathrooms have granite and marble finishes with undermount sinks. They didn't overlook anything when choosing upgrades for this home.
After closing, they added light fixtures, shutters and custom blinds. They spent a small fortune on landscaping. The front courtyard features a small pond. They installed a large pebble tech pool/spa in the backyard. It's easy to see that they have over $600k in the home. Current comps are in the $400s. They were hoping to get at least $550K.
The original homes in their subdivision sold as "luxury" homes. Prices approached $1M at the peak of the market. The builder modified the floor plans and finishes they offered during the housing downturn. Homes built in the final phases of the community are nice, but plain compared to the earlier homes. The lower priced new construction homes have hurt their property values as much as the short sales and foreclosures.
Appraisals and Upgrades
An appraiser is not likely to give homeowners credit for all those upgrades. The home above was built in 2008. A new construction home in the subdivision just sold for $449K. It's 300 sf larger than their home and built in 2015. The new construction home has granite counters with basic cabinets and the lot is 3000 sf smaller. An appraiser will still give advantage to the new construction home. It's newer with more energy efficient appliances and a new home warranty.
The owners would still be losing money if they hadn't added the pool after closing. Having the pool may help their home sell quicker. The market won't return the money they spent on such a lavish pool in this neighborhood. Their pool has features that can run the construction cost up to $75K. Appraisers give pools in this neighborhood $20-$30K in value. Not a good ROI on this pool. This is an example of over-improving. The mistake was magnified by the declining market.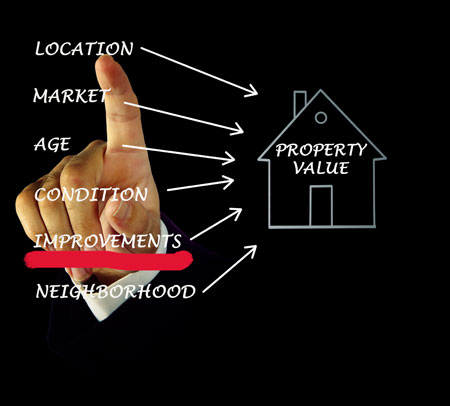 Most of our luxury home builders report that buyers spend about 20% in improvements. Builders are cautious about allowing buyers to spend too much on improvements when they're financing. There is always the concern the home won't appraise if the buyer adds too many improvements. Even with an older home, you should be cautious about the improvements you add.
We've advised the couple with the over improved home to lease it. Our market is recovering and it's a newer neighborhood. In one or two years, we should get the $550K they want. On the bright side, they picked up a few rental properties during the downturn. They'll recover their losses with profits on the rental homes.
When improving your home, keep copies of all receipts. When you're ready to sell the home you should have a detailed list of upgrades you've made over the years. That list can be shared with the appraiser. The appraiser may not give you full value for the improvements but they should give you some added value over comps without upgrades. The invoices will also be useful to establish the tax basis in your home for your tax returns.
Should You Remodel or Upgrade Your Existing Home?
If you plan to stay in your home, it is a good idea to maintain it. Anytime you notice the paint is starting to peel or something needs repair, you should take care of it. Fixing a problem early will keep it from getting worse and costing more.
Whether you should invest in other upgrades will depend on the specific situation. Kitchen and bathroom renovations can provide some of the best ROIs. Even buyers who don't cook prefer an upgraded kitchen. Before remodeling, take a look at the latest trends in your area. Try to choose home improvements that will add to your home's value. Are the neighbors homes looking well kept or run down? Are nearby businesses thriving or do you see signs of a faltering economy?
Businesses like Starbucks or Whole Foods are positive signs for your home's value. These companies do research to identify the "hot neighborhoods". If they move nearby, your home values should do well. The opposite is true if nearby businesses have started closing.
Before starting any home improvement project, put together a budget. Find out how much the materials, labor and everything involved will cost. Make sure you aren't starting a project that will cost more than you expect and leave you short on cash.
Once you know how much the project will cost, add that amount to the amount you have already invested in your home. How does that compare to the price of homes that have sold recently? Does the total exceed recent comps by tens of thousands? You might want to consider whether you should remodel or move. Updating your home can be good for your home's value but don't go overboard. If you live in a modestly priced area, go for a high end GE or other brand rather than putting in the Wolf or Viking appliances.
How To Get Top Dollar for the Nicest Home on the Block
Deciding to sell your home can bring up a lot of memories. You remember the time and money you invested in it. You remember how great it was when you entertained family and friends. Before long you're convinced that it is the nicest house on the block....or maybe even the nicest house in the entire neighborhood.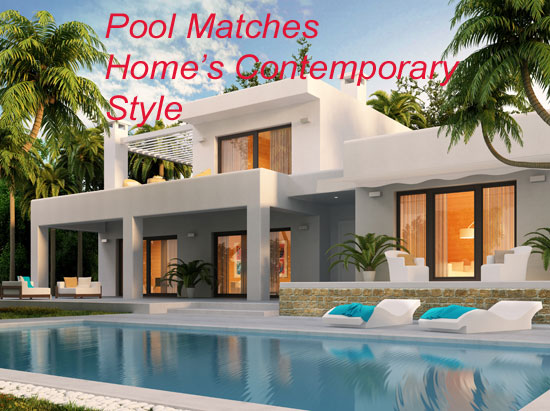 Convincing yourself that it's the nicest house in the area can be one of the first big mistakes you make as a seller. Yes, you remodeled the kitchen and bathrooms. You put in new floors and a pool. When it comes time to set the price, you add all the money you've spent on the home plus the price you paid years ago. Then you add the sales commissions and expenses to determine your price. It's only reasonable that you should be able to get what you've put into it, isn't it?
Too bad the real estate market doesn't work that way. Some home improvements give a better return than others. Kitchens and bathrooms can be some of the best home improvements to add value. You seldom see an improvement that gives a 100% ROI.
When it's time to price your home, you have to be competitive with other homes in the area. Even if they aren't as "nice" as your home, setting your price substantially higher than the competition is a mistake. If you price your home in line with nearby homes, the improvements will make your home stand out. Buyers will see it as the best value and your home will be sold while the competing homes sit there.