Death Valley National Park - Only 2 Hours from Las Vegas
Posted by Debbie Drummond on Saturday, April 27, 2013 at 5:07 AM
By Debbie Drummond / April 27, 2013
Comment
Death Valley National Park - Las Vegas is home to lots of great parks and places for exploring the desert. After ten years of living here, I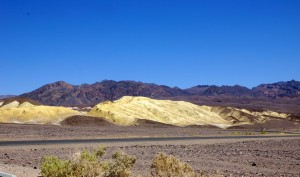 finally got around to paying Death Valley a visit. Getting there from Las Vegas is easy. The quickest route is to head over Hwy 160 through Pahrump. We were there in only 2 hours.
As we turned onto the highway that takes you into the park, we were surprised that some of the Mountains were covered with a fair amount of green. The recent rains seem to have left more vegetation growing than we had expected to find. Further into the Death Valley National Park, we were surprised at the colors of the Mountains.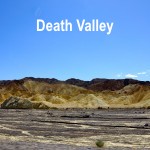 Some of them were varying shades of brown. Some had white streaks. Others were gold and some had shades of red.
The area of the park that's closest to Las Vegas is Furnace Creek. This is where you find the lowest elevation in the park. The Badwater Basin is the lowest point in North America with an elevation of -282 feet. Here you'll see salt flats that could easily pass as a photo of what you might expect to find on the moon.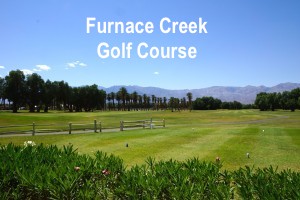 It isn't surprising that Borax was once mined here. And now we realize that "20 mule team Borax" wasn't a reference to the strength of the Borax but was how they transported it out of Death Valley. Harmony Borax Works has a walking trail with displays about the history of the area.
The biggest surprise for us was finding that Death Valley National Park isn't the desolate, barren landscape we expected. We toured the Furnace Creek Inn where they've created a desert oasis that has a creek running down the hill. The hill is lined with palm trees and at the bottom there are a couple of nice little lagoons. It was a great place to walk our dogs. And the swimming pool at the Furnace Creek Inn was especially inviting.
Just past the Inn is the Furnace Creek Ranch which is a resort. It also has a date palm grove and the Furnace Creek Golf Course. The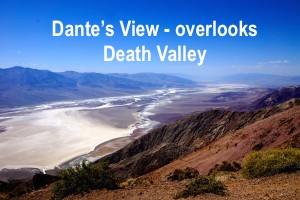 golf course is the world's lowest golf course at an elevation of -214 feet. Yes, you can play a round of golf below sea level.
One of our favorite spots from yesterday's trip to Death Valley National Park was Dante's View. It's 5000 feet above sea level and was considerably cooler than the basin floor. It offers a beautiful view of the Southern half of Death Valley. The view here is one that has to be seen to be believed. The white salt flats of the desert basin look like an ocean that spreads for miles.
We didn't have time to drive further North but plan to go back and explore some of the other spots in this incredible park. If you plan to visit, it's a good idea to check on weather conditions. You don't want to be in some areas of the park if there's a storm that could cause flash floods. And in the Summer, be prepared with an ice chest with cold water to sustain you in case of car problems. A few precuations will ensure that you have a great time exploring Death Valley National Park.