Disadvantages of Buying a New Construction Home
Posted by Debbie Drummond on Sunday, December 5, 2021 at 1:07 PM
By Debbie Drummond / December 5, 2021
Comment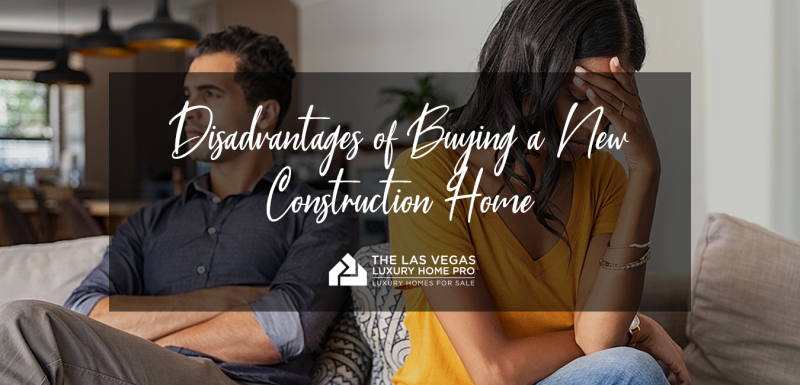 Buying a new construction home may seem like a match made in heaven for many buyers in the market for a new place to live. But the prospect of buying a new construction home does come with a few potential downsides, which is why all new construction buyers should be on the lookout for this possible disadvantages...
New Homes Are More Expensive
Along with all the fresh new materials needed to build a house, buyers are typically on the hook for a wide range of other new construction-related expenses like installing utilities, having a driveway paved, connecting to sewer lines, having sidewalks installed, and more. As a result, buyers typically end up paying around 15 to 20 percent more than the cost of a similar existing property.
Longer Commute To City Center / Downtown
New construction developments and communities, especially in Las Vegas, tend to be located on the outskirts of downtown, which can sometimes mean further away from major business districts, shopping hubs, schools, and other community amenities. So while buyers might love the idea of a living in a brand new home, it might also mean spending a lot more time in the car.
Thinking of buying a new construction home in Las Vegas?
Search
Las Vegas new construction homes for sale
, or Contact Debbie Drummond, local new construction expert, for buyer
representation
and to negotiate the best possible deal on your behalf!
Smaller Lots & Less Privacy
Although some new home communities with lavish and luxurious homes offer large lot sizes, most are built on plots of land that are much smaller than those in older, more established neighborhoods. So if lots of private outdoor space is high up on your wish list, be sure to pay close attention to lot dimensions for any new home development you're considering.
Related: What to know about a new construction loan
Less Charm & Character
Certain homes and home styles offer an abundance of charm and character, especially when it comes to older homes that date back 50+ years. Unfortunately, it's hard to capture that same affect with a new construction home, and one of the most common complaints I hear about new residential communities is that all the homes look the same.
Association Rules + Regulations
If you're someone who loves to do your own thing on the exterior of a home or on your property, living in a new construction community may not be the perfect fit. In fact, almost all new construction subdivisions are governed by homeowners associations (HOAs), which means you might not be able to build your own fence, add a storage shed, or plant your own shrubbery without permission.
You Might Hear Construction Noise Early-On
Depending on how large of a community you're moving into, you might have to deal with muddy roadways, extra traffic, and lots of extra noise from hammers, saws, and other heavy equipment for the foreseeable short-term. If you and your family members plan to be gone for most of the work day, this might not be as much of an inconvenience as it sounds. But for families with babies and small kids, or anybody who works from home, it's something you'll want to consider before signing on the dotted line.