Downtown 3rd Farmers Market Offers Fresh & Hard to Find Produce
Posted by Debbie Drummond on Friday, March 23, 2012 at 4:00 AM
By Debbie Drummond / March 23, 2012
Comment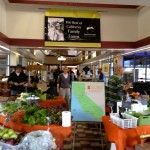 The downtown farmer's market that we mentioned in our blog earlier this year, has now officially opened. Located in the old bus depot at 300 N. Casino Center, this is an indoor market which will be great as we get into summer. It's off to a promising start with publications like the Las Vegas Weekly wondering if it could be "Las Vegas' Embarcadero?" The location is adjacent to the Mob Museum, which on our visit had a full parking lot of visitors. And it's next to the old City Hall, which is soon to be home base for Zappos. We enjoy farmer's markets and tend to choose which one we visit based on which day we have time. After our visit to the Downtown Farmer's Market, we're going to be hoping for free time on Friday mornings. Not only is this one indoors, it has the kind of urban feel we remember from our days of visiting markets in Santa Monica and later at the Embarcadero in San Francisco. Starting with the Fukuburger and Grouchy John's food trucks which were parked out front. Hadn't tried Fukuburger before, but have heard about them from the tweets that the Slidin' Thru food truck owners post. Fukuburger lived up to their hype. We didn't try Grouchy's coffee, but they make a killer peach smoothie.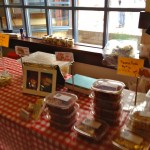 Having had a little snack before we entered allowed us to shop a little more sensibly and not buy everything in sight, though we were tempted. Many of the vendors from the other markets were participating. We did see our favorite fresh pasta from Parma by Marc. They didn't have my favorite pappardelle but I can always pick it up at their restaurant on Buffalo which we tend to visit once a week or so. New items that we haven't seen before included the Arizona Tamale Factory and Tassoni's Italian sausages. We regretted that we hadn't brought our cooler because we would have tried some of their products if we'd had a way to keep them cool for an hour or so while we were making a couple of stops on the way home. The things that really impressed us, though were the produce. Some of the biggest stalks of asparagus that I've seen. Several varieties of lemons, including Meyers and one that's new to us, Lemoncello. Yes, we know what the drink is but these lemons were small, round balls unlike what we've seen before.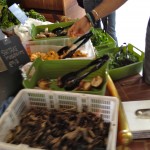 The mushrooms they were selling were priced better than the supermarkets and were beautiful. We picked up Italian Broccoli that isn't bitter, great for pasta. And with all the cutting edge restaurants we've tried, we had not seen pink spinach until we found it at the Downtown3rd Farmer's Market. The pink was missed in with green spinach. They suggested sautéing it in olive oil and sprinkling with lemon, but it has such a great flavor that we're thinking of Spinach Salad. For those who live in the nearby condos, this is a great addition, but even those of us who live in the suburbs will find this market is worth the drive. It's held on Fridays from 9 a.m. until 2 p.m. They will also take down your email if you want to stay informed.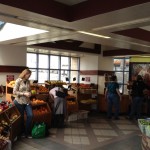 The market is featured on the website for this area, Downtown3rd.com. You can also find them on Facebook. See you there!