Las Vegas Downtown Driving Times to and From the Suburbs
Posted by Debbie Drummond on Thursday, March 18, 2021 at 11:14 AM
By Debbie Drummond / March 18, 2021
Comment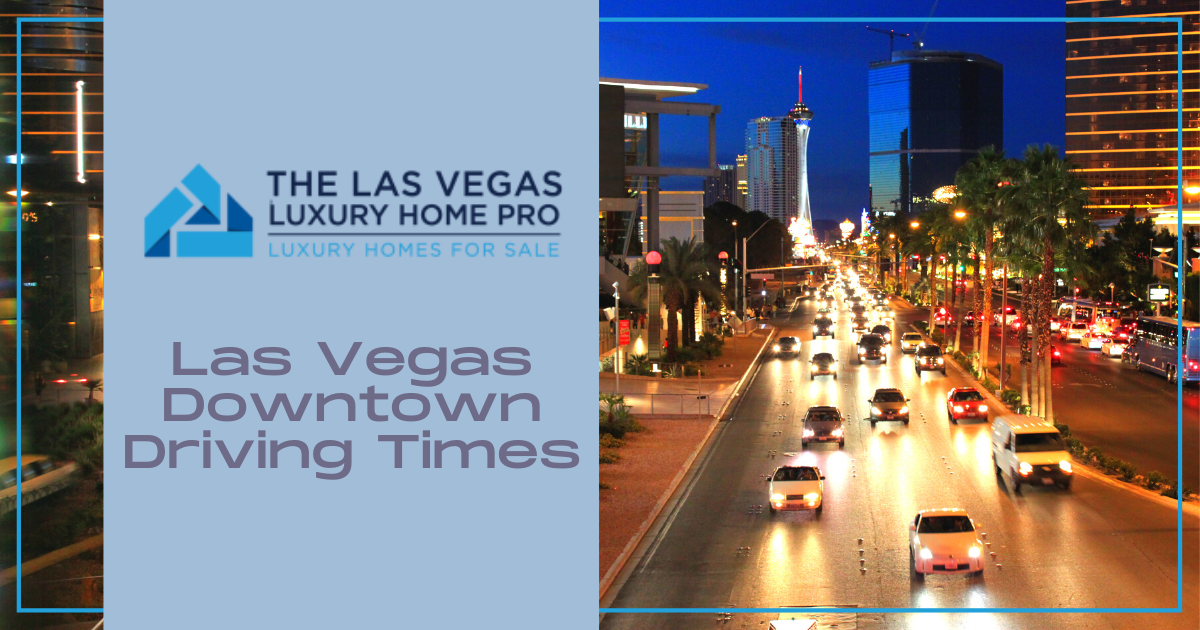 Like other major cities, Las Vegas and its surrounding towns are susceptible to morning rush hours (spanning roughly 7 a.m. to 9 a.m.) and evening rush hours (running from about 3 to 5 p.m.) every weekday. However, given the massive tourist presence on the Las Vegas Strip—the center of Vegas' renowned resort, casino, and entertainment scene—evenings and late nights can experience spikes. Because those times can be unpredictable, the following information focuses on the core rush-hour times to examine how long it takes to drive in Las Vegas and commute between neighboring suburbs and the Las Vegas Strip. Read more to discover everything you need to know about downtown driving times in Las Vegas, NV.
Las Vegas Strip from Enterprise
About ten miles from the Vegas Strip, the trip from Enterprise takes drivers about 12 to 20 minutes if there is no traffic on the most direct route: Blue Diamond Rd and I-15 N. During the morning rush hour, this can take drivers as long as 24 to 26 minutes in either direction, although the trip to the Strip tends to take a couple of minutes longer. In the afternoon, drivers may see the trip lasting 28 minutes. Other routes include S Jones Blvd or S Rainbow Road combined with NV-592/W Flamingo Rd.
Las Vegas Strip from Spring Valley
If there is no traffic, it takes drivers about 9 to 18 minutes to get to the Strip from Spring Valley. The trip distance tends to be just around five miles in length. Many routes rely on NV-592/W Flamingo Rd, with time variations depending on congestion in Spring Valley while getting to or from NV-592. During the morning rush hour, this trip goes up to 9 to 22 minutes in either direction. Evening rush hour takes longer at an average of 10 to 24 minutes in either direction, presumably due to the added mix of tourists that are up and about discovering Vegas' many things to do.
Las Vegas Strip from Henderson
Without any traffic, it takes drivers 16 to 24 minutes to get from Henderson to the Strip, and four minutes longer when leaving the Strip. This trip tends to be a bit over 16 miles in length, but it benefits from a few different route options available. The fastest route takes 20 to 30 minutes during both morning and evening rush hours. If someone gets stuck in an acute slowdown, however, the trip may end up lasting as long as 45 minutes.
Las Vegas Strip from Paradise
Measuring in the ballpark of three miles, the trip between the Strip to Paradise clocks in at between 7 and 16 minutes without traffic. While one can expect this number to go up to 20 minutes in either direction during morning or evening rush hours, the short distance helps prevent the traffic variability from getting too extreme. Tropicana Avenue and Paradise Road are the two primary roadways that drivers encounter along the way.
Las Vegas Strip from Winchester
On average, the approximately six miles between the Las Vegas Strip and Winchester takes drivers between 10 and 20 minutes. Desert Inn Rd or NV-589/Sahara Ave feature prominently in most routes. During rush hour, this trip can take drivers 30 minutes in either direction. There are, however, many options for side streets that drivers can use to get around in the event of a major slowdown on one route, which may help consistently keep this trip duration down.
Las Vegas Strip from Whitney
The path to Whitney is highly variable, with routes that range anywhere from eight to 15 miles in length. Because the 15-mile route uses highways like I-15 and I-515, it can sometimes be a faster choice than its shorter counterparts. The 15-mile routes can clock in at 18 to 26 minutes, while shorter-distance routes may take 16 to 40 minutes. When traffic volume goes up, this highway route can take over 40 minutes to travel. Some eight-mile routes might be good alternatives in the case of an accident or construction, although trips during rush hour can reach over 50 minutes in length.
Las Vegas Strip from North Las Vegas
A quick trip down I-15 brings commuters and visitors alike from North Las Vegas with its gated communities and retirement communities onto the Vegas Strip in 10 to 15 minutes, if there is no traffic. During morning and evening commutes, this can go up to 24 minutes (on average), with some heightened variability in the event of an accident.
Las Vegas Strip from Sunrise Manor
With no traffic, this trip is slightly more than 15 miles long and takes drivers somewhere between 14 and 28 minutes. I-15 is at the core of this route, but other streets like Lamb Boulevard can be incorporated to adjust based on current traffic conditions. During morning and evening rush hours, this trip can quickly expand between 35 and 45 minutes long. Getting creative with the roads used outside I-15 and I-515 can help drivers save some time in either direction. What's most interesting about this trip is if drivers take a route avoiding the highway, the duration of the trip can vary from 25 minutes to over an hour in length.
Las Vegas Strip from Summerlin
The trip to and from Summerlin averages about 13 to 16 miles, and without traffic takes between 14 and 18 minutes. During morning and evening rush hour, this can increase significantly to somewhere between 20 and 45 minutes in length. I-15 is one route that tends to be faster, although it offers fewer options in the event of traffic buildup. Flamingo Road and other access roads offer a slightly longer trip, but a bit more flexibility that can be leveraged in the event of major traffic delays.
Getting Around Las Vegas
All the times and distances noted are approximations that are intended to help people with the general planning of trips from Las Vegas suburbs to and from the Vegas Strip. The most effective solution when planning a trip, or even a short commute on a particular day, is for people to search for directions using an online map and receive real-time updates on traffic and road conditions.