Las Vegas Driving & Commute Times
Posted by Debbie Drummond on Monday, March 29, 2021 at 10:53 AM
By Debbie Drummond / March 29, 2021
Comment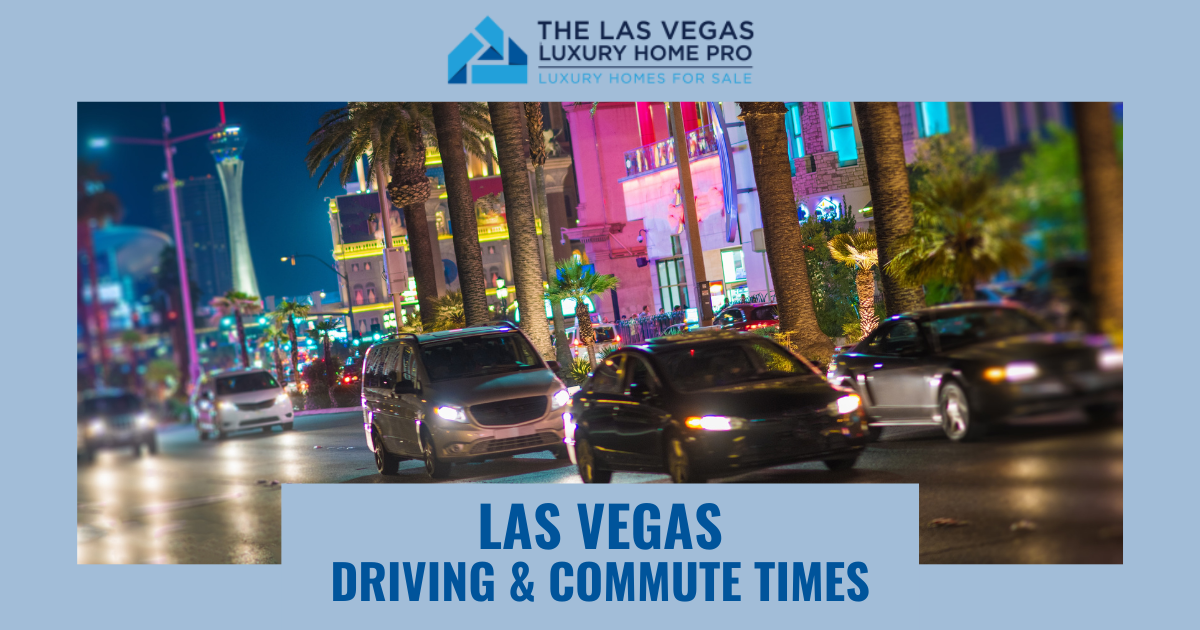 Las Vegas is the 28th most-populated city in the U.S. and the most populated city in Nevada state with over 644,000 residents. It has a reputation as a major travel destination for large parties, nightlife, dining, and entertainment and has over 150,000 hotel rooms, which is more than any other city in the country. Las Vegas also boasts multiple other titles, such as being the home to the largest freestanding observation tower in the United States—the Stratosphere—and being the brightest spot on the entire planet.
For those planning to visit Las Vegas or relocate there permanently, it's vital to know how to get around the city and how to avoid dense traffic during rush hour. Here's our simple and straightforward guide to driving in Las Vegas.
Get to Know the Major Roads
Driving in Las Vegas can seem intimidating at first, especially for visitors to Sin City. Getting to know the major roadways is critical to being able to navigate around the area.
Essentially, the roads in Las Vegas form an X through the middle of the city, surrounded by a C-shaped highway. This C-shaped road is the Beltway 215, and it curves its way around the majority of the west side of the city. Beltway 215 is a great option for commuting or when someone needs to get somewhere quickly because there aren't any stoplights.
Other important roads freeways and highways to note are I-95, I-15, and Summerlin Parkway. I-15 and I-95 each make up one half of the "X" that cuts through the city center—I-15 runs Northeast to Southwest, from California through Las Vegas and up into Utah, while I-95 runs from Northwest to Southeast in the city. Summerlin Parkway is usually the easiest way to get to the Las Vegas strip from the west side of the city, because it connects Beltway 215 with I-95, while I-15 and I-95 are the best ways to reach the strip from the North or South.
What to Expect During Rush Hour
Because Las Vegas is densely populated and one of the most popular tourist areas in America, rush hour traffic can be quite frustrating. Knowing ahead of time what to expect can help lessen the amount of time spent in Las Vegas traffic jams.
When heading to the strip, a car may not be the best option. Walking, ridesharing, or using public transportation is usually easier than driving into the center of the city. On the outskirts of Las Vegas, a car will be much more important for getting around, but it's important to be aware of the hours when traffic is the heaviest. Rush hour traffic typically occurs in the morning between 7:00 a.m. and 9:00 a.m., then in the evening between 4:00 p.m. to 6:00 p.m. on both weekdays and weekends. The Strip itself tends to be very congested every day from 4:00 p.m. into the late morning hours, and if nothing else, avoid the intersection of Tropicana Avenue and Las Vegas Boulevard—it's been called the busiest intersection in the entire world.
The traffic on I-15 can also become quite difficult to manage, as well as the merging lanes on I-215. By contrast, Desert Inn Road and the Beltway have less traffic and are better options for getting around the city quickly. Rush hour is also going to be less congested in Las Vegas's other neighborhoods, so residents who live and work outside the Strip and downtown area in a luxury home won't have to worry about quite as much traffic.
Parking in Las Vegas
Parking in Las Vegas can be as intimidating as the traffic, especially in the Las Vegas strip area. However, there are usually plenty of parking spaces available—it's just a matter of knowing where they are.
Popular hotels like the Bellagio and Caesars Palace have the option of lot or valet parking for guests with rooms, and for some hotels, parking is free and included in the room rate. There is extremely limited on-street parking near the strip, but the city recommends personal vehicles to be parked in garages and not in dense entertainment areas. For those heading downtown but not going to the Strip, on-street parking is available for a nominal fee that is cheaper than most other big cities in the U.S. at just $1 an hour.
Residents who live in a high rise condo in the Strip or downtown area won't have to worry about fighting for parking. Residential high rise buildings will always have a place for its residents to park their cars away from the public.
One of the more frequently-used parking garages in downtown or "Old" Las Vegas is the Freemont Street Experience garage. The hourly rate is a little more expensive than on-street parking at $3, but the daily limit is capped at $12, which is quite reasonable for up to 24-hour parking.
Other Helpful Things to Know
Because the traffic in Las Vegas is so heavy and it's home to some of the busiest roads and intersections worldwide, driving in the area is something that many people avoid by simply using public transportation like buses and the monorail. However, if you do choose to drive, there are some additional tips you should keep in mind.
Remember to obey all local traffic laws and keep an eye out for speed limit signs, stop signs, yield signs, and no turn on red or no U-turn signs. Generally, turning right at a red light or making a safe U-turn is legal in most places in Las Vegas, but this may not be the case at every intersection. Plan ahead for long periods of time spent in traffic and try to keep the car's tank at least half full at all times. This will help prevent breaking down on a congested downtown road, and this is especially true when heading out of town into more rural desert areas of Southern Nevada.
Last but not least, it goes without saying that drinking and driving should be avoided at all costs. Anyone who is drinking while having fun in Las Vegas should use public transportation or a rideshare service like Uber or Lyft to get home safely.
Getting Around Las Vegas Doesn't Have to Be a Challenge
While driving in Las Vegas can be intimidating, it doesn't take long to get used to. Being familiar with the highways and other important roads and how to avoid rush hour traffic is easier than most people think! Remember to wear a seatbelt when driving or riding in the city, and don't be afraid to use public transportation on days when traffic might be particularly heavy.