Floyd Lamb State Park at Tule Springs
Posted by Debbie Drummond on Friday, August 3, 2012 at 3:00 AM
By Debbie Drummond / August 3, 2012
Comment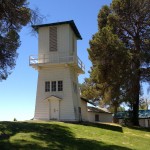 Floyd Lamb Park at Tule Springs is only a quick 20 minute drive from the Las Vegas Strip but the old farmhouse structures will make you feel as if you've been transported back in time. With mature trees, grassy fields and three lakes in the park, one does not feel as if they're in a desert. The 680 acre park was originally established in 1964 when it was turned over to the City of Las Vegas. The State took control of the park in 1977, but it has recently been turned back over to the City. The park is centered around the lakes created by the Tule Springs, an oasis in the midst of the Mojave Desert. It is believed that the first settlement on the land was in 1905 when a hotel was opened. Most of the buildings date back to the 1940s when the property was developed as a "divorce ranch".
The Floyd Lamb Park at Tule Springs offers a number of activities for visitors. Picnic areas offer BBQ grills. Larger picnic areas are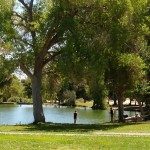 available for groups who reserve them. The lakes do offer fishing and the three lakes are stocked each month with the species of fish varying based upon what's available. There is a gun range, although on recent visits we haven't noticed as much activity. One would suspect that shooters may prefer the new range that opened at the base of the Hills on North Decatur. For those who just want a pleasant change of scenery for walking their dog, the shade trees and the grass here make for a pleasant walk. You can enjoy the serenades of the resident Peacocks. The park is also known for birdwatching.
Waterfowl are common near the lakes, but during migrating season the park becomes especially busy. On the first and third Saturday of the month, Floyd Lamb Park at Tule Springs hosts a farmer's market where you can shop for produce and products from the nearby area. On days of the market, admission is free. Otherwise, the fee is $6/vehicle or you can walk/bike/ride your horse into the park for $1/day. Annual passes are $45 and $15 for seniors. And yes, we can show you nearby homes.