Fremont Street Update - July 2012
Posted by Debbie Drummond on Monday, June 25, 2012 at 3:00 AM
By Debbie Drummond / June 25, 2012
Comment
Fremont Street in downtown Las Vegas continues to attract new businesses and visitors. We recently took some time to show a friend a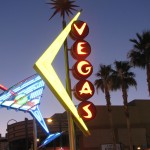 bit of the downtown area. Starting with Happy Hour at Mundo in the World Market Center, on to Le Thai and then exploring the action on the street.
Even on a Monday night in June, folks were out enjoying the free band and the Zip line that allows you to go flying over the crowds at 30 mph. Tickets for the Zip Line are currently $15 before 6 p.m., $20 after 6 p.m.
There are some great new dining options. Le Thai offers some of the best Pad Thai in town, they have a full bar, and reasonable prices, all in a relaxed atmosphere. For the adventurous, there is the Heart Attack Grill where two diners have had heart attacks while dining at the restaurant. For those who prefer predictable as in chains, you'll like Hennessey's, right on the corner of Fremont and the Strip. On third street, you'll find the Triple George for seafood and pasta. Hogs and Heifers does a great burger and is always a fun place.
The Golden Nugget has had a remodel over the past few years which includes a Shark Tank in their swimming pool. The Plaza has also been re-done and one of its new attractions is Oscar's where you can enjoy a steak and the company of one of their "Broads" if you're so inclined.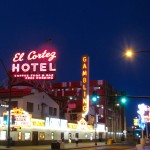 If you prefer checking them out in the daytime, you can visit the Mob Museum or on Fridays, check out the Farmer's Market in the old bus depot. At the Farmer's Market, you'll also have a chance to visit some of the local Food Trucks that have become so popular. Saturday nights you'll frequently find the food trucks set up shop by the Cortez.
All of these new businesses have benefited by nearby buildings where people are actually living now. SOHO & Newport Lofts are a bit of a walk to Fremont St., but the Ogden is nearby and it has been announced that JUHL will become a rental building. All of these developments are combining to make Fremont Street into a fun place for locals as well as tourists.