How to Avoid Closing Delays as a Las Vegas Buyer
Posted by Debbie Drummond on Wednesday, November 8, 2023 at 3:47:04 PM
By Debbie Drummond / November 8, 2023
Comment
When it comes time to buy a home, you will find that amidst all of the excitement and hoopla, there is an undertone of complexity in the process that involves many hoops to jump through, as well as many parties involved. Unfortunately, there are times when unexpected issues arise, and the worst is a delay in the closing date that can put your dream house at risk. As a buyer, it makes sense that you will want to do everything you possibly can to avoid any delays and close on time.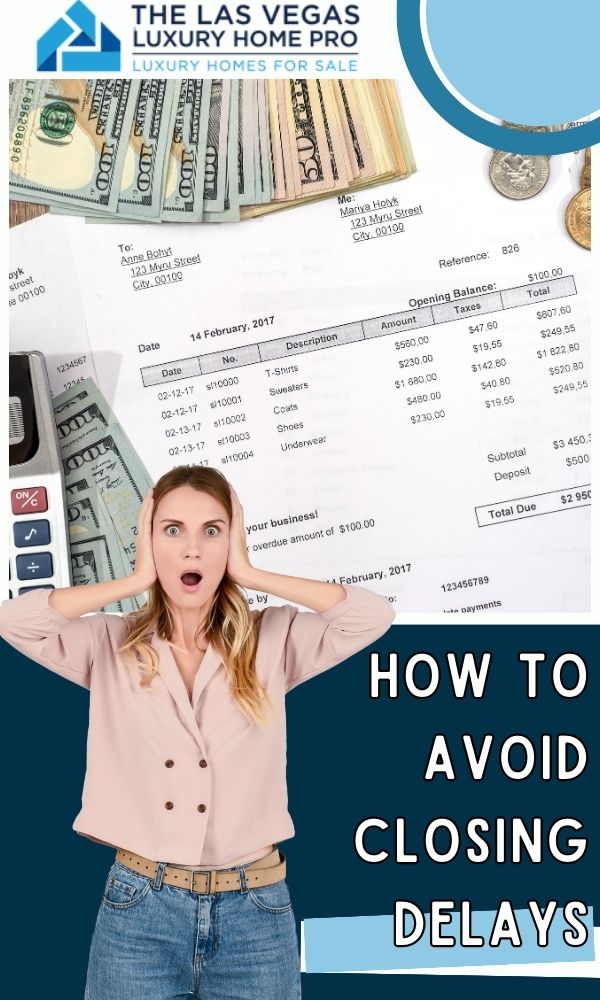 Continue to read to find tips on requesting a closing extension and what to do if you find yourself encountering any delays.
Review Your Contract for a Better Understanding
The first thing we recommend you do is go back and review your purchase agreement to fully understand the terms and conditions of the closing date. A contract may specify a closing date or closing period, a range of dates where the closing must occur. There may be added contingencies to your contract that have to be met before the closing can happen. A common contingency is an appraisal, which is an overall evaluation of the property's value by a third-party expert. If, for example, the appraisal is lower than the asking price, you might find it within your rights to renegotiate the deal or walk away.
Communicate With Your Lender
A common cause for closing delays comes down to financing. As a buyer, you must secure a mortgage loan from a lender to pay for the property. A lender will require you to provide various documents and information to verify your income, assets, credit, and debit. Your interest rate should be locked in as well as acquiring a loan commitment letter from the lender. To avoid the nuisance of delays, you should communicate with your lender regularly and quickly respond to any requests or questions they may have. Avoid making major changes to your financial situation, such as opening new accounts, applying for new credit cards, or making hefty purchases until after the closing takes place.
Work Closely with Your Agent
A key player in your closing process is your real estate agent. Your agent will coordinate with the seller's agent, the title company, the escrow company, the inspector, the appraiser, and other professional parties involved in the transaction. Any issues will be negotiated and handled by your agent, some of the issues can include repairs, contingencies, or price adjustments. To avoid delays, work with your agent closely and follow their advice and guidance. Keep your agent informed of changes or concerns you may have and ask any questions you have about the process for a better understanding.
Prepare for the Closing
When the closing date approaches, you will need to prepare for the final steps of the transaction. Do a final walk-through of the property, and an inspection of the condition and features of the home before you take over ownership. Review the closing disclosure, a document that summarizes the terms and costs of your loan and the transaction. Make sure you have all the documents gathered and kept together to bring to the closing, from an ID to your checkbook to your proof of insurance and loan documents. You will need to confirm the time and location of the closing and who will attend.
Request an Extension
Unfortunately despite your best efforts, you might encounter some situation that prevents closing on time. In this situation, you might have to request an extension of the closing date from the seller. An extension is a written agreement that modifies the original contract and grants both parties more time to complete the transaction. To request an extension, contact your agent and explain the reasoning for the delay and how much time you might need. Your agent will get in contact with the seller's agent to communicate and come to a mutual solution. You might have to pay a fee or a penalty for the extension, depending on the terms of the contract.
Be Patient & Flexible with the Process
Finally, you might find it best to just be flexible and patient throughout the closing process. Buying a home is a major decision that involves many variables and uncertainties. You might encounter setbacks along the way, but don't let these discourage you or ruin the excitement of the buying process. Focus instead on the big picture and the positive outcome of owning your own home. Make sure to work and play well with all the parties involved and resolve any issues amicably and professionally.
By following all of these tips we have carefully mapped out for you, you can increase your chances of avoiding closing delays and closing on time to get moved into your dream house. Contact Your Las Vegas Realtor for More Information.