How To Buy a House Site Unseen
Posted by Debbie Drummond on Sunday, July 3, 2016 at 1:33 AM
By Debbie Drummond / July 3, 2016
Comment
Who Buys a Home They've Never Seen?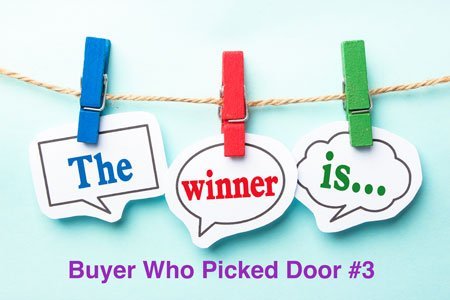 Buying a home you've never seen sounds a little like the old "Let's Make a Deal". OK, listing photos of house number one look pretty good. Buy it and hope you don't get the "zonk" once you see inside. In today's world, it doesn't have to be that iffy. A growing number of buyers are purchasing homes they've never seen in real life.
Investors often buy properties they've never seen. At the bottom of the market foreclosed homes could get 20 offers in a few days. The investor who waited until they could come into town to see that hot new listing didn't get it. They had to work with a local Realtor who knew exactly what they were looking for.
They could make the offer and come into town once it was in contract. Experienced investors didn't need to see the homes. Their agent told them how much repairs would cost and how it would cash flow. If it fit their formula, they bought it without seeing it.
Investors aren't the only buyers who buy homes "site" or "sight unseen". Suppose you've accepted a new job in a different State. The job and the new town are exciting but there is so much to do. Who has the time and budget to go spend a few weeks looking for a new home? Busy schedules. A competitive seller's market. The cost of flying into town, renting a car and staying in a hotel. Those are just some of the reasons to buy a home you haven't seen in person.
High Def photography, Virtual Tours. Drones and Facetime. These technologies have made long distance home buying easier than ever. Is buying a home you've never seen right for you? That's your decision. It depends on your time frame, how competitive the local market is and how nervous it makes you. The following steps will help you pick a winner if you do buy a home you haven't seen.
Find a Top Notch Local Realtor
If anyone ever needs a local Real Estate Expert, it's the buyer who is re-locating from another State. Most relocating buyers aren't familiar with the area, the schools, the neighborhoods. They often don't have a clue about where to start looking for their home. You need a Realtor who knows which neighborhoods are within a reasonable commute to your job. They'll be able to recommend communities that offer the amenities you want.
Besides knowledge of the local real estate market, you need a Tech Savvy Realtor. They need to know how to use Facetime or one of the live streaming apps. They should be able to snap photos with a good cell phone or a high definition camera. They will be able to photograph any areas you don't see in the online listing photos. YouTube should be their friend.
They should do a "walk thru" video to give you an idea how the rooms open onto each other. The video doesn't have to be a high production commercial. In fact, you don't want it to be. You want a video that is real. One that shows the floorplan and the general condition of the home. Have them take close up photos of the floors so you can see the condition they're in. Realtors are not home inspectors, but they should photograph any obvious flaws.
Long Distance Buyers Still Need to Get the Mortgage Pre-Approved
The first step for any home buyer is getting the mortgage pre-approval letter. This is even more important if you're moving due to a new job. I asked Luke Skar to give his tips for getting a mortgage approved long distance.

Luke Skar of Inlanta Mortgage – Madison which serves Wisconsin, Illinois, Minnesota and Florida. Since 1993 Inlanta Mortgage has provided award winning customer service to clients who need to purchase a home or refinance an existing mortgage. Luke serves as the Social Media Strategist for the Madison branch of Inlanta Mortgage. His role is to provide original content for all of their social media profiles as well as generating new leads from his website MadisonMortgageGuys.com NMLS ID #1016.
Buying a Home Without Seeing It in Person

Technology has made many old style transactions much simpler and, in some cases, inventive. Years ago, buying a home required a visit to a local banker or mortgage lender along with at least one visit to the prospective home. However, all of that has changed. It is not only likely but relatively easy for a person to qualify for a mortgage and buy a home in a different state.

Financial Preparedness is Key

People who have a strong work history at either the same job or the same type of work will have an easier time getting qualified for a home in another state. Mortgage lenders like to see at least 2 years of work history in order to consider someone a good financial risk.

This means that as a buyer you will be asked to present several documents to the lender. The following list represents the most common items that will be required for a mortgage pre-approval.

Paystubs covering at least the last 30 calendar days
W-2 forms from the past year if you are full time employed
Business tax returns and personal tax returns from the past 2 physical years if you are self employed
Recent bank statements for checking and saving accounts

Recent retirement account statements for 401k, Roth IRA or other similar investments. All of this information will show the lender your income level and your savings from the past 2 years and demonstrate your ability to repay the proposed mortgage.

The Mortgage Process is not A Cookie Cutter Scenario

While there are guidelines in place for mortgage lenders to follow, it is safe to say that each mortgage application is slightly unique. For example, a person that has worked for the same company for 4 years and recently accepted a promotion in another state is a different situation from a commissioned sales rep leaving a stable job to go to work for a competitor in another state.

For this reason, you need to be prepared to answer any and all questions from your lender. Think of your lender as your personal attorney. Anything you tell the lender should be kept in strict confidence. The lender will compile all of your info and present you to the mortgage underwriters in the best light.

Being Responsive Is Your Best Tool

If you are considering buying a home in another state, you have to understand the role of the lender and agent. They are trying to help you get in your new home, but you are not local. Therefore, having multiple forms of contact will help all parties. Cell phone numbers, email address and even online chat like Skype or Google Hangout will allow the agents to get in touch with you quickly. You should be prepared to respond to any request for more documents or explanations as quickly as you can. This will keep the process moving efficiently. If the lender or real estate agent asks you for something, time is of the essence. Don't put it off if at all possible.

Hopefully this has provided you with some insight about the process of buying a home without seeing it and what you can expect in the process.
Next Step - Choose The Location
Once you've found a great Realtor to work with, you should narrow down the areas before looking at homes. Whenever possible, find a neighborhood that's within a 20-30 minute commute to your job. If you're retired, you should find a neighborhood near the entertainment and leisure activities you enjoy.
Realtors are not allowed to "steer". We could face fines and lose our license if we told you which neighborhood was good or bad. So don't expect us to do that. But, we can be the "source of the source" as an old Broker of mine used to say. We can tell you to check the website address of the local Sheriff's Department. We can suggest it and other sites that offer neighborhood crime statistics/mapping. Then it's up to you to decide which neighborhood you prefer.
If you have children in school, take a look at school rankings. Try to find good schools that are within the 20-30 minute commute to work. Your Realtor should be able to suggest websites that offer info on the local schools.
Once you've narrowed the area down, do as much research as possible from afar. Find out if the area has a reasonable walk score. Is shopping convenient? What about medical care? These are all questions you should explore before buying into an area.
How To Buy a Home You Haven't Seen
You have your pre-approval. You've identified the areas convenient to work that offer the amenities you want. Now it's time to start looking at homes. Your Realtor will be able to set up a search so you receive listings as they hit the market.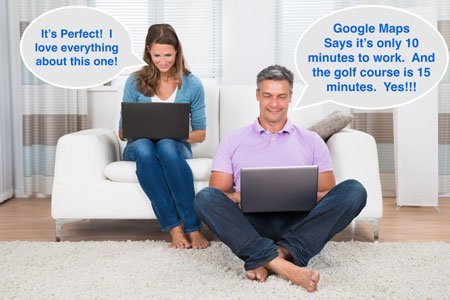 Review the listings as soon as you can. If you see one that looks possible, have your Realtor view the home for you. Most Realtors are using better photos in their listings these days. Sometimes the photos make the homes look better than they do in reality. The opposite can also be true. Have your Realtor view the home so they can tell you how it compares to the photos.
FaceTime is an awesome tool for long distance home buyers. SKYPE and Google Plus Hangouts are good alternatives. Find one that you and your Realtor are both comfortable using. Schedule a convenient time for your Realtor to do a live streaming walk thru. It will allow you to ask questions about anything you see as they go through the home.
Your Tech Savvy Realtor will also shoot videos of the home. The video your Realtor shoots should show you the surrounding homes. How does the street look? Are the neighbors keeping their home up to par or is the landscaping overgrown? I like to film a panorama of the street in front of the home. While filming, I try to be quiet so the video picks up any noise in the neighborhood. I video the walk up to the front door. How does the door look? Is it in good condition or does it need new paint? What's behind the home? Another house? A commercial property? A noisy street? These are all things to investigate. Google Earth and Google Maps are excellent tools to help see the location.
Once inside the home, quick little videos of each room will help you get a better feel for what the home is like in person. The videos should show the entire room, including a look at the flooring and the ceilings. Doing a short video for each room will make the videos easier to upload and share with you.
You should take time to review all the videos. If you have questions after viewing them, ask your Realtor to go back for another "live" tour. There is no substitute for seeing the home in person. But a combo of photos, FaceTime and videos will make it easier for you to get a feel for the home.
You Snooze You Lose
The big reason to buy a home you haven't seen is that it may not be available in a month or so when you come into town. In today's competitive market, the number of homes for sale is low compared to consumer demand. This is especially true in the lower price ranges.
In Las Vegas, we only have a 3 month supply of homes for sale. Our median price was $229K in May. If you're looking to buy a home in the low to mid-$200s, the nicest homes are getting snapped up in days. If you see a home in this price range, you risk losing it if you don't act right away.
Making an Offer On a Home You Haven't Seen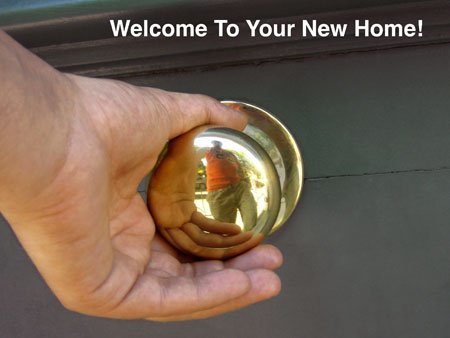 You've seen the photos and video of the home. Your Realtor took you on a FaceTime tour. You like the place. What's the next step in buying long distance?
Start by putting together your offer. It may be tempting to look at one of those online home value websites to decide how much you should offer. Don't! Those sites are often wrong. They haven't seen the upgrades and condition of the home. They often throw the values off by comparing new construction homes to resale homes.
Your real estate agent is the person to help you decide how much to offer. They have seen the home and are familiar with the area. They know whether your market is competitive or not. They will provide comps to help you decide how much to offer. They should also call the listing agent to see if there are other offers. If you have competition, you may want to come in with a stronger offer from the beginning.
After deciding what price you should offer, your Realtor will help you structure it. They'll see that you have time for inspections. They'll confirm how much time your lender needs for the financing approved. They'll help you decide if you should ask for closing costs, a home warranty, etc. They'll give you the insight into the local market to help you present a winning offer.
Contingencies Are a Buyer's Best Friend
It is possible to make your offer contingent on viewing the home. That usually doesn't work if you're in a competitive market. Why should the sellers take their home off the market and wait for you to come into town and see it? That's not likely to work in a competitive market.
Home Buying Contingencies that are more reasonable include doing the home inspection. This is a contingency that shouldn't be waived under most circumstances. You should try to make it into town for the home inspection. If it isn't possible, ask your Realtor to FaceTime you at the end. Have the inspector walk you through any issues they found. Most inspectors send a printed report. Seeing how bad the leaky faucet is via FaceTime is easier to understand than in a sterile report.
Sellers may ask buyers to waive the appraisal contingency. This can be a way to compete with cash buyers but should be approached with caution. Your agent should be able to show comps that support the offered price. Even with comps that back up the price, appraisers sometimes have different opinions. We prefer to put a limit on how much you would pay above the appraised value.
If the home is located in a Common Interest Community, you will be provided a recent copy of the CIC documents. You should review them and make sure you can abide by all the rules.
The Final Walk Thru is your last contingency. This isn't a time to re-inspect the home. The walk thru is to make sure everything is as it was at the time of the inspection. For long distance buyers, it is often the first time they see the home.
Long Distance Closings
The closing process varies from one State to the next but they all require a fair amount of paperwork. During the closing process, it's crucial that buyers sign and return all documents promptly. Not doing so can result in delayed closings or worse. You'll need to keep an eye on your inbox. You don't miss anything from your Realtor, lender or the Escrow company.
In Nevada and most escrow States, the buyer will need to sign the loan documents before a notary. If you are unable to make it into your new hometown to do the signing, a mobil notary can be employed. If you are paying cash, the notary isn't necessary. You should be able to sign the final documents and return them via fax or email.
You will need to make sure all utilities are transferred into your name before closing. You'll need to authorize your Realtor or a local friend to receive the keys if you won't be in town.
Success Stories from Top Realtor Bloggers
As a Realtor, it's a thrill to see buyers love their homes as much in person as they did in the photos, videos, etc. Our experience with buyers who bought their homes site unseen has been positive. I asked a few cutting edge, "tech savvy" agents to share their experiences. You'll find some great tips in their success stories:

Kinga Mills with Hawaii Life Real Estate Brokers, has an established track record of providing excellent service to her clients. She specializes in the Honolulu High Rise Condos and Oahu Homes. Follow her on her blog and social media for the most inviting photos and videos of the gorgeous island she sells.
In my real estate career, I've had the pleasure of assisting a few clients who entrusted in me in assisting them in a sight-unseen purchases of their new properties. In all of these purchases, these clients were not able to fly in preview properties, and I was their "eyes" on the ground.

My recommendation to anyone considering a sight-unseen purchase would be to first do their research, and choose a techy agent who will utilize technology in helping the buyer see not only the home, but the surrounding community. It's not simply enough to see the listing pictures of a home.

A buyer has to be able to get video of the home, the property, and the surrounding community, and sometimes do it live while they're on the phone with them. The agent has to be comfortable with YouTube, FaceTime, live video, have the ability to send more than 5 pictures at a time. Google Maps, and Google Earth are very helpful to a buyer who is currently in a different area. The agent should have resources for information where the client can do further research. Local websites, school info, etc.

Last but not least, the agent has to be available to provide this information in a timely manner on sometimes multiple occasions.

All of my sight-unseen clients were extremely satisfied with their purchases once they had a chance to see their homes and move in. It's a huge purchase. Trust and honesty has to come from both sides. The relationships resulted in multiple referrals.

Ryan Fitzgerald is a Realtor in Raleigh, North Carolina and owner of Raleigh Realty. Check out his website at RaleighRealtyHomes.com
"We absolutely love it!" says Stephanie, three weeks after she is all moved into the home she bought site unseen from 3,000 miles away.

For several weeks Stephanie had been searching homes for sale in Cary, NC via my website. On my real estate website users have the ability to search homes for sale, look at pictures, view school districts and check out local real estate statistics.

Then Stephanie found one she really liked!

In 2016, what does buying a house site unseen really mean?...

It's a lot different now that we have the internet and smartphones.

Stephanie, her husband, Mike, and I would all log in to our google hangouts app on our phone and do live video feeds. Technology made buying a home in Cary from the Bay Area of California a lot easier. With my iPhone I could take Stephanie, and her husband Mike, throughout the entire home.

Trust and communication were both extremely important during the transaction. Buying a 3,000 square foot house, in an unfamiliar city where homes are selling above asking price in a matter of minutes is no small task!

In the end Stephanie and Mike placed their trust in me once they found a property the liked. Three weeks after moving in 'they absolutely love it!'

Joe Samson is a real estate agent in Calgary, AB and he has been in the business for 11 years and counting. Since the beginning of his career, Joe has focused on online marketing and building a successful real estate website in Calgary Spending time learning new techniques of online marketing and collaborating with other marketing experts is at the forefront of Joe's passion and it is the driver to help his clients to sell and buy real estate.
Technology is so awesome and so far advanced today (I know, you'll be laughing at this statement 5 years from now). Having the right tools available can make things possible that we could not have even imagined 10-15 years ago. It's not just a myth, but it has happened to me several times already when someone was living in a different city and decided to purchase a home without actually seeing it.

3D property tours are one of the latest advancements in technology that a seller's listing can benefit from by showcasing their home to potential buyers. Using high definition property tours will not only open up a larger market share of potential buyers, but it is also going to help the buyers to better qualify the home before scheduling a time to view the property.

A couple of years ago I received a call from a couple living in Texas and they were planning on moving to Calgary. They already know the area that they wanted to live in, now it was just a matter of finding the right home for them. While they had done their initial screening by looking at online images of the listing and watching virtual tours, they also wanted my professional opinion of the property.

Fortunately there are several camera apps that most phones come with or you can easily download so that you can provide a live virtual tour to your clients. We have booked a normal property tour with the sellers. I showed up with my phone and did the entire property tour via Skype and provided my comments of everything that I was seeing. At the end they decided to submit an offer. After completing a home inspection they decided to finalize the purchase. Ever since they have been satisfied home owners.

Nathan Garrett is a licensed Real Estate Agent in the Louisville area. Owner of Garretts Realty Group.
With low inventory here in Louisville, just like other markets. Buyers are more tempted to write an offer on a property before actually viewing the home in fear of missing out on the property. Unfortunately, there is a lot of risk that comes along with buying a home sight unseen.

Even with the professional photography, video walkthroughs and the 3D virtual tours. Viewing the house online does not always show the undesirable flaws of the home.

Here in Louisville one way to protect yourself when buying a home sight unseen, is by having a home inspection contingency clause. That way, as a buyer, you have the opportunity to have a home inspector take a look at the property and thoroughly inspect the home for any major issues. If things were to come up that could incur a high expense, you have the right to back out of the contract.

This added security helps protect the buyer from a lot of heartache from making an impulsive decision in a tough sellers market. You can find more home buying tips in our recent article, "The Ultimate Guide to Buying a Home".
Will We See More "Sight Unseen" Home Buyers?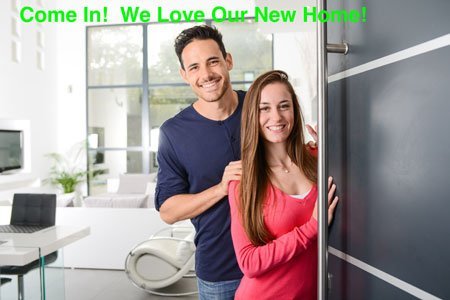 That's hard to predict. If we lapse back into a buyer's market, maybe not. I'm not sure I would have the nerve to buy a home I hadn't seen in real life. If I did, it would require an awesome Realtor who would provide their own videos, photos and live streaming tours of the home along with a lot of info on the area. As technology advances, I suspect we'll see more buyers who purhase homes they haven't seen in person.
In Las Vegas, we've worked with a lot of "sight unseen" transactions. My team's first experience with site unseen deals started with investors. Many of them were buying condotel units. They were already familiar with the building they were buying in. Single Family Home Investors needed to know if it was a popular neighborhood for rentals. And would it cash flow? Even investor appreciated our ability to video the property and surrounding area.
My first clients who bought their primary home without seeing it were surprising. They were retirees from the Midwest. They were tech savvy enough to find me online. They wanted an age restricted community. I started a search for them. It wasn't long before they received info on a home that looked just perfect.
They hadn't planned to buy before they came out to look in person. But they didn't want to lose the sweet little home on the golf course. Their son was living in Las Vegas. He met me to preview it for them. We sent them videos, photos and did FaceTime. That was several years ago and they still enjoy watching the sunset over the golf course.
Buying "site unseen" isn't for everyone but it can be the best way to beat other buyers for that perfect home. As our expert contributors mention, buying a home site unseen requires a lot of trust and a Realtor who will go the extra mile.