How To Sell The House Nobody Likes
Posted by Debbie Drummond on Tuesday, May 3, 2016 at 2:56 PM
By Debbie Drummond / May 3, 2016
Comment
Why Hasn't My Home Sold?
You listed your home for sale a couple of months ago. At the time, you reviewed the closest comps with your agent. The same model as yours had just sold down the Street for X. That home had a smaller pool. It had fewer upgrades. The location was close to the main road into the subdivision. Your home had several advantages over this one. So you priced it at the X price the other home sold for plus a little premium.
Now you've had the home listed for two or three months. You've had a few showings and no offers. What should you do now? You should explore the following issues to improve your home's marketability.
Issues Affecting Your Home's Listing
The first step is to look at how your home is presented online. Is it visible in the major search websites? Zillow, Trulia, RE/MAX, Redfin, etc.? How do the photos look? Did your agent hire a professional photographer? If the agent took the photos with their cell phone, the photos may be turning potential buyers off.
Sometimes even decent quality photos can be too small to see well. We've even seen them turned upside down on some occasions. If you see dark, hard to see photos in the MLS that could be part of your problem. Insist that your agent get professional photos asap. If the agent used good photos and many of them, then we should look at other issues.
Why Don't They Like Your Home?
What kind of feedback has your agent received from people who saw your home? Are other agents telling them the home is dated? This is one of the most common complaints we hear from buyers. Shiny, brass fixtures of the 80s or white tile countertops will turn off most buyers. They'll see dollar signs for all the things they have to replace.
How are the paint colors? The deep red you chose for the dining room may add glamor but most buyers will not approve. And the children's bedrooms in turquoise or violet will turn off buyers. Yes, they can be re-painted, but buyers don't want to go thru the hassle. The best colors are the neutrals, beiges, greys.
If your home needs a little TLC, it could be worthwhile to spend the money on it. Flooring and countertops may be best left to new buyers. They will want to pick their own finishes. They'll calculate the cost of replacing those things into any offer they make. And they'll usually over-estimate how much it will cost.
Less expensive things like painting and taking care of necessary repairs should be considered. If you can't invest in updating, you should discount the price accordingly. Even a dated home with garrish paint colors will sell if you price it right.
Are You Putting Your Best Foot Forward?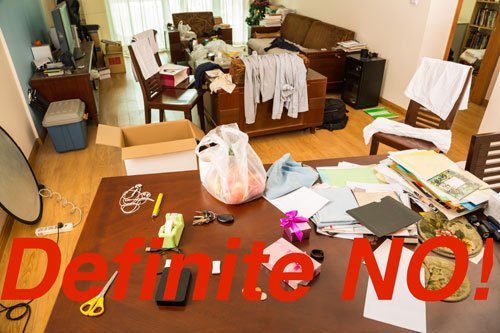 Don't be the homeowner who cleans everything up for the photos and lets it fall apart the next day. Don't let buyers arrive to find a messy kitchen with dirty dishes all over. Clutter is another don't.
Before listing your home, you need to pack away everything that isn't essential. Do a deep cleaning and make sure everything looks tidy. Then you need to maintain it. Yes, you still live in the home but you have to keep it presentable. Buyers assume you've maintained the home the way you've cleaned it.
Is It Easy for Buyers to View Your Home?
We understand that you have a life and need time to have a quiet dinner without home buyers traipsing thru. At the same time, buyers also have schedules. They may be moving here from out of State and only have a few days to find and buy a home. Or long hours on the job could mean they only have evenings to see your home.
Serious sellers do their best to allow showings to qualified buyers. You may think that "serious buyers" will come back at your convenience. That isn't true. Serious buyers are on a schedule. They need to see all their options so they can pick their favorites. Make them wait and they may move on. Unless your home is spectacular at a great price, limiting showings can be a mistake.
Is It Time For a Price Reduction?
After going thru the checklist, it's a good idea to take another look at your price. You know that a similar home sold for X before you listed your home. You came in a little higher because your home had a few more upgrades. You've had no offers after a few months. That's the way the market tells you the home is over-priced. You may have upgrades, but buyers aren't valuing the upgrades. It isn't worth more than the one that sold for X. At the least you should reduce your price to X.
Will that do the trick? It may or you may have to take a more drastic reduction. If you need to reduce the price, sooner is better than later. Today's buyers are informed. They know how long your home has been on the market. If it's been 90 days, they know the home is over-priced or there's something wrong with it. The price reduction signals that you're motivated.
How much should you reduce the price?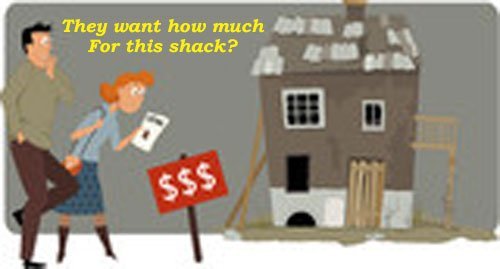 That will vary depending on the current comps and your situation. You should be working with an experienced agent who can tell you the latest market trends. You can't count on it selling for the price the previous home sold for. That one sold at a particular point in the market. Markets change. Maybe a new development has gone in nearby that is having a negative impact on your neighborhood. The home that sold earlier may have been lucky to get sold before the market started to slide.
Ask your agent to tell you how much inventory there is in your particular subdivision.
For example: 27 homes sold in your subdivision over the past year. That's 2.25 homes per month on average. There are now 40 homes listed for sale. If the subdivision continues to absorb 2.25 homes per month, current listings will last 17.8 months if the subdivision continues selling at this pace.
A "balanced" market has 6 months of inventory. Lower than 6 months favors sellers. More than 6 months favors buyers. With 17.8 months of inventory available in your community, you need to get aggressive. You and your agent should consider a price reduction.
Example 2: your community sold 66 homes over the past year. It now has 49 homes for sale. You're in a better situation. With 5.5 sales per month on average, the current homes will last 8.9 months. Not quite a balanced market but much better than scenario number 1. Even in this situation, no offers after 2 or 3 months isn't a good sign.
Example 3: If your community sold 30 homes last year and only 10 are listed, you're in much better shape. Your subdivision has averaged 2.5 homes sold per month and you're down to a four month supply. Your neighborhood is hot with buyers watching and waiting to buy a home in it. The fact that your home isn't getting showings or offers in a hot sellers market is a warning sign. Your home needs work or a price reduction.
All the above scenarios are indications that a price reduction is a wise move. To get attention from the bargain hunters, the reduction needs to be sizeable. If you're priced at $500K, drop $450K to $475K. The drastic reduction will let buyers know you're motivated. Dated homes and fixers do better at lower prices. The discount leaves buyers with room to fix things.
How much you need to reduce the price will vary based on the comps and your specific price range. A good rule of thumb is that it should be at least a 5 to 10% reduction. That's if your home is only moderately over-priceed. Unfortunately, some agents "buy" listings by telling the sellers it's worth an exorbitant price. Your home has to be priced in line with the latest comps.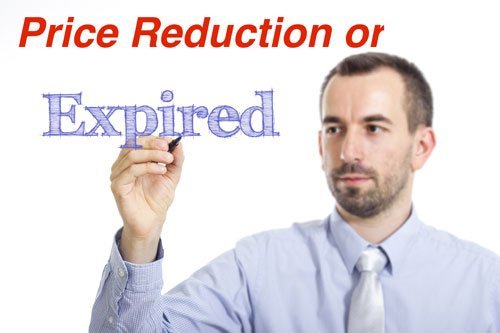 Whether you can do the price reduction will depend on how much equity you have in the home. If you don't have enough you will have to consider alternatives. You may stay put until the market improves. You could consider renting the home. Short sales are another possibility.
Take the emotion out of pricing your home. You love the house and have great memories. As weeks go by without an offer, you may find yourself feeling stressed. Maybe you're having trouble sleeping at night. You're irritable with family and friends. These are all symptoms of an expired listing. There is a cure for the situation.
Reducing your list price should not be viewed as "losing money". In a declining market, getting the home sold before prices go lower can save money. And you can't lose money you never had. Maybe the home would have been worth more two years ago. Maybe it will be worth more two years later. It isn't worth more now. If you need to sell, it's best to accept what the home is worth in the current market and move on with your life.