How To Sell Your House Fast for the Highest Price
Posted by Debbie Drummond on Friday, September 4, 2015 at 6:57 PM
By Debbie Drummond / September 4, 2015
2 Comments
Ready to move but worried about how long it will take to sell your current home? One of the most trying parts of selling a home is the waiting game. Waiting for buyers to come see your home. Waiting for an offer. Waiting for the closing day. Having a home sit on the market for months while you're ready to move on is never fun. Lowball offers are more likely as your home sits on the market.
You'll find Realtors who will advertise that they'll sell your home fast or buy it themselves. As our Realtor friend, Bill Gassett explains, "guaranteed sale programs are gimmicks". Yes, the agent will be happy to buy your home at a 30% discount. If you want to sell your home fast, there are some steps you should take.
Hire a Great Realtor
Not all real estate agents are created equal. When it's time to list your home, try to interview at least three reputable agents. One of the first rules in hiring a Realtor is to confirm that they're a full time agent. It is annoying when your buyers want to see a home but the listing agent doesn't return calls. Being unreachable is a concern when you hire a part time agent who spends 30 or 40 hours a week at their "real" job. The part timer isn't as likely to be up to date on the latest market trends, changes in lending rules, etc. You wouldn't hire a part time stock broker to handle your investments. You should expect no less from the professional who handles the sale of your home.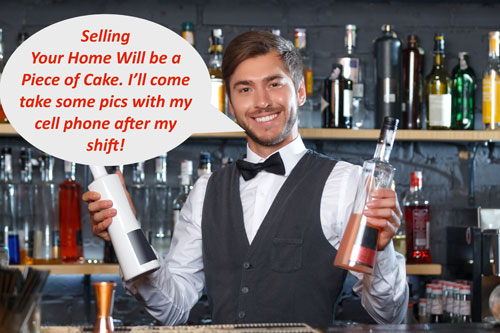 Poor communication skills is a common complaint consumers have about agents. Make sure the agent you hire responds to messages and emails. Confirm that they will follow up with agents who show your home. Find out how often they'll give you feedback from showings. Experienced agent will be able to help you interpret the feedback from potential buyers.
There are excellent articles with questions to ask when interviewing a Realtor. You should get specific about how fast the agent gets homes sold. How many listings have they sold in 30 days or less over the past year? How many sold in 60 days or less? And, how many of their listings expired without selling? Why didn't the expired listings get sold?
Price It Right from Day One
Over-pricing is a mistake. Today's home buyers search online and see the prices of homes that have sold. Buyers view an over-priced listing as having ridiculous sellers. If they like an over-priced home, they tend to respond with a lowball offer. Price it with room to negotiate and they will. Or they keep an eye on the listing and wait to see the price reductions.
Once you've decided on the Realtor, be honest with them. Let them know that you need to sell your home fast. Ask if your market favor sellers or buyers. Low inventory in most areas has today's market favoring sellers. In Las Vegas we have 7585 single family homes listed for sale. Over the past twelve months we sold 2426 single family homes per month. At that rate, the current inventory would be sold in 3.1 months. Less than six months of inventory is generally considered a seller's market. More is a buyer's market and close to six months is a "balanced" market.
If your local real estate market favors sellers, your chances of a quick sale at a good price improve. Out of the Las Vegas homes that have sold in 2015, 48.2% went into contract in 30 days or less. If we look at 60 days, 57.9% of the homes that sold were in contract. If homes are selling that quick in your market, you don't need a Realtor who uses the "I will buy it myself" gimmick.
Keep the rate homes are selling in mind as you review the comps with your Realtor. If you price your home at market value you will have a much better chance to sell quick than if you over-price. Price it slightly under the market value and you may generate multiple offers. Nothing like a bidding war to drive the price up.
Setting the Stage
Once you've decided it's time to sell your home, you need to get your home ready for the fussiest buyers. This is one of the most challenging things to get sellers to do. We understand, you still have to live in the home. If you want to get it sold the less evidence that you live there the better.
The first step is to decide what you should leave behind when you move. Go ahead and get rid of items you plan to throw away. Separate them into things to donate to charity and things to toss completely. There's no point in moving things you don't use and getting rid of them will help stage your home.
Once you've cleared out the items you won't be moving, pack away as many belongings as possible. Start with the kitchen counters. You can leave a coffee maker out. If you make juices everyday, leave the blender out. Try to pack everything else. You can wait to use the crockpot or the bread machine until you're in your new kitchen. Repeat the process in the bathrooms. Put away all the make-up that's scattered around the counter. Leave out the tooth brush holder, tooth paste, soap and try to clear everything else.
Go through closets and pack all clothes you won't need over the next month or two. If it's Summer, pack the long sleeves and Winter coats. If it's Winter, pack the sandals and shorts. One of the biggest turn offs to buyers is a closet that is full or over-flowing. Closets should look half to no more than three quarters full.
Pack up the family photographs and knick knacks. Buyers need to picture their kids and family in the home rather than yours. Put away art work that might be too risque or offensive. Same applies to that deer over the mantle. Guns are another item that should not be around. These are just some of the things to put away.
Don't make the garage into a storage locker if you can avoid it. Look for a convenient self storage facility that's affordable and secure. Once you've packed up non-essentials and taken them to storage, your home will be much more appealing to buyers.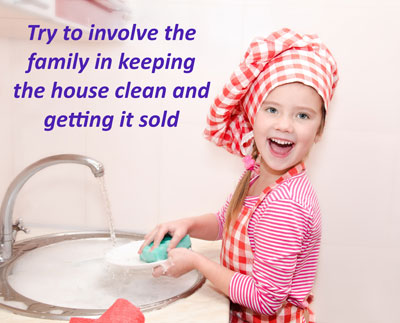 The final steps in setting the stage is to clean and repair. Another big turnoff for buyers is a dirty house. If possible, get the entire family to help with keeping things clean. That peeling paint on the back door frame? It may not bother you but it will make buyers wonder what else you've neglected. If you want to sell quick and at top dollar, the repairs will help. If you don't have the time or the resources to make repairs, you will need to adjust the price.
Real Estate Photos Make a Difference
This is a step that you should keep in mind when hiring a Realtor. 94% of today's buyer start their search online. When interviewing Realtors you will want to make sure they use professional quality photos. Ask to see their listings online. Are the photos well lit so you can easily see what the rooms look like? Or do they look like someone in a hurry snapped them with a cell phone? If it's the latter, you should not hire them.
Most buyers don't want us to send homes that have few if any photos. Not having photos leaves the buyers wondering what you're hiding. Having lousy photos is as bad as not having any. Even in a seller's market, the photos used to market your home matter.
Top Listing Agents understand the importance of photos and video. We would never dream of using a cell phone to take listing photos. At the same time, the photos have to be realistic. No point in luring buyers out to see a perfectly photographed home if the home is falling apart in reality. It's OK for the photographer to edit the lighting a little but they should never edit out obvious flaws. You should also make note of how clean and tidy you got your home for the photographer. Try to keep it the same for buyers to see when they view your home.
Getting from Accepted Offer to the Closing Table
Your Realtor will help you review offers to make sure there are no hidden costs or terms. They'll review the buyer's pre-approval letter. They will usually call the buyer's lender to confirm that the buyer looks solid. With a cash buyer, your agent will verify that the buyer has sufficient funds. If you're in a hurry, the last thing you want to do is take your home off the market only to find out the buyer isn't qualified.
The next steps will include an inspection. Any issues may have to be negotiated. If you and the buyers cannot come to agreement, they may have the right to cancel the deal.
You must provide current HOA documents for the buyer to review. Most States allow buyers five days to review and accept the HOA documents. In NV, the HOA has up to 10 days to deliver the HOA documents. If you hope to close on time, you should order the documents as soon as possible after you accept the offer.
The appraisal is another contingency if the buyer is securing a mortgage. If your home doesn't appraise, the buyer may cancel. Or they can pay the difference between the appraised value and the purchase price out of their own funds. You could reduce your price to the appraised value or agree to split the difference. Appraisals are something to keep in mind when pricing your home.
Maintain your home while you're waiting for the Close of Escrow. Buyers are entitled to do a "Final Walk Thru". If an appliance stops working between the inspection and the final walk through, have it fixed. The utilities should also be on for the final walk through. Don't remove or change any of the appliances, fixtures and other items you agreed to leave.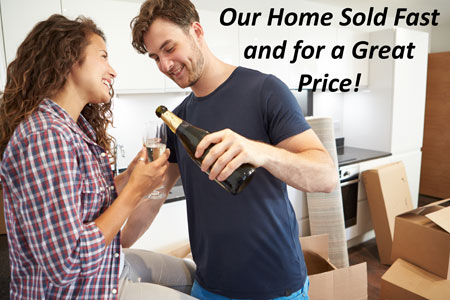 An experienced Realtor will help get through these steps and to a successful closing. They'll keep track of the deadlines for removing contingencies. If a problem should arise, they'll help you deal with it in the best way possible.
Congratulations - Your Home Sold Fast
There's an old saying among Realtors that "the first offer is usually the best". Today's buyers start researching the market months, sometimes years in advance. They watch home price trends. Over time they narrow down to specific neighborhoods and prices. They'll be watching when your home comes up for sale.
If your home is a good value, buyers who are watching the neighborhood won't waste time. You may receive an offer at or close to list price. This sometimes makes sellers second guess themselves. They question, "did we price it too low?" No. You priced it right. That's why the buyer knew they shouldn't waste time with a lowball offer. You should celebrate that you succeeded in selling your home and get ready to move.