Improvements That Help Sell Your Luxury Homes
Posted by Debbie Drummond on Thursday, September 18, 2014 at 12:25 AM
By Debbie Drummond / September 18, 2014
Comment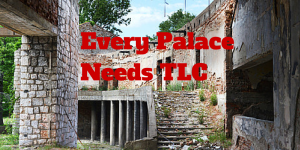 Reports show the luxury home market is heating up. As noted in the Luxonomist, "U.S. Luxury Homes Are Selling at the Fastest Path in Years". The article focuses on the uber expensive $30 Million plus market. It credits much of it to investors looking for more security than they find in the stock market. The over the top luxury homes aren't the only sector of the market that is doing well. Homes priced between $1 Million and $30 Million are also selling at a fast pace.
The Las Vegas market has sold 210 homes for more than $1 Million this year. Out of those homes, 68 (32%) were on the market for less than 30 days. How do you sell a home quick when it's in a price range few can afford? Two important factors are crucial. Price it right and make sure it shows well. A home in a guard-gated community with fabulous views won't sell quick if it's over-priced. It won't sell quick if you haven't updated anything since you bought it twenty years ago.
It's disappointing to show a home priced at $1 Million plus if it hasn't been well maintained or updated. Your home is an investment and should be treated like one. Proper maintenance will save on repair bills, energy bills and help you get a better price when it's time to sell the home. Our friend Bill Gassett offers great suggestions in "Improvements That Will Help Sell Your Home". For luxury homes, we would go a bit further. The following guide is a look at current trends in luxury homes.
Improvements for Luxury Homes
Keep it Neutral. Bright red or garish green rooms won't appeal to your typical home buyer. They may have suited your taste or a teen-ager's taste but most people will look at them and deduct a few thousand from the price. There are lots of resources available to help you pick colors that will appeal to buyers. Karen Highland's "Decorating Trends Forecast for 2015" is an excellent guide. It suggests colors that are currently in vogue. Another resource is the Pottery Barn's Color Collection.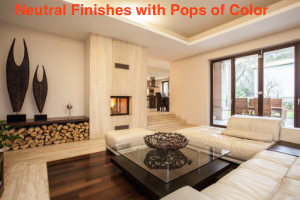 Paint isn't the only area that should be neutral. We recently showed a large home with golf course frontage in an excellent community. The sellers had replaced all the appliances. My buyers loved the Wolf stove and ovens. The kitchen has a great design. The home had a good floor plan. But it was so outdated. It was antique furniture and deep brown paint on the coffered ceiling. Looked like someone's retirement home. Sad, the sellers had spent quite a bit to make the home what they thought was wonderful. Don't go overboard with old fashioned decor and paint colors.
Another home we recently viewed was a For Sale By Owner for $1.6M. It was a Toll Brothers home in a popular community. The sellers had lived in the home and designed it to be perfect for their lifestyle. Including the Bocci ball court where they could have cocktails and pretend they were on a cruise. They had moved to a custom home up the street. The husband was so proud of the way his wife staged the home. He pointed out the bed with the leather trimmed headboard and burgundy duvet. She bought them to stage the home. The duvet cover did match the burgundy velvet wallpaper on the accent walls. They may find someone who likes it.
Unique Homes Magazine featured luxury home stager Meredith Baer in "The Transforming Touch". She uses white or beige furniture. Then adds pops of color with throw pillows and artwork. As she says,
One of the biggest decorating mistakes people make is having too much color in a room.
Dream Kitchens. The kitchen is a focal point of the home. Investing in upgrades or a re-design of the kitchen is a good idea on a home that's more than 8-10 years old. Corian counter tops from the 80s can still be found in some of our older communities. Buyers will discount the price when they see them. The subzero fridge from the 80s is another artifact we encounter.
The Chef's kitchen includes professional quality appliances. Wolf, Viking or the equivalent are preferred. Kitchens should offer at least two dishwashers. We have a new construction home in contract that was built with only one dishwasher. The builder did leave a spot where it would be easy to add another. The buyers insisted that he do so before they close escrow because a home this size is too big for only one dishwasher. The home is only 6100 sf. The latest dishwashers, washers and dryers are energy efficient and quiet. If yours are old and noisy, upgrade them.
Lighting can be romantic in more intimate areas of the home but not in the kitchen. Today's dream kitchens have great lighting. Long pendants, recessed and LED lights and under cabinet lighting make it easy for the home cook to see what they're doing. Professional quality faucets with under-mount sinks is another worthwhile investment.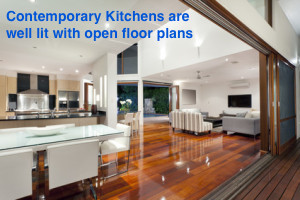 Keeping with the professional quality kitchen, luxury homes are now utilizing durable countertops. Counters are made from Quartzite, Granite, Caesarstone, Marble, Butcher Block and even concrete. The best materials are easy to clean and withstand heat.
Outdoor Kitchens. We only get 4 inches of rain per year in Las Vegas and it's sunny 300 days per year. In our climate, grilling is not only a healthy choice it's feasible. If your luxury home doesn't have an outdoor kitchen, it's a worthwhile investment. Outdoor kitchens include high end appliances. They offer more than a grill, add a fridge, wine fridge, sink, high end cabinetry and granite counter tops. Include seating and a TV for friends to keep you company while you cook.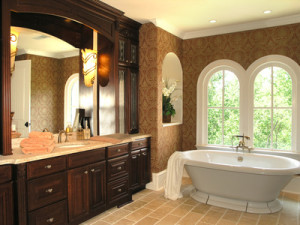 Luxurious Baths. Next to kitchens, lavish bathrooms where you can enjoy a nice long shower or soak in the tub are another key feature in a home. Today's bathrooms feature over-sized showers with a variety of shower heads. Bath tubs can offer air therapy or chromatherapy where lights infuse the water with colors to help you relax. Free standing tubs are also becoming popular. If your home has one of those old 80s jetted tubs in the pinkish color, get rid of it. Today's buyers hate them.
Technology. Another smart investment for the luxury home owner is technology. From the security system to the climate to the music, today's luxury homes can be controlled from a smart phone or tablet. Your home may be in a guard-gated community with roving security, but buyers expect more in a luxury home. They want video cameras and wireless security throughout the home.
Landscaping and pools. In some parts of the Country having a swimming pool can actually take away from your home's value. That isn't the case in Las Vegas. 92% of our homes that sold for more than $1 Million this year had pools. When working with luxury home buyers, the majority want a pool and if it doesn't have a pool they at least want the space to have one put in. Pools add value to your home in the Las Vegas market. Make sure that your pool is in good operating shape. If it is an older design, you might want to consider having it re-surfaced with a more contemporary color/finish.
The type of landscaping you prefer may differ from what your buyers prefer. Some buyers opt for eco-friendly desert landscaping and artificial grass. Others prefer real grass with lush landscaping. Don't overhaul your current landscaping but make sure it's well manicured. Trim anything that's over grown. Replace dead or dying plants. Make sure the sprinklers are all working.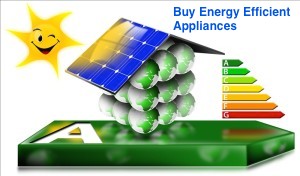 Energy Efficiency. Luxury homes tend to be larger than your average home. They may have high ceilings with windows and glass walls. It isn't unusual for buyers to ask about a home's energy bills. A buyer can call NV Energy to get the average electric bill for the last twelves months at an address. Buyers may be scared off when they find out what you spend on utilities. Have the electric company do an energy audit. You may need to consider additional insulation. Replacing old HVAC systems, hot water heaters, single pane windows, etc., can help you save on utility bills. They will also help you get a better price for your home when you sell.
Flooring. The type of flooring you have in your home is a matter of personal taste. If the flooring is in good shape, there is no reason to replace it. If it isn't in good shape, buyers will expect a discount since they'll need to replace it. Carpet that's stained and worn out can be another indicator that you haven't maintained the home well. Buyers who see this will take a closer look at how everything is maintained.
The Las Vegas climate gives an advantage to hard surface floors. Most of our luxury buyers prefer wood or tile floors in the kitchen, baths and living areas of the home. Some prefer having no carpet anywhere in their home. Manufacturers are now offering incredible designs of tile that can even look like wood or planks. The hard surfaces handle our dry dusty climate much better than carpet.
If you prefer carpet in the bedrooms, it should be a high quality carpet with a good pad. Some older homes may still have carpet in the bathrooms. This is not a good idea. It's easy for the carpet to get wet and grow mold. If you still have carpet in your bath, it's time to replace it with a hard surface.
Wine Cellars and Wet Bars. This is becoming more common in today's luxury homes. We're not talking about your grandparents wine cellar in the dusty basement either. Today's custom wine cellars may be hidden away in a closet or under the stairs. It's just as likely to be a glass enclosure that showcases your collection of rare vintages. Wet bars and wine cellars create the perfect environment for having an intimate dinner or a big party.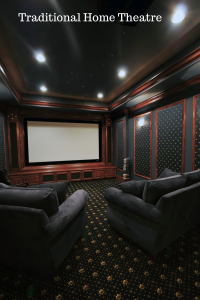 Home Theatre and Media Rooms. Today's home theatre is much like having a small movie theatre in your home. They are designated rooms that are enclosed to be completely dark when the lights are turned out. They include high quality audio visual equipment and a large video display with high end surround sound system. Rows of theatre chairs, recliners or sofas are positioned to give the best viewing experience. Home theaters are popular for those who like to entertain with movies.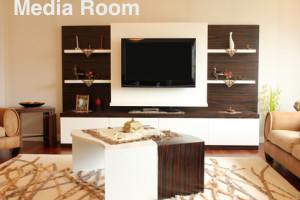 Some buyers are now opting for more versatile media rooms instead. The media room has a smaller display or television monitor. They can be used for video games as well as viewing movies. Seats are more casual than the theatre type seating. We've seen more contemporary, low backed seats and love seats in media rooms. The media room can use a more typical surround sound system and doesn't require the extra sound proofing. The media room offers the versatility of being included in the family room or living room. If you don't have the space for a designated home theatre, you should certainly set up the family room or living room as a media room.
Considering a remodel for your luxury home?
Karen Highland offers more useful tools in "Virtual Remodeling and Decorating". Try the Google Tool to picture the new home theatre or dream kitchen you're considering. I agree with Karen about Houzz.com. Could spend hours there.
More Suggested Reading for Selling Your Luxury Home: