Las Vegas Celebrates Chinese New Year 2012 - Bellagio's Conservatory
Posted by Debbie Drummond on Thursday, January 26, 2012 at 3:40 AM
By Debbie Drummond / January 26, 2012
Comment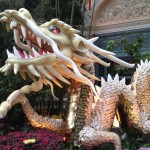 The Bellagio Conservatory puts a different twist on their New Year's Celebration with an incredible display in their conservatory. While the Bellagio is known for their fountains, the conservatory is an additional attraction with magnificent displays that are changed several times throughout the course of the year to celebrate the seasons. The Chinese New Year Display is always a favorite and the Year of the Dragon is no exception.
While the Palazzo/Venetian display is centered around one large, giant Dragon with five claws, the Bellagio features five beautiful Dragons. Each of the dragons is a different color, representing an element ranging from the Brown Dragon for the Earth to the Gold Dragon for metal. Each Dragon was made using 3000 hand painted scales. The five individual Dragons are on the sides of the conservatory.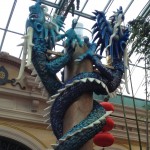 Completing the space around the Dragons are beautiful flowers and plants. As a sign near the entrance informs us, Bamboo is used because it bends in strong winds but does not break. The pines are revered for the great age and strength and like bamboo they remain green in the Winter. The Plum in the trinity is revered because it is early blooming and the longest lived of the flowering fruit trees.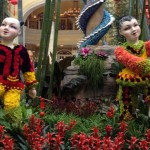 The two Blue Dragons climb 25 feet to the sky and their Blue color represents the element water. They are rising from the Bellagio's pond with two waterfalls in the corners. The waterfalls were positioned so that their location and direction of water flow would attract good fortune.
It's a beautiful display to experience. Of course, Bellagio's restaurants Jasmine and Noodles are offering special menus for the New Year. And if you have a sweet tooth, you might want to venture beyond the Conservatory to view the chocolate fountain at Jean Phillippe Patisserie. While there you might have to grab an ice cream cone or one of their delicious pastries to enjoy as you stroll through the Casino and out to watch the Bellagio Fountains which have become a Las Vegas Landmark.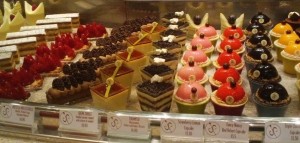 Chinese New Year festivities continue through Sunday, click here for a peak at where the festivities are happening. And don't forget the festival on Sunday, the 29th at Las Vegas Chinatown Plaza, hope to see you there.