Las Vegas Fine Homes - Second Quarter 2015
Posted by Debbie Drummond on Thursday, July 16, 2015 at 9:13 PM
By Debbie Drummond / July 16, 2015
Comment
The Las Vegas Luxury Home Market Heats Up
We sold 78 Las Vegas Luxury Homes during the second quarter this year. The Las Vegas luxury high rise buildings recorded 23 luxury units sold. That's a total of 101 homes priced at $1 Million plus. A nice increase over the 76 luxury homes sold in the first quarter of the year. 24 of the homes sold for more than $2 Million. Eleven of the homes topped $3 Million.
Luxury Home Trends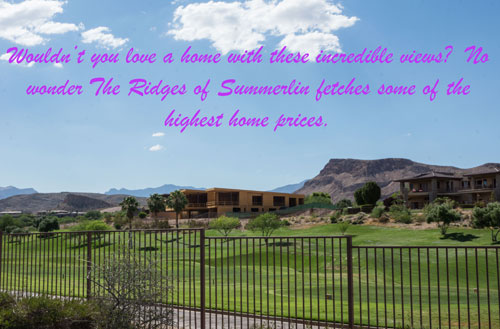 Fifty nine of the high end homes that sold were bought with cash. Low interest rates may tempt some high end buyers. The majority are still paying cash. This could be due to the paperwork necessary to get a mortgage approved. The mortgage process is more difficult for self-employed and those with complicated tax returns.
Las Vegas fine homes are selling fast. Thirty (30%) of the high end homes sold last quarter went into contract in less than 30 days. Overall, 50% of all homes sold in Las Vegas in June had an accepted offer in less than 30 days. The average days on market for the single family homes that sold was 102. For the luxury condos, the average was 140 days. Five homes were listed for more than 400 days. One home sat on the market 542 days before selling. Final price was $318,500 less than the original list price.
The Las Vegas MLS shows 377 single family homes listed for $1M or more today. It shows 87 high rise condos priced at $1M or more. The current inventory of single family homes would last 17.6 months. The high rise inventory would last 13.4 months. The best homes in the best locations may sell fast. Luxury homes that are over-priced, dated or lack proper marketing don't.
Top Luxury Home Prices for Second Quarter 2015
Top home price for this quarter was $4.75 million. A letdown after an $8M house and $7.7M penthouse in the first quarter. Most expensive home sold this quarter was 24 Painted Feather Wy. Located in the Ridges of Summerlin. This 9249 sf home featured 5 bedrooms and 7 baths on a 25,700 sf lot. Listed at $4.499M and sold for $4.2M after only 24 days on the market. The Ridges of Summerlin sold four more estates for more than $3 Million.
The second most expensive home sold was 42 Olympia Hills Cr. in Southern Highlands. Listed at $4.47M it sold for $3,999,999. This 6965 sf home featured 4 bedrooms and 7 baths on half an acre. It was listed for 36 days before going into contract.
Summerlin continues to see more luxury homes sold than other communities. Thirty four, almost half the million dollar plus homes that sold were in Summerlin. The Ridges of Summerlin sold 11 homes with $1M plus list prices. Red Rock Country Club was right behind the Ridges with 10 closings. Canyon Fairways sold six listings priced at $1M plus. The Palisades had two. Tournament Hills, Bellacere, Mountain Trails, Eagle Hills and Country Club Hills all sold one luxury home.
Six high end homes sold in nearby communities. They included: One in Queensridge. Two in the Lakes. Two in Canyon Gate. Two in Spanish Trails. One in section 10.
The Estates at Southern Highlands is a smaller area than Summerlin or Henderson. Seven luxury homes sold in Southern Highlands this past quarter.
Henderson rivals Summerlin as most requested by newcomers to the area. It continues to trail Summerlin for luxury home sales. There were 24 homes sold with list prices of $1 Million plus in Henderson. Eight of those were in Seven Hills. Two luxury homes sold in Anthem Country Club. Roma Hills saw two $1M listings close. MacDonald Highlands had 8 listings for $1M plus that closed.
The most expensive home that sold in MacDonald Highlands was the first US Dept. of Energy Challenge certified home in Nevada. Built in 2014, this single story home offered 6782 sf of living space. It included a game room, workout room, wine cellar, movie theater and gourmet kitchen. Listed at $3,499,000 it closed for $3.2M. The style was contemporary.
Luxury High Rise Prices
Top Luxury High Rise is The Mandarin. The building sold 11 residences priced at more than $1M. They also claimed most expensive high rise sold. The Mandarin #4606 listed at $4.75M and sold for $3.875M.
Veer Towers sold two luxury condos. Park Towers sold 2 luxury penthouses. Their closing prices were $2.7M and $3.4M. ONE Queensridge Place and The Martin each sold four.
Compared to Second Quarter 2014
We sold more Las Vegas fine homes in the second quarter than we did in the first quarter. We didn't see a huge change from the same quarter last year. Between April 1 and June 30, 2014, we sold 99 homes priced at $1M or more.
Prices are similar to the same quarter in 2014. Highest price paid for a single family home in 2nd Qtr 2014 was $4,339,570 for an estate in MacDonald Highlands. Highest price for a high rise this time last year was $3M for a penthouse at The Mandarin.
The high rise condos that sold in the second quarter of 2014, averaged 73 days on the market. Luxury single family homes that sold during 2nd Quarter 2014 averaged 140.5 days on the market.
This Quarterly report covers homes listed for $1 Million or more. Follow our monthly real estate update to see faqs about the overall market.