Las Vegas High Luxury Rise Condos Sold in July 2015
Posted by Debbie Drummond on Tuesday, August 4, 2015 at 11:55 PM
By Debbie Drummond / August 4, 2015
Comment
Las Vegas Luxury High Rise Condos For Sale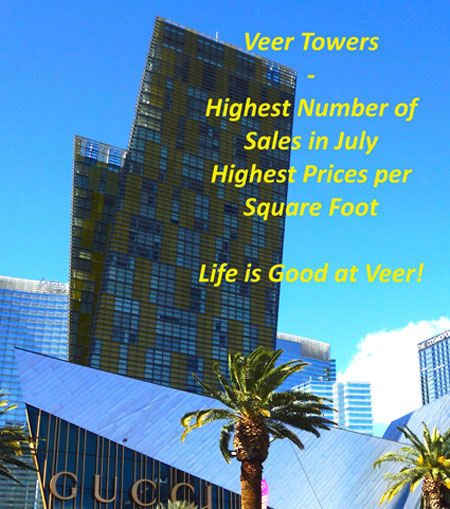 We continue to see a large selection of high rise condos available in Las Vegas finest buildings. There are 521 luxury condos currently listed for sale. That's the third month of a steady decline. It was 531 last month and 534 the month before.
Short sales are involved in 8 of the high rise listings. Foreclosures in 4 of them. Lowest priced foreclosure high rise is a studio at Palms Place. Unit 2319 is listed for $164,500. It's been listed for 179 days with an original price of $199K.
Bargain prices can still be found. At Allure there are six units listed for less than $200/sf. Turnberry Place, Tower 1 has a 2050 sf unit listed for $200/sf. These are the same units mentioned in last month's high rise update.
Lowest price per square foot is unit 808 at Allure. It's priced at $181/sf ($330K). Has been on the market 260 days and still hasn't found a buyer. It is a larger unit with 3 beds, 2 baths in 1828 sf of living space. The size drives the HOA fee up to $1,025/month. That may be discouraging potential buyers. Of course, the one condo that sold at Allure in July was the same floor plan. Unit 2708 was listed for $469,000 and sold for $460,000 after only 10 days on the market. Guess that shows what 19 floors higher does for property values.
Where Are Las Vegas High Rise Condos Selling?
We sold 51 high rise condos in our most luxurious buildings in July. This is similar to the 50 we closed in June and in line with the average of 51 per month over the past year.
Veer Towers lead the pack with 10 condos that sold in July. Veer also lead with highest prices per square foot. Close behind Veer Towers was MGM Signature with 8 units sold. MGM Signature continues to attract investors who appreciate the bargain prices. MGM 1 bedroom units sold in the low to mid 200s. MGM studio units closed between $124K and $170K. The Martin had 7 condos that changed hands in July. Palms Place and The Ogden followed with 5 units each.
Las Vegas High Rise Trends
The 521 condos currently listed for sale would last 10.2 months if no new units came on the market. More than six months is a market that favors buyers. It's still an improvement over a couple of years ago when we had a 3 year supply.
Sold for less than $200/sf. We have 7 options that are listed for $200/sf or less. Only one condo sold for less than $200/sf in July. Unit 2304 in Tower 1 at Turnberry Place closed for an amazing $183/sf. This 2 bed, 2.5 bath condo was the 2050 sf plan. It had been listed for 416 days before it sold. This plan in Tower 1 has views of the Fontainebleau's parking garage on lower floors. On the 23rd floor, the view would be looking over the garage. Lucky buyers here.
Highest prices per square foot - We sold 7 condos priced at $500/sf or more. That's a drop from the 14 sold in June. Highest prices were sold at Veer Towers and The Mandarin Oriental. Only one of the condos topped $700/sf. Highest price per square foot was unit 1506 at Veer Towers in the East building. The 1323 sf residence offers 2 beds, 2 baths and closed for $726/sf. It was sold fully furnished.
Highest Prices Paid - We reported several multi-million transactions in previous months. Only one condo sold for more than $1 Million in July. Unit 202 at ONE Queensridge Place Bldg 2 was listed for $1.85M and sold for $1.75M after 90 days on the market. The 3 bed, 4 bath residence offered 3856 sf of luxurious living.
How Fast Are High Rise Condos Selling?
The average high rise condo that sold in July took 95.4 days to sell. We still have some that get picked up quick. 17 of the condos that sold last month went into escrow in 30 days or less. Twenty-seven or more than half of the condos that sold in July sold in less than 60 days. The condo that sat on the market the longest time was also the one that fetched the lowest price per square foot. Condo 2304 in Tower 1 at Turnberry Place with list price of $420K was listed 416 days before closing for $375K.
Financing
Cash was used in 35 of the purchases. Conventional loans financed 13 of the deals. The Ogden, Turnberry Towers and Veer Towers where the developers have established relationships with preferred lenders. We're seeing more financing in resale units. Financing was used at Newport Lofts, Turnberry Place, Metropolis and ONE Queensridge Place. Having more financing available should help the high rise market where many buyers are locked out without financing.
Las Vegas Luxury High Rise Condos Sold in July 2015