Las Vegas High Rise Condo Update - February 2014
Posted by Debbie Drummond on Friday, February 7, 2014 at 6:17 AM
By Debbie Drummond / February 7, 2014
Comment
When looking at the Las Vegas High Rise condo buildings we follow, the MLS has 415 condos listed for sale. That's down considerably from the 441 units that were available when we started the year.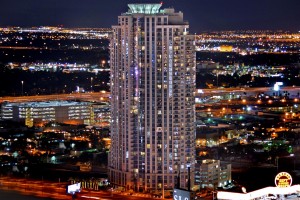 In January, we sold 32 condos. On average we sold 51.5 high rise condos per month over the past year. The holidays likely account for part of the drop but the higher prices are also seeing a decline in the number of investors who are picking up rental properties. If the sales volume picks up as we enter the Spring selling season, and we return to an average of 51 units sold per month, the current inventory would only be an 8 month supply. If it continues at 32 units per month, we're back to a one year supply of condos.
Best news for owners near the old Sahara Hotel & Casino is that SLS Resort and Casino has announced a Labor Day opening. This will be an enhancement to property values for Allure, SKY, Turnberry Place and Turnberry Towers - all within an easy walk to the resort.
What Sold in January?
Distress Sales: Only one of the closings in January was a short sale. Unit 2500 at Trump was listed for $150K and sold for $195K. Another good example of how the banks are now countering lower purchase prices with something closer to what they believe is the current value. Five of the condos sold in January were foreclosures. The 415 listings that are currently available includes 13 short sales and 12 foreclosures. The remainder of the current listings are traditional sales.
SOLD Price Per Square Foot: Only 3 high rise condos sold for less than $200/sf. Panorama Towers Bldg 2, unit 1806 was the lowest at $181/sf. It was followed by unit 1104 in Tower 1 at Turnberry Place which closed for $183/sf. This was a unit which faced the parking garage at Fontainebleau.
The 3 highest prices per square foot were all at CityCenter. Mandarin Oriental sold unit 3606 for $750/sf for the top price. It was followed by unit 3204 at $640/sf. Veer Towers came in third with unit 1006 in the East Building which closed at $511/sf.
Cash is Still KING. Out of the 32 high rise condos sold in January, 24 were cash purchases, including four of the five condos that sold for more than $1 Million. Eight of the condos sold with conventional financing. This included new units at ONE Queensridge Place, The Martin and Veer Towers along with resale at MGM Signature, SKY and Panorama Towers.
Days on Market:
Nine of the condos sold were listed for 90 days or more. Only 11 of the condos that closed in January were listed for 30 days or less with five that sold in less than 10 days.
The Martin has again claimed the Title of high rise building with most closings with seven closings in January. The following chart lists all transactions reported in the MLS in January.
Las Vegas High Rise Condo Update - February 2014
The Las Vegas High Rise Condo Update - February 2014 is courtesy of Debbie Drummond, a top Las Vegas Realtor in the luxury home and high rise market.
This report does not include units sold directly by the developers that did not get entered in the MLS. In addition, we only cover the following buildings in this report: Allure, Cosmopolitan, Mandarin, The Martin, Metropolis, Newport Lofts, MGM Signature, ONE Queensridge Place, Palms Place, Panorama Towers, SKY, SOHO Lofts, Trump, Turnberry Place, Turnberry Towers, Vdara and Veer Towers.