Las Vegas High Rise Condo Update - March 2014
Posted by Debbie Drummond on Wednesday, March 5, 2014 at 3:57 AM
By Debbie Drummond / March 5, 2014
Comment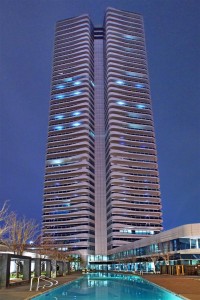 As the winds of March arrive, we find 428 condos listed for sale in the buildings we track for our monthly report.
In February, we sold 39 units in these buildings. After a slight dip in January, this was welcome news. Over the past year, we averaged 50 closings per month in these buildings. Considering that February is a short month, 39 isn't bad. The current inventory would be gone in 11 months at the current absorption rate.
Best high rise news of the month -
NV Business magazine reports that ONE Queensridge Place had a stellar 2013. They recorded 55 transactions worth more than $100,000,000. According to the report, ONE Queensridge Place only has 17 "new" units remaining.
What sold in February? Only one of the closings was a short sale. Unit 2608 at SKY listed for $285K and sold for $285K. It was the 1467 sf, 2 bed/3 bath floor plan. One of the February closings was a foreclosure. Unit 2520 at Palms Place was a studio condo listed for $184,900 and sold for $173,750.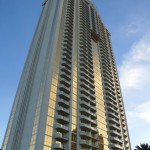 Out of the current listings that are available, 11 are foreclosures. Foreclosures prices start at $162K for a studio at MGM Signature. Short sales account for 11 of the current high rise listings.
SOLD Price per Square Foot - Only three of the condos sold in February settled for less than $200/sf. Two condos at the Mandarin closed above $700/sf.
Lowest price per sf was unit 1406 at Panorama Towers Bldg 1. The Mountain view unit closed for $183/sf. Unit 809 at Allure fetched $189/sf. The short sale at SKY closed for $194 per sq. ft.
Highest Price Per Square Foot - The three highest prices per square foot were all at the Mandarin. Unit 3507 closed at $717/sf. It was followed by unit 3505 at $707/sf and unit 2901 at $678/sf.
CASH purchases are still the majority of the market. Twenty five of the condos closed as cash deals.
The Martin and MGM Signature tied this month for the highest sales volume. Both communities had 7 deals. The Mandarin came in third with five sales followed by ONE Queensridge with four units sold.
Las Vegas High Rise Condo Update - March 2014
The Las Vegas High Rise Condo Update is prepared monthly by Debbie Drummond, a top Las Vegas Realtor who specializes in the Luxury Homes and High Rise market.