Las Vegas High Rise Condos Sold in February 2015
Posted by Debbie Drummond on Saturday, March 7, 2015 at 8:10 PM
By Debbie Drummond / March 7, 2015
Comment
If you're buying a Las Vegas High Rise Condo, today you will find 516 options available in our most popular buildings. This is an increase from last month's 480 options and 428 listings last March. We sold 48 high rise condos in February. Considering that February is a short month which included a Federal holiday, that's a nice increase. Thirteen more than the 35 we sold in January and the 39 condos sold last February.
Las Vegas High Rise Condos For Sale
Search the high rise condos listed in our MLS and you will find most of them are traditional sales. Five of the current listings are short sales. Five are foreclosures. The most luxurious foreclosure in our high rise towers is still unit 1503 at ONE Queensridge Place. With a list price of $2,599,900, this one comes out to $508/sf. If you want contemporary luxury, unit 1512 in Panorama Towers Bldg 1 offers Strip views at $319/sf.
Bargain hunters who are looking to get into the high rise market for less than $200K or less have a few more options this month. Most of the lower priced condos are studios units at MGM Signature and Palms Place. There is a short sale at Panorama Towers. Unit 702 is a one bedroom condo with Mountain views for $200K. Allure has four options for less than $200K.
What Sold in the Las Vegas High Rise Market in February?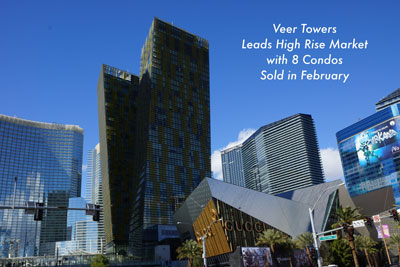 There was one foreclosure that sold. Unit 2308 in Building 1 at Panorama Towers was listed for $293,250 and closed for $278,250. The 2 bedroom, 2 bath residence faced the Mountains. One of the condos that sold in February was a short sale. Unit 1819 at MGM Signature, Tower 1 was a studio that closed for $170K.
Las Vegas High Rise Prices & Trends
The high rise market continues to show strength in closing prices. Ten of the condos that sold in February closed for more than $1 Million. Highest closing price was at ONE Queensridge Place. The "Crown" Penthouse was listed for $8.99M and sold for $7.7M. Cash buyer, of course. The 3 story residence offers 15,691 sf of living space, private underground parking for 16 cars and a private pool. The property was sold as a "greyshell" waiting for the new owner to finish the interior.
ONE Queensridge took the prize for highest price in February. The Mandarin Oriental wins for highest price per square foot. Three of the luxury high rise condos that sold in February were priced over $700/sf. Three suites at the Mandarin closed for $725/sf, $7275/sf and $771/sf.
Only two high rise condos closed for less than $200/sf. Unit 403 in Tower 4 at Turnberry Place sold for $175/sf., a bargain for this community. Unit 2308, the foreclosure at Panorama Towers sold for $193/sf.
Veer Towers had more sales activity than any of the other buildings, with 8 condos changing hands in February. Palm's Place was a close second with 7 units closing.
How Quick Are High Rise Condos Selling?
The average days on market for the condos that sold in February was 123 days. Seventeen of the condos were on the market 30 days or less. 11 of those were traditional sales. 6 were developer units that had never been sold before. Nine of them were listed more than 6 months. Unit 1819 in Tower 1 at MGM Signature was listed 1285 days before closing. It was a short sale.
Thirty four of the transactions were closed as cash purchases. Conventional mortgages were used in 14 of the February deals.
Las Vegas High Rise Condos Sold in February 2015