Las Vegas High Rise Condos Sold in June 2015
Posted by Debbie Drummond on Wednesday, July 8, 2015 at 5:52 PM
By Debbie Drummond / July 8, 2015
Comment
Las Vegas High Rise Condos For Sale
No shortage of inventory in this segment of the Las Vegas Real Estate market. There are 531 luxury high rise condos available for sale. That's a slight decline from the 534 listed when we did our update last month. This is the one area of the Las Vegas Real Estate market where we have any sort of surplus of inventory.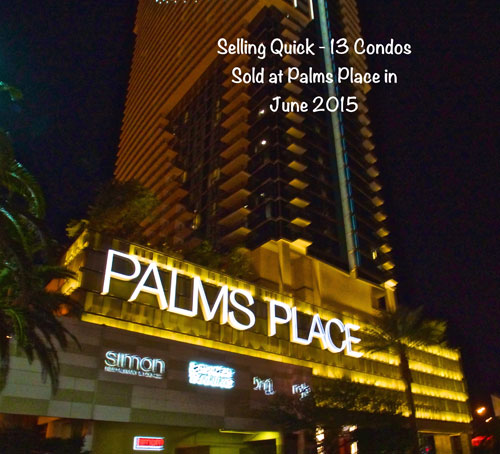 Short sales are involved in seven of the condos listed for sale. Only four of the properties listed today are foreclosures. Lowest price for a high rise condo is a foreclosed studio unit at Signature-MGM. Unit 416 in Tower 2 is listed at $124K. On top of the low floor, this unit is unfurnished. Condos at this property are typically sold furnished.
High Rise Bargains that are priced less than $200/sf are to be found. This month we have seven of the bargains. Six of them are at Allure and one at Turnberry Place. Unit 1204 in Tower 1 at Turnberry Place offers 2050 sf with 2 bedrooms, 2.5 baths. This one is listed at $410K or $200/sf.
Lowest price per square foot is unit 808 at Allure. This one is listed at $181/sf or $330K. It offers 3 bedrooms and 2 baths. The remaining units that are priced under $200/sf at Allure range from 1 bedroom 999 sf units to a 1723 sf 2 bedroom condo. They're all priced between $189 and $200/sf.
Where are High Rise Condos Selling?
In June we sold 50 luxury high rise condos. This is up from 40 in May. The highest volume of sales activity was at Palm's Place where we sold 13 condos last month. The units sold at Palms Place were developer units that seem to be attracting the price conscious investors. Sales activity was high at The Mandarin Oriental and Veer Towers where we sold 8 closings in each community.
Las Vegas High Rise Trends
On average, we've sold 51.75 condos per month this past year. At that rate, we have 10.5 months of inventory available for sale. The high rise market still favors buyers but we're finally at less than a year of inventory. Sellers in today's high rise market tend to have equity in their condos. We're seeing that many of them will stick to their guns to get their price since they know they can easily rent the units to cover expenses.
The inventory gives buyers a slight advantage, but we're not seeing blood in the streets anymore. Short sales were involved in two of the June closings. No foreclosures closed escrow in June.
Only two condos sold for less than $200/sf. There were at Allure and Turnberry Place. Both had condos that sold for less than $200/sf. Unit 3602 at Allure sold for $181/sf. Unit 1703 in Tower 2 at Turnberry Place closed for $194/sf.
The number of condos selling at higher prices per square foot is increasing. In June, we had 14 that closed at $500/sf or more. Most were at Mandarin Oriental and Veer Towers, with one at Park Towers. Five of them topped $700/sf.
Top price per square foot was unit 2402 at the Mandarin. This 2563 sf residence offered 2 beds, 3 baths and sold for $2.149M or $800/sf. Second place was also at The Mandarin. Unit 3004 with 2564 sf closed at $1.993M or $778/sf.
Days On the Market
Twenty one condos (Just under half of the 50 units sold) were listed 30 days or less. The majority of these quick closes were developer units at Palms Place, The Mandarin, Veer Towers and even a couple at The Ogden. Excluding the developer units. They're usually entered in the MLS once they accept an offer, the average condo was on the market 110 days before selling.
Financing
Cash purchases still rule the high rise market. 43 of the condos sold in June were purchased with cash. We did see financing at Turnberry Towers and Veer.
Las Vegas High Rise Condos Sold in June 2015