Las Vegas High Rise Condos Sold in March 2015
Posted by Debbie Drummond on Friday, April 3, 2015 at 3:30 PM
By Debbie Drummond / April 3, 2015
Comment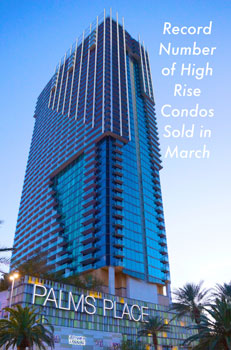 Buyers in the market for a high rise in one of Las Vegas' top buildings have 505 options to choose from. Fewer than the 516 we had last month but more than the 480 condos listed in January. In April of 2014 there were only 446 high rise listings for sale. We sold 78 high rise condos in March. That's the highest number sold per month in a couple of years. Palms Place had 33 closings. That still leaves 45 transactions in all the other buildings. Not a bad month for Las Vegas High Rise condo owners. In March 2014, we sold 40 high rise condos.
Las Vegas High Rise Condos For Sale
A search of the high rise condos listed for sale in the MLS shows that 8 are short sales. Only 3 of the current listings are foreclosures. The most luxurious foreclosure available this month is at Panorama Towers. Unit 1512 in Tower 1 is an end unit that offers both Strip and Mountain views. The 2189 sf residence offers 2 bedrooms, 2.5 baths and parking for 2 cars. List Price - $662,900. The previous owner paid $1.25M when they bought it in 2007. It's a great deal for some lucky buyer.
High Rise Bargains for less than $200/sf are still to be found. There are 3 options at Allure, one at Metropolis and one at Turnberry Place. The bargain at Turnberry Place is a short sale. Unit 3303 in Tower 2 is listed for $749,900. It's one of the 4007 sf plans with 3 bedrooms, 4.5 baths.
Las Vegas High Rise Condos Sold in March
Three of the closings in March involved short sales and two were foreclosures. Unit 301 in Turnberry Place Tower 4 was a 2 bed, 2.5 bath residence. Listed for $264,900 and sold for $265K. Unit 802 at MGM Signature, Tower 3 was a 2 bedroom suite. Listed for $259,900 and sold for $255K. The remainder were all traditional sales.
Las Vegas High Rise Prices & Trends
The lowest price recorded in March was a studio for $160K at MGM Signature. 29 condos closed for less than $200K in March. The majority (26 condos) were studio units at Palms Place. The lowest price paid for a residential high rise condo was unit 3712 at Allure. This one bed, 2.5 bath condo was listed for $199K and sold for $205K. It was a short sale.
Seven high rise condos sold for more than $1 Million, including four that topped $2 Million. Unit 3904 at the Mandarin took the price for top price. The 5628 sf penthouse offered 3 beds, 5 baths. Listed for $5,599,888 and sold for $5.4M. Unit 4303 at the Mandarin came in second. The 3980 sf, 3 bed, 4 bath residence was listed for $3.975M and sold for $3.8M. Third place went to ONE Queensridge Place. Unit 601 in Tower 1 featured 4 beds, 6 baths in 4792 sf. It was listed for $2.25M and sold for $2.215M.
Lowest Price per square foot - three of the condos sold for less than $200/sf. Unit 301 at Turnberry Place Tower 4 was only $166/sf. That one was the foreclosure and in the closing notes, it stated the condition was "Fair". The appliances seemed to be there in the photos but the previous owner never got around to putting in flooring or painting the unit. Unit 406 at Metropolis came in at $181/sf. Unit 103 at Panorama Towers is not technically a high rise, but one of the townhome style units by the community pool. That one sold for $196/sf.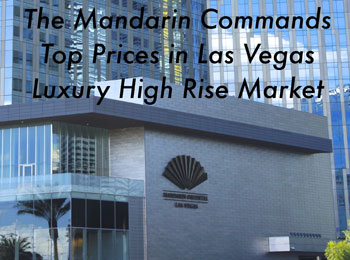 Top prices per square foot were at the Cosmopolitan where unit 1903 in the West tower fetched $1120/sf. Unit 4307 at the Mandarin sold for $1000/sf. Unit 4303 at the Mandarin closed at $955/s.f
Palms Place had the highest number of units sold with 33 transactions. The Mandarin and ONE Queensridge Place dominated the highest price transactions. All 7 of the $1M plus deals were either in the Mandarin Oriental or ONE Queensridge Place. For Las Vegas Luxury High Rise Condos, those two towers have become the top addresses.
Days On Market - 49 of the units sold last month went into contract with less than 30 days on the market. This is partially skewed by the number of developer units that sold at Palms Place, Veer Towers, the Mandarin and the Ogden. The developer units usually don't get entered into the MLS until they are about to go into contract. Excluding the developer units, the average high rise condo is staying on the market 98 days. Several of the units that sold last month were listed for more than a year.
Financing - Cash continues to rule the high rise market with 58 of the units sold purchased with cash. This includes six of the most expensive $1M plus condos sold. 14 of the purchases involved conventional loans. Alternative financing was used in six of the deals.
Las Vegas High Rise Condos Sold in March 2015