Las Vegas High Rise Condos Sold in May 2015
Posted by Debbie Drummond on Monday, June 8, 2015 at 7:16 PM
By Debbie Drummond / June 8, 2015
Comment
Today's Las Vegas High Rise buyers have 534 options available in our most popular buildings. (For this report, we only track the true high rise buildings that are at least 10 floors and built after 2000). This is an increase from the 474 we started with in May and the 505 we started with in April. Nice to have more options for buyers but increased inventory isn't good news for sellers.
Las Vegas High Rise Condos For Sale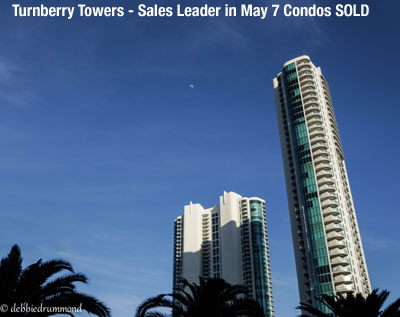 Five of the condos that are currently available are short sales. Four of them are foreclosures. This is a huge improvement over 2011-2012 when almost all the high rise condos were either short sales or foreclosures. The remaining 525 condos listed for sale are traditional, non-distressed properties.
High Rise Bargains priced at less than $200/sf are still around. There are five condos listed at Allure and one at Turnberry Place for less than $200/sf. Unit 309 at Allure is listed for $185/sf. Unit 401 is a close second at $189/sf. Unit 1204 in Turnberry Place Tower 1 comes in at $200/sf.
Which High Rise Condos Sold in May?
Only 40 condos sold in our best buildings in May. That's a drop from previous months. We sold 58 condos in April and 78 in March. The March numbers were skewed with newly released developer units at Palms Place. In February, which was a short month, we sold 48 condos. Only in January did we sell fewer with 35 closings that month. It's also a drop from May 2014 when we sold 51 condos in our best high rise buildings.
The building with the highest number of closings in May was Turnberry Towers. Seven luxury condos sold in the two towers. The Martin was second with six condos that sold. Deals at The Martin included two of the "grey shell" units. Units 4300 and 4408 sold without interior walls or fixtures. They still fetched $1.4M and $1.6M.
Las Vegas High Rise Prices and Trends
The high rise market continues to plod along in its recovery. Prices are higher than two years ago but the number of units selling each month is low compared to the number of units available. If no new condos came on the market, the units currently listed would last 13.4 months. More than six months is considered a buyer's market. If we take the average number of condos sold over the past year, the number of units listed today would still last 10.5 months.
One of the 40 condos that sold in May was a short sale. Unit 2809 at SKY was listed for $400K and sold for $415K with only 14 days on the market. There were no foreclosures in the units that sold in May.
Five condos that sold in May closed for less than $200K. All five were studio units at Palms Place and MGM Signature. Winner of the lowest price paid was unit 2704 at MGM Signature. It was listed for $187,500 and sold for $169K after 158 days on the market.
Winner of the lowest price per square foot was unit 807 at Metropolis. The 2520 sf condo featured 2 beds, 2 baths. It was listed for $469K and sold for $445K. At $177/sf., it was a bargain.
We sold six luxury high rise condos at $500/sf or more. The high price per square foot deals were at the Mandarin with a couple at Veer Towers. Top three price per square foot closings were all at the Mandarin and they were all over $800/sf. Unit 2709 fetched $814/sf for third place. Penthouse #4606 closed at $988/sf for second place. Top price per square foot was penthouse #4505 at $1234/sf. Two of the 40 condos sold in May went for more than $2 Million. Unit 4505 sold for $3.4M and 4606 sold for $3.875M.
Days on Market - Twelve of the condos that sold in May were listed for 30 days or less. This did include a few developer units. The average days on market for the units that sold in May was 119. Four of the condos that sold were listed for more than a year.
Financing - Thirty one of the deals in May were purchased with cash. We did see financing in a variety of buildings. SOHO Lofts, Turnberry Towers, Veer Towers and The Martin all had units that sold with conventional loans.
Las Vegas High Rise Condos Sold in May