Las Vegas High Rise Condos Sold in October 2014
Posted by Debbie Drummond on Thursday, November 6, 2014 at 2:14 AM
By Debbie Drummond / November 6, 2014
Comment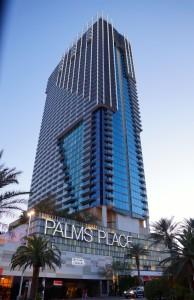 We have 433 condos listed for sale in the MLS today. Available inventory has been staying at this level for most of 2014. We sold 55 condos in the buildings we track, last month. That's one more than last month and the highest number we've sold in one month all year.
Over the past twelve months, we've sold 43 condos per month on average. If sales continued at that pace, the current inventory would last for 10 months. The number of condos listed for sale still favors high rise buyers rather than sellers.
Las Vegas High Rise News
The Ogden is now offering condos for sale at 150 N Las Vegas Blvd. This building was completed in the midst of the housing downturn. Only a few of the units were sold before the building was taken over by creditors. It was turned into rentals for the past few years. Now you have a chance to own just a block from Fremont Street. Only one condo is currently listed as a resale option in the MLS. Developer units are starting in the $230's.
Las Vegas High Rise Trends -
Four condos sold for over $600/sf in October. The highest price per square foot was $1074 at the Mandarin Oriental. Second place was a residence at ONE Queensridge that closed at $663/sf. Third place was a second unit at The Mandarin closed for $605/sf.
Seven high rise condos sold for more than $1 Million last month. The three highest prices paid happened to be at ONE Queensridge Place. The most expensive was unit 1601 in Building 2. It offered 5844 sf of living space and sold for $3.875M.
Four condos sold for less than $200/sf. Three of those were at Turnberry Place and one was at Allure. Lowest price per square foot was $180. Unit 503 in Tower 2 at Turnberry Place and unit 1906 on Tower 1 both closed at $180/sf.
What's Currently For Sale?
The 433 listings in the MLS includes 7 short sales. There are three foreclosures. There are 31 options priced less than $200K. That includes a one bedroom at Allure. The remainder are studio units at MGM Signature and Palms Place.
What Sold in October?
Seven of the 55 units that closed were short sales. One foreclosure sold at Turnberry Place.
The building with the highest sales volume was Palms Place. Investors are picking up the 1 and 2 bedroom condotel units. Twelve closed there last month. MGM Signature was second with 7 units sold. Turnberry Place sold 6 units. Turnberry Towers and Trump tied for fourth place with 5 units sold in each community.
Days on Market -
Only 18 of the condos that closed in October went into contract in less than 30 days. Last month it was about half. This month was a drop to 32%. Ten of the quick selling units are developer units. Resale listings are finding it takes longer to get their unit sold.
Cash was used in 47 of the purchases. Only 8 were purchased with a mortgage.
Las Vegas High Rise Condos SOLD in October 2014: