Las Vegas High Rise Market - August 2014
Posted by Debbie Drummond on Monday, August 4, 2014 at 11:31 PM
By Debbie Drummond / August 4, 2014
Comment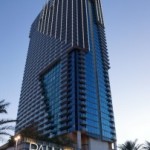 We're starting this month with 448 high rise condos in our top buildings available in the MLS. The number of condos sold in July jumped back up to 50 in the buildings we follow. Better than the slight dip to 39 we had last month. At that rate of sales, we still have a nine month supply of high rise condos listed for sale.
Nine of the condos sold in July went for more than $400/sf. The buildings getting the highest prices included Mandarin Oriental and Veer Towers. Turnberry Towers, ONE Queensridge, Panorama Towers and Palms Place each had a condo that sold for the $400/sf plus range. Most expensive prices continue to be found at the Mandarin where three condos sold for more than $600/sf.
In Brief:
The Wall Street Journal has reported that Homebuilders are Venturing Into Urban Areas. We haven't seen signs of the major builders entering the high rise market in Las Vegas yet. We probably won't see builders start more local high rise projects until we've depleted the current high rise inventory. It's a trend that may spread to this market if it does well in other areas.
Owners at Trump Towers may be getting a new neighbor. The Review Journal reports that Crown Resorts from Australia is purchasing the parcel of land where the New Frontier once stood. No details on the plans for the new Casino or when they'll break ground. Sales at Trump have been slow over the past several months. In fact, no units were sold at Trump in July.
Las Vegas High Rise Real Estate Trends -
The days of buying a high rise condo for less than $200/sf are coming to an end. Out of the 50 high rise condo homes that sold in July, only one closed for less than $200/sf. Out of our current listings, only 8 come in at $200/sf or less. There may still be a few bargains out there that can be negotiated down to less than $200/sf. Our tip, if you can find a high rise condo that is in good shape for less than $200/sf., buy it now. You aren't likely to see that price point too much longer.
Panorama Towers had the highest number of condos sold in July. There were 11 transactions in the two towers, including one of the townhome/cabana style homes by the pool. Other communities with high sales activity included MGM Signature and Palms Place with seven closings each. Turnberry Towers also had a busy month with six transactions.
What's For Sale In Our Best Las Vegas High Rise Buildings?
Out of the current listings, only seven are short sales. Only three are foreclosures. A Total of ten distressed listings. You can still find a few one bedroom condos for less than $200K. There are two at Allure and one at Panorama Towers. All three of those well priced condos are traditional sales, not distressed. There is still a good selection of studio units available at MGM Signature and Palms Place for less than $200K.
LAS VEGAS HIGH RISE REAL ESTATE TRENDS:
There was only one high rise condo that sold over the past month for less than $200/sf. There are only 8 high rise condos that are currently listed for less than $200/sf.
What Sold in July?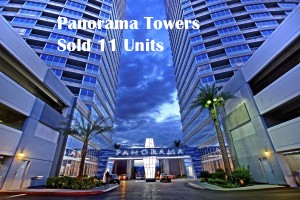 Three of the 50 condos sold in July were short sales. Three were foreclosures. Foreclosures included unit 719 in MGM Signature Tower 3. Listed for $154,900 it sold for $161K. Unit 409 in Signature Tower 1 was listed for $147,250 and sold for $150K. Unit 910 at Panorama Towers, Bldg 1 was listed for $179,900 and sold for $179,900. That one was a 1 bedroom, 2 bath in 753 sf of living space and one very lucky buyer.
Under Contract -
The number of condos that have gone into contract has increased slightly. We're now at 71 compared to 67 last month. Short sales make up 28 of the ones under contract. Two of them are foreclosures. The 43 traditional and REO contracts should be closing within the next 30-45 days. If a few of the short sales get to the closing table, the number of units sold next month should be a healthy number.
SOLD Price Analysis:
Lowest Price Per Square Foot - Only one condo sold for less than $200/sf in July. Unit 2006 at Panorama Towers, Bldg 2 closed for $460K which came out to $198/sf. This was a 3 bed/3 bath, 2324 sf condo. While it was on the 20th floor, it was also on the side of the building that has a Mountain view rather than Strip view. This is the first month we've had only one condo to sell for less than $200/sf. Last month it was three.
Highest Price Per Square Foot - Only three condos sold for more than $600/sf last month. Three were at the Mandarin Oriental. The most expensive was unit 3407 at the Mandarin. This penthouse boasts 1 bed, 2 baths in 1583 sf of living space that closed for $694/sf. Second most expensive was unit 2904 in the East Tower sold for $960K or $675/sf.
CASH Deals continue to be the norm in the high rise market. 39 of the condos sold in July were bought with cash. Conventional loans were used in 8 of the closings. Owner Will Carry and Contracts of Sale financed the remaining three.
LAS VEGAS HIGH RISE CONDOS SOLD IN JULY