Las Vegas High Rise Report - July 2014
Posted by Debbie Drummond on Friday, July 4, 2014 at 7:31 AM
By Debbie Drummond / July 4, 2014
Comment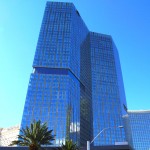 The Las Vegas High Rise market continues to show signs of stabilizing. Last month we were happy to report that the number of units sold in May had reached 51. Highest number of closings in several months. This month, we dropped to 39 again. Slightly higher than the 37 we closed in April. Sales volume is a bit sluggish but high rise prices continue to improve. Twenty of the condos that sold in June were priced at $400/sf or more. Nine of the transactions closed for more than $600/sf. Four of them closed above $700/sf. The majority of the units that sold for high prices were at Veer Towers and Mandarin Oriental. Trump, ONE Queensridge Place and surprisingly, MGM Signature had a few that closed above $400/sf.
In Brief:
Harmon Tower is coming down. After years of litigation, MGM is now free to begin dismantling the building at the corner of CityCenter. For some lucky owners at Veer Towers, the demolition may mean they have more of a view than before.
The old Imperial Palace which transitioned into the Quad is now becoming the Linq. This only makes sense since the street where the HighRoller is located is called the Linq. These North Strip developments should benefit owners at SKY, Allure, Turnberry Place and Turnberry Towers. Once the new SLS opens this Fall and City of Rock opens in 2015, the North Strip should be quite the location.
Market Trends:
One month doesn't a trend make, but sales at Veer Towers picked up some steam in June. They claimed the top spot for number of condos sold with 10 units. Not only were they busy selling them, they got good prices. The lowest price at Veer Towers was $465/sf with $793/sf for the highest price.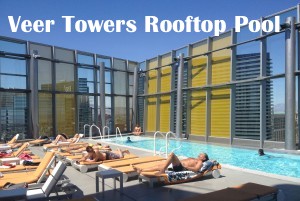 What's For Sale?
We currently have 426 units listed in the "high rise" buildings we track. Only five of those are short sales. Four are bank owned foreclosures. The remaining condos are traditional sellers.
What Sold in June?
Out of the 37 units that sold, there were no short sales and only 2 foreclosed properties. This is the lowest number of distress sales in our monthly closings for a year or more. The two foreclosures were unit 4307 at Trump Las Vegas. This 974 sf, 1 bedroom corner suite was listed for $469K and sold for $481K with only 9 days on the market. Unit 2019 at Palm's Place was a studio suite, listed for $169K it sold for $162K after 132 days on the market.
Under Contract -
There are currently 67 high rise condos in "contingent" or "pending" status. That includes 26 short sale listings. It's unpredictable how soon the short sales will close. The 41 traditional sales should be closing within the next 30-45 days.
SOLD Price Analysis:
Lowest price per square foot was unit 506 in Tower 1 at Turnberry Place. This 1712 sf condo was listed for $293K and closed for $290K or $169/sf. This one was originally listed at $499K but sat on the market 367 days before price reductions got it sold. This is one of the units with a view that's partially obstructed by the Fontainebleau parking garage.
Two other high rise condos closed for slightly less than $200/sf. Unit 203 in Turnberry Place Tower 3 was listed for $452K and sold for $432K or $197/sf. Unit 808 in Panorama Towers, Bldg 2 also closed for $197/sf. List price was $360K and closing price was $288K.
Highest Price Per Square Foot - CityCenter takes the lead for the most expensive. All four high rise condos that closed for more than $700/sf were at the Mandarin Oriental and Veer Towers.
Unit 4705 at the Mandarin Oriental closed for $1089/sf. The residence was originally listed at $3.85M. It was on the market 58 days before closing for $3Million cash.
Unit 3301 in Veer Towers West closed for $793/sf. Listed and sold for $1.425M, this one was a developer unit that only shows 2 days on the market.
Our market isn't out of the downturn yet, but prices of $793 and $1089/sf are encouraging.
CASH is Still King but Financing is making a comeback. Nine of the homes that closed in June used a mortgage. The remainder were bought with cash.
High Rise Condos Sold in June