Las Vegas Housing Market Update April 2013 - Where Have All The Bargains Gone?
Posted by Debbie Drummond on Wednesday, April 3, 2013 at 5:31 PM
By Debbie Drummond / April 3, 2013
Comment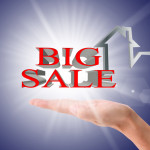 The Las Vegas housing market update for April 2013, shows that sales continued at a strong pace in March with a total of 3530 closing for the month. We start April with 4342 properties listed for sale in the MLS. That translates to just over a month's worth of inventory. Historically, less than a six month inventory is considered a seller's market. With just over a month's worth of inventory, it is strongly in favor of sellers.
A closer look at the various segments of the market shows the single family homes to be in the highest demand. Only 3018 of the current listings are single family homes. This includes 393 short sales and 299 foreclosures. The majority of the current listings, are not distress sales. Out of the 910 condos and townhomes listed for sale, 130 of them are short sales and 128 are foreclosures. We have 404 high rise listings with 15 short sales and 8 foreclosures. Altogether, short sales and foreclosures only account for 22% of the current listings in the Las Vegas MLS.
The declining number of distressed homes for sale is putting upward pressure on home prices. A buyer called yesterday, hoping to find a home that had been on the market for awhile so he could try to negotiate. He will have slim to zero chances in the lowest price ranges. He was startled to learn that one of the five condos he had found on the internet was already in contract. Three of the the others stated they had multiple offers. Those were all condos listed for under $100K on the West side and they had been listed less than 2 weeks.
The Las Vegas Housing Market Update for today finds an improving market where homes are selling quickly. In fact, 71 of the homes
Up 20% now, what will next year bring?
which sold last month were listed and closed within 15 days. Thirty per cent of the homes sold in March were listed and closed within 60 days of going on the market. Of the homes that took longer than 60 days from listing to close, 1161 were short sales.
There are still some good deals to be had but homes selling quickly is good news for sellers. The housing market in Las Vegas is up 20% over a year ago. While many skeptics don't feel this rate of appreciation is sustainable, if the inventory continues at the current low levels, we would not be surprised to see a repeat that brings prices up another 20% a year from now. One has to remember that even with another 20% in appreciation we would still be substantially lower than the peak of the market.
If you would like an analysis of your home's value in today's market, call (702)354-6900 or email [email protected]. Stay tuned for a look at various niches of the Las Vegas Housing Market Update over coming days.