Housing Market Update: Las Vegas - August 2014
Posted by Debbie Drummond on Tuesday, August 5, 2014 at 11:21 PM
By Debbie Drummond / August 5, 2014
Comment
Las Vegas and Henderson Homes For Sale in August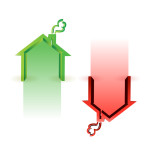 We're seeing more inventory this month. We currently have 7131 single family homes listed for sale. There are 1878 condos and town homes plus 509 high rise/vertical condos listed for sale. This gives buyers a total of 9518 homes available. That's a slight increase over the 9240 listings when we did last month's market analysis. For buyers to have a more balanced selection, we would still like to see more homes available.
Current listings include 1119 (11.7%) short sales and 417 (4.4%) foreclosures. Distress sales account for 16.1% of the homes currently listed for sale. That's a decline of 1.5% compared to last month. Traditional sales are now the majority of the market with 83.9% of the listings.
Homes Sold in July 2014
The Greater Las Vegas MLS shows 2551 Single family homes sold in July. An additional 661 condos, town homes and high rise homes were sold. A total of 3212 homes closed escrow last month. That's a slight decline from the 3275 homes sold in June.
Distress Sales
Short sales were involved in 379 (11.8%) of the homes that sold in July. Foreclosures were involved in 289 (9%) of the transactions. Distress sales are still involved in 20.8% of the closings in July.
Financing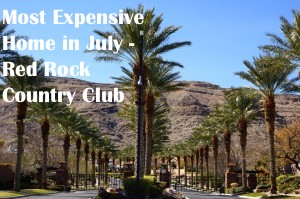 Buyers paid cash for 1145 (35.6%) of the homes sold in July. That's a slight increase over the 34.7% of June but much lower than 54% share of the market in July 2013. Conventional mortgages were used in 1087 (33.8%) of the transactions. FHA, VA and HomePath financing was used for 931 (30%) of the homes that sold.
SOLD in 30 Days or Less
We still see homes that are priced right selling quick. Last month, 1646 (51.2%) of the homes that sold were on the market 30 days or less. The hottest listings sold in 15 days or less. There were 1124 of those, making up 35% of the homes that sold. This is further indication that we are still in a seller's market. If you price it right, it will be Sold.
Compared to Last Year
We have more homes for sale this year than a year ago when there were only 6094 homes listed for sale without accepted offers. The 9518 homes currently listed is a 36% increase over a year ago.
We sold 3478 homes in July 2013. The number sold in July of this year was a decrease of 266 homes sold for the same month last year. Over the past year we have sold 36103 homes through the MLS. The average monthly sales volume was 3008. While July's sales volume may be slightly lower than a year ago, it is still higher than the monthly average.
Median Price - The median home price hit $200,000 in July, up from $199,900 in June. That's the highest since August 2008 but still below the $315K high reached in June 2006. The low was $118K in January 2012.
How's The Las Vegas Housing Market?
The current inventory is still well below the 6 months that indicates a balanced market. Using the average monthly sales volume, our current listings would be sold in 3.16 months if no new homes were listed. Using the 3212 that sold in July, they'd be gone in 2.96 months.
We're still in a seller's market, even if there are a few more options for buyers to choose from. The decline in the number of cash buyers reflects the pullback from investors.
With half the homes listed selling quickly, it appears that traditional home buyers are moving in to replace the investors.
The latest market update from Clear Capital still has Las Vegas in the list of top performing Metros. This month, Las Vegas is in 6th place with a 14.7% appreciation over last year.
Las Vegas Luxury Homes For Sale
We have 431 luxury homes and condos listed for more than $1 Million. We sold 314 homes that closed for more $1 Million or more over the past year. In July, we only sold 20 homes for $1M plus. Five of the luxury homes that closed in July sold for more than $2 Million.
Top 3 Luxury Deals in July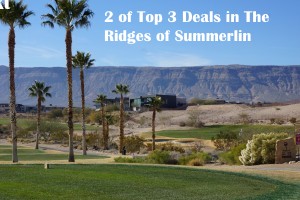 2661 Red Arrow in Red Rock Country Club in Summerlin was listed for $3 Million and sold for $2,845,125. This custom home offered 5 bedrooms, 7 baths in 7073 sf of living space. The home backed to the Red Rock Mountains with Golf and Mountain views.
12 Golden Sunray in the Ridges of Summerlin was listed for $2.975M and sold for $2.65M. This custom home featured 5 beds, 6 baths in 8149 sf of living space. The home didn't offer views but was located on a large, 30,056 sf lot in the center of Promontory Point in the Ridges.
20 Hawk Ridge was also in the Ridges of Summerlin. It was listed for $2.749M and sold for $2.547M. The home offered 6 bedrooms, 8 baths in 6134 sf of living space with a garage that could accommodate 20 cars. Located in Red Hawk in the Ridges, the home featured golf course and Mountain views.
The Las Vegas Real Estate Market Update is a monthly report. Register on our website to make sure you don't miss our updates and other real estate news.