Las Vegas Luxury High Rise Condos Sold in August 2015
Posted by Debbie Drummond on Tuesday, September 8, 2015 at 9:18 PM
By Debbie Drummond / September 8, 2015
Comment
Luxury High Rise Condos For Sale in Las Vegas
Today's high rise buyers have 495 options available. Down slightly from the 521 units listed last month. And the fourth month with a decline in high rise condos listed for sale. It's still higher than the 424 high rise listings from a year ago.
Three of the current listings are short sales. Six of them are foreclosures. Lowest priced foreclosure continues to be unit 2319 at Palms Place. This studio unit has been listed for 215 days with an original starting price of $199,000. The price dropped to $155K yesterday. Highest priced foreclosure is unit 803 at Metropolis. The 2732 sf unit features 2 beds and 2 baths in 2 stories for $467K.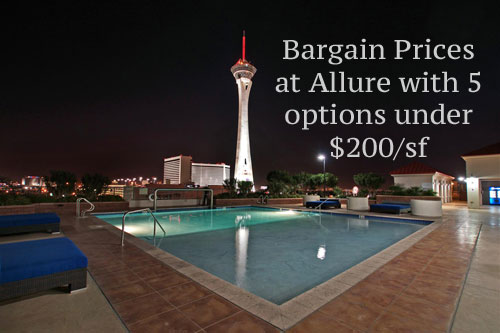 Where are the bargains? Lowest prices per square foot continue to be found at Allure. Five Allure condos are listed at less than $200/sf. Turnberry Place, Metropolis and SOHO Lofts each have one condo priced less than $200/sf. The bargain at Metropolis is the foreclosed property. It came on the market 27 days ago. The other low prices have been listed at least two months.
Lowest price per square foot is the 2732 sf condo at Metropolis. It features hardwood floors, granite counters and stainless appliances. Views are of the Wynn golf course and Strip.
What SOLD in August?
The number of high rise condos sold in August dropped to 39. This is a drop from 51 units sold in July and from 47 sold in August 2014. Two of the condos that sold in August were short sales. One was a foreclosure.
Where are High Rise Condos Selling?
MGM Signature lead the activity with 9 units sold in August. Veer Towers and Palms Place tied for second with 6 deals each. Five units sold at Panorama Towers.
Las Vegas High Rise Trends
Sold for Less than $200/SF - We have eight condos listed at less than $200/sf. All but one of those has been on the market for at least two months. Out of the 39 units sold in August, none of them were priced less than $200/sf. The lowest price paid in August was $209/sf for a 1052 sf 1 bedroom/1 bathroom condo at Newport Lofts. Unit 904 was on a lower floor but offered Strip views. A total of 19 condos sold for $210-$300/sf.
Highest Price Per Square Foot - Five luxury condos sold for more than $500/sf in August 2015. All five were at CityCenter. One was at Vdara, three at Veer Towers and one at The Mandarin. Highest price per square foot was #2407 at The Mandarin. This 2094 sf suite offered 2 beds, 2.5 baths. It sold for $775/sf after 217 days on the market.
Highest Prices Paid - Only two high rise residences closed for more than $1 Million in August. Unit 2407 sold for the highest price per square foot. Listed at $1,829,500 and sold for $1,623,500. It may have had a higher price per square foot, but not the highest price.
Penthouse 1801 at ONE Queensridge Place was the highest price paid in August. List price was $9,990,000. This 15691 sf vertical mansion sold for $6,030,000. This 3 story penthouse offered 5 bedrooms, 7 baths and underground parking for 16 vehicles. New owners can enjoy 7 terraces with a pool and Strip views. Closing price was $384/sf.
How Long Will It Take to Sell Your High Rise Condo?
Only ten of the high rise condos sold last month went into contract in 30 days or less. Three of those were developer units at Palms Place and Veer Towers. The average days on the market for the condos sold in August jumped to 137. The penthouse at ONE Queensridge Place was on the market 618 days before accepting an offer. Twenty one of the condos that sold were listed for 90 days or more.
Financing
Cash was used in 26 of the August transactions. Conventional mortgages were used in 11 deals. Two were sold with OWC or private financing.
Las Vegas Luxury High Rise Condos Sold in August 2015