Las Vegas Luxury High Rise Condos Sold in December 2015
Posted by Debbie Drummond on Tuesday, January 5, 2016 at 5:25 PM
By Debbie Drummond / January 5, 2016
1 Comment
Las Vegas High Rise Condos For Sale
As we enter 2016, we find 500 condos listed for sale in Las Vegas' top high rise buildings. Down from 549 last month but up from the 441 this time in 2014.
Nine of the current high rise listings are short sales. Seven are foreclosed properties. The foreclosures include two units at Allure, two at SKY, two at Palms Place and one at Metropolis. The short sales include two at SOHO Lofts and Panorama Towers. You'll find one each at Turnberry Place, Allure, Trump, MGM Signature and Palms Place.
Bargain Hunters will find nine options priced at less than $200/sf. Unit 803 at Metropolis continues to claim the lowest price per square foot at $146/sf. This one is a foreclosure that has been listed for 144 days. Price has dropped from the original $467K to the current $399K. Six of the other bargains are available at Allure. Unit 716 at SOHO Lofts is $199/sf., that one is a short sale. Unit 1104 in Turnberry Place, Building 1 is a traditional sale priced at $195/sf.
What Sold in December?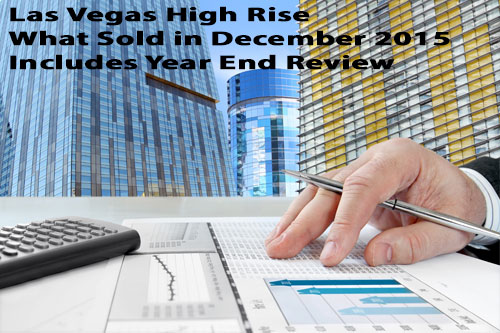 We sold 61 condos in our top buildings in December. Down from the 68 that sold in November and up from 40 sold in December 2013. Average condos sold per month the last year was 52.
Only one of the condos that sold in December was a short sale. Unit 901 at MGM Signature Tower 2 was listed for $239,888 and closed for $215K. Four of the condos that sold were foreclosures, three at MGM Signature and one at Palm's Place.
Two high rise condos sold for less than $200/sf. Unit 1406 in Turnberry Place Building 3 sold for $193/sf. This was a traditional sale with a cash buyer. Unit 912 at Allure was the lowest price at $185 per square foot. It was also a traditional sale with a cash buyer.
The top prices per square foot continue to be found at The Mandarin Oriental. Third place was unit 3405 at $951/sf. This one sold as an Owner Will Carry. Unit 4706 came in second at $1,050/sf. Top price paid per square foot was unit 4701. It closed at $1218/sf. Both of the latter units were purchased with cash.
Six high rise properties closed for more than $1 Million in December. Four were at The Mandarin. One was at Panorama Towers Building 1. ONE Queensridge Place rounded out the top 6 with unit 302. Four of the units came in above $2 Million, including the ONE Queensridge Place home. It closed at $2,025,000. The top three prices were all at Mandarin Oriental. Unit 4706 went for $4,118,100. Unit 4701 closed for $2.95M. Unit 3405 closed at $2.85M.
Las Vegas High Rise Market Trends
We've averaged 52 units sold per month this past year. At that rate, today's inventory would last 9.6 months. A slight improvement over the 10.6 month supply that was available last month. The condos that sold last month averaged 86 days on the market. Ten of the condos that closed had been listed more than six months.
The high rise building with the highest number of sales in December was Palms Place with 14 units sold. Most of the condos sold at Palms Place were developer units. The Ogden led the sales volume in November with 17 units. In December The Ogden only closed on four units. MGM Signature came in second this month with 8 units sold. Panorama Towers took third place with seven closings.
Summary of Las Vegas High Rise Market 2015
Over the past year we sold 623 condo homes in the top high rise buildings. Only 16 of those were short sales. Foreclosures dropped to only 17 of the condos sold. The current inventory would be gone in less than ten months if no new condos were listed. Cash was used in 73% of the high rise condos that sold.
Breakdown of 2015 Sales by Building
Each month, we publish which units sold at what price in each building. As we start the New Year, we thought it might be useful to look at total sales volume for each building. Below you will find a summary for the year of units sold in each building. You'll find the price range and price per square foot of the condos that sold. How many condos are currently listed for sale in each building.
The highest sales volume was seen at Palms Place. Investors snapped up 128 units, mostly from the developer. MGM Signature placed second with 74 units sold. Veer Towers had third highest sales volume with 70 condos sold. The 70 units sold at Veer Towers was impressive since the building isn't condotel.
Highest price per square foot was The Mandarin Oriental with a range of $4258 to $1234/sf. The most expensive condo sold was ONE Queensridge Place with the top floor penthouse that closed for $7.7M.
Allure:
18 condos SOLD priced from $180K to $635K or $181/sf to $259/sf
Current Listings in Building - 26 listings, priced from $175K to $429,900
Cosmopoliton:
3 Sold with Prices from $700K to $1.1M Price per SF - $1106/sf to $1182/sf
Current Listings - Only 1 listed at $849,888
ONE Queensridge Place:
32 SOLD prices ranged from $690K to $7.7M, Price Per SF from $298/SF to $553/SF
Currently Listings - 14 listings priced from $910K to $3.55M
The Mandarin Oriental:
38 SOLD priced from $670K to $5.4M, Price Per SF - $428/SF to $1234/SF
Current Listings - 16 priced from $708K to $3.5M
The Martin:
42 SOLD Price Range - $267,300 to $1.6M (top prices were for "shells" with no fixtures, etc.) or $248/SF to $489/SF
Current Listings - 32 priced from $275K to $3.5M
Metropolis:
6 SOLD, Price Range from $180K to $650K, $177/sf to $237/SF
8 Listings priced from $269K to $4,888,888
MGM Signature:
74 SOLD, Price Range - $124,500 to $430K, $239/SF to $490/sf
Current Listings - 42 condos priced from $169K to $435K
Newport Lofts:
8 SOLD, Price Range from $199K to $485K, $209/SF to $248/SF
15 Current LIstings, ranging from $205K to $499K
Palms Place:
128 units SOLD, Price Range - $147K to $1.26M, $200/SF to $618/SF
Current Listings - 60 units priced from $148K to $29M
Panorama Towers:
46 SOLD, price range from $198K to $1.85M, $193/SF to $719/SF
Current Listings - 42 priced from $199,888 to $2.495M
Park Towers:
5 SOLD, prices ranged from $685K to $3.4M, $315/SF to $693/SF
Current Listings - 13 priced from $969K to $4.9M
SKY Las Vegas:
15 SOLD, Price Range - $210K to $422,500, $235/SF to $320/SF
Current Listings - 18 priced from $196K to $1.8M
SOHO Lofts:
6 SOLD, Prices Ranged from $263,550 to $935K, $166/SF to $229/SF
Current Listings - 6 priced from $270K to $415K
The Ogden:
38 SOLD Prices Ranged from $200K to $649,900 or $231/SF to $323/SF
Current Listings - 13 priced from $241,900 to $669K
Trump:
28 Condos SOLD with prices ranging from $175K to $1.775M or $328/SF to $551/SF
55 Current Listings, priced from $189,888 to $3.7M
Turnberry Place:
36 SOLD with prices ranging from $265K to $1,999,900 or $166/SF to $487/SF
62 Current Listings, priced from $349K to $7.5M
Turnberry Towers:
22 Condos SOLD with prices ranging from $245K to $685K or $269/SF to $416/SF
25 Current Listings, priced from $269K to $890K
Vdara:
8 SOLD priced from $259,900 to $399,800 or $452/SF to $636/SF
17 Current Listings priced from $295K to $678,888
Veer Towers:
70 SOLD with prices ranging from $235K to $2M or $288/SF to $943/SF
42 Current Listings priced from $235K to $3.5M
High Rise Condos Sold in December 2015