Las Vegas Luxury High Rise Condos Sold in January 2016
Posted by Debbie Drummond on Wednesday, February 3, 2016 at 10:19 PM
By Debbie Drummond / February 3, 2016
Comment
Las Vegas Luxury High Rise Condos - What SOLD in January 2016
We're starting February with 529 condos available in Las Vegas top high rise buildings. That's up from last month's 500 and up from 480 a year ago.
The current options include ten short sales and six foreclosures. The lowest price for a short sale is a one bedroom condo at Panorama Towers. Unit 702 in Tower 2 is listed for $189,888. The most expensive short sale is unit 3303 at Turnberry Place Tower 2. This 4007 sf residence is listed at $1.35M. Bottom price for a foreclosure is unit 409 at Allure. The one bedroom condo is listed for $164,900. Most expensive foreclosure is unit 1204 at ONE Queensridge Place Tower 2. The 3100 sf residence is listed for $1.65M. It sold for $2.175M in 2007 when it was new. The Turnberry Place and ONE Queensridge Place distressed listings offer luxury at a discount.
Bargain hunters will find 12 options that are listed at less than $200/sf. Lowest price per square foot is unit 803 at Metropolis. This one is listed for $146/sf or $399,900. This one has been on the market 175 days. Original list price was $467K but it's lingered at the current price since mid-October. The second and third lowest prices per square foot are found at Allure. The lowest priced foreclosure, unit 409 is priced at $165/sf or $164,900. It's followed by unit 309 at $179/sf or $179K. That one is a traditional sale.
What SOLD in January 2016?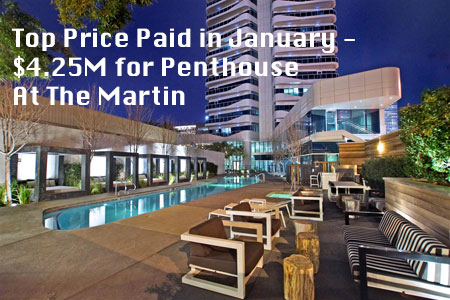 The number of high rise condos sold in January was only 35 units. Over the past year we've averaged 52 units sold per month in the top buildings. 35 units is disappointing after we closed 61 units in December. The drop is likely seasonal since we only sold 31 units in January 2015.
One of the condos sold in January was a short sale. Unit 3704 at SKY Las Vegas featured 2 bedrooms, 2 baths in 1100 sf. It was listed at $280K and closed for $260K.
Only one of the condos that sold in January was a foreclosure.Studio unit 1820 at Palms Place was listed for $164,900 and sold for $162,182.The condo was sold furnished.
Top prices per square foot in January were paid at Veer Towers. Two units topped the $500/sf price and one fetched $628/sf. Unit 3209 in Veer Towers East was listed for $465K and closed for $450K for the 716 sf one bedroom, one bath suite. Units 2905 and 2207 in Veer Towers West closed for $515/sf and $514/sf.
The most expensive condos sold last month include two residences that topped $2 Million.Unit 1201 at ONE Queensridge Place Bldg. 1.The 4792 sf residence was listed at $2.475M and closed for $2.36M.Top price was paid for the 12,940 sf penthouse shell on the top floor of The Martin.Listed for $4.5M it closed for $4.25M.Sold as a shell, it did include the plans for building out with 6 beds/6 baths/ 3 half baths plus a steam room.It has the potential to be an incredible residence for the lucky owners.
Las Vegas High Rise Market Trends
Today's listings would last ten months if no new condos came on the market. The high rise market still favors buyers. If the January slump continued, the current supply would take even longer to absorb.
Palms Place had the highest sales volume in January with nine condos sold. They were followed by 7 condos at Panorama Towers and 5 a MGM Signature. Bear in mind, these numbers are based on units that are sold through the Las Vegas MLS. It doesn't include many of the "developer" units which don't make it into the MLS. It is more useful in looking at what to expect if you are buying or selling a resale condo.
High Rise Condos Sold in January 2016
Search Las Vegas Homes For Sale