Las Vegas Luxury High Rise Condos Sold in October 2015
Posted by Debbie Drummond on Tuesday, November 3, 2015 at 6:00 PM
By Debbie Drummond / November 3, 2015
Comment
Las Vegas High Rise Condos For Sale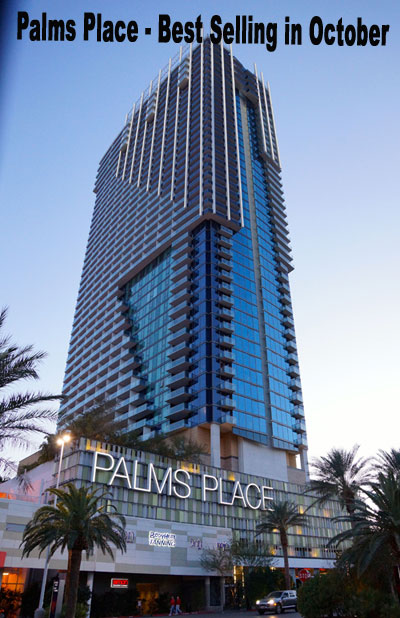 The Las Vegas high rise market offers 545 luxury condos for today's buyers. Up from 530 last month and 495 the month before. The jump in inventory is stunning when compared with November 2014. Last year we only had 433 condos listed for sale in our luxury high rise buildings. Why the drastic jump over last year? Much of this is due to developer units at a few of the towers that were shadow inventory last year. They didn't show up in the MLS until this year when the developers started marketing them again.
We have five short sales included in the current high rise condos for sale. This includes a studio unit at Trump Tower for $200k. A one bedroom unit at Panorama Towers is also listed for $200K. Of course, with a short sale it depends on whether the bank will accept the list price.
We have ten foreclosures listed in the high rise market. Lowest priced high rise foreclosure is unit 2319 at Palms Place. This started at $199K. Price has dropped to $155K but it is still available. We have three foreclosures at both SKY Las Vegas and MGM Signature. Panorama Towers, Metropolis and Allure round out the list of foreclosures with one unit listed in each building.
Las Vegas Best High Rise Deals
There are six bargains in the high rise buildings. Lowest price per square foot is unit 803 at Metropolis. This is a foreclosure and list price is only $146/sf. Granted, it could use a little fresh paint and new carpet but that's an incredible price for high rise. The remaining bargains include four units at Allure priced at $180-$190/sf. Unit 601 at Metropolis is priced at $197/sf. This one is a remodeled unit with wood floors and views of the Wynn Golf Course.
Las Vegas Luxury High Rise Condos
We have 16 high rise options that are priced at $1000/sf or higher. Seven of the luxurious penthouse suites are at The Mandarin. Other options include suites at Trump and a one bedroom suite at the Cosmopolitan.
The newest listing in this elite category is a penthouse at Turnberry Place. Unit 2801 in Building 3 shows 31 Days on the Market. The residence offers 3 bedrooms, 4 baths in 5609 sf. The decor is old world grandeur with 18k gold paint, marble floors and $4 Million in upgrades. List price is $5,888,800.
What Sold in October?
We sold 49 high rise condos in October. Compared to the number of condos we have listed for sale, this seems small. It is an improvement over the 41 sold in September. It's lower than the 55 sold in October 2014.
One of the condos sold in October was a short sale. Unit 53303 at Palms Place was listed for $170k and sold for $158K. Three of the condos that sold in October were foreclosures. Lowest price for a foreclosure was unit 3104 at MGM Signature's Tower 3. List price $174,900. Sold for $170K or $327/sf.
Lowest price per square foot for a foreclosure was unit 806 at SOHO Lofts. List price and sold price of $279,900. Closing price was only $176/sf.
One of the units at ONE Queensridge Place rounded out the three foreclosures sold in October. Unit 1503 in Bldg 1 was listed for $2.85M. It closed for $2.83M after 47 days on the market. Closing price was $553/sf., pretty nice for a foreclosure. ONE Queensridge Place rivals The Mandarin for most expensive condos sold this year.
Las Vegas High Rise Market Trends
Over the past year we have sold 49 units/month on average in the buildings we track for this report. The 545 units listed for sale would last over 11 months if we continued at the same rate of sales. The Las Vegas high rise market is an area that still favors buyers until we see the inventory decline.
One of the surprises when preparing this month's update was Allure. Sales activity in the building has been slow this past year. Surprising since SLS has opened and MGM launched their Rock in Rio Las Vegas Festival. Allure has boasted several of the under $200/sf deals the past few months. The four condos that sold in October were sold between $219/sf and $258/sf. The bargains are still sitting there.
Palms Place had the highest sales activity with 13 units closing in October. MGM Signature and Veer Towers tied with 7 units that sold in each community.
Las Vegas Luxury High Rise Condos Sold in October 2015