Las Vegas Luxury High Rise Condos Sold in September 2015
Posted by Debbie Drummond on Wednesday, October 7, 2015 at 5:50 PM
By Debbie Drummond / October 7, 2015
Comment
Las Vegas High Rise Condos For Sale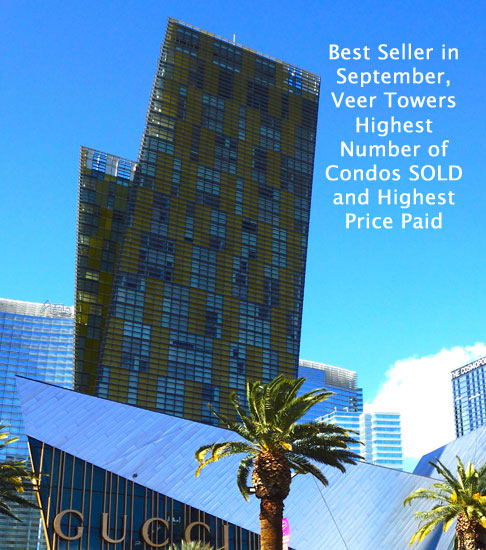 Today's high rise buyers have 530 choices in the top Las Vegas High Rise communities. Up from last month's selection of 495 units. That also signals the end of a four month pattern of declining inventory in our high rise market. It's a noticeable increase over October 2014. At that time we found 425 luxury high rise condos listed for sale.
Some of this is due to Palm's Place and Veer Towers' developer units coming on the market. The units were there last year but not yet listed. A shadow inventory of sorts in the high rise market. We have 59 condos listed in Palms Palce. Veer Towers offers 58 units for sale.
Six of the current high rise listings are short sales and six of them are foreclosures. Lowest price for a foreclosed high rise property is $155K for unit 2319 at Palms Place. With 244 days on the market, the one must not be such a bargain. Most expensive foreclosure is unit 803 at Metropolis. The 2732 sf 2 story loft is listed for $429,900.
Where can you find High Rise Bargains?
Allure continues to offer five condos priced under $200/sf. The Allure bargains range from $180/sf to $192/sf. The low priced units at Allure are on lower floors. Unit 1011 offers the best value for a higher floor at $192/sf. The foreclosed unit 803 at Metropolis is an incredible $157/sf. That's the lowest price per square foot in our top high rise buildings. While the price may be low, it has been on the market 56 days.
Las Vegas Luxury High Rise Condos
There are 17 penthouse suites listed for more than $1000/sf. Top list price is Penthouse 59301 at Palms Place, known as "The "Founder's Penthouse". It offers private elevator access and a possible helipad. The 6230 sf of interior living space comes fully furnished. List price is $4655/sf or $29Mil.
The Mandarin has the highest number of condos listed above $1000/sf. Eight of the 17 most expensive condos for sale are in the Mandarin. Highest price is 4706. The top floor penthouse offers incredible views and is sold fully furnished. List price is $1517/sf.
Luxury High Rise Condos Sold in September
We sold 41 high rise condos in September. Slight improvement over the 39 sold thru the Las Vegas MLS in August. Only one of the condos sold in September was a short sale. No foreclosures were sold last month.
Which Buildings are Selling the Most?
Winning building for activity in September was a tie. Panorama Towers and Veer Towers each sold seven properties. They were trailed by Palms Place with five condos sold and ONE Queensridge Place with 4. The full list of condos that have sold each month is posted following this article.
Las Vegas High Rise Trends
Sold for Less than $200/SF. There's only one condo in this category for September. Unit 808 at Allure offered 3 bedrooms, 2 baths in 1828 sf of living space. List price $330K, sold for $310k or $170/sf. It closed escrow on 9/15 after 262 days on the market.
Top Luxury Condos Sold
Highest Price per Square Foot - We sold seven high rise condos for more than $500/sf. Six of those were at Veer Towers and one at The Mandarin Oriental. Top price in September was Veer Towers West, unit 2101. This unique property sold furnished. It included art work by renowned photographer Peter Lik. This previously unsold residence closed for $2M. The seller contributed $300K.
Highest closing prices - Only two of the condos that sold in September closed above $1 Million. Top price was unit 2101 at The Mandarin. Listed for $2.3M it sold for $2M. ONE Queensridge Place made the top price list with unit 1103 in Building 1. Listed for $1,329,000 it sold for $1.3M with only 15 days on the market.
Average Days on the Market for High Rise Condos
The condos that sold last month averaged 94 days on the market. Unit 3406 at Turnberry Place, Tower 4 was on the market 341 days before it sold. Original List Price was $750K. Price reductions brought it to $525K before it closed for $515K. Only 17 of the units that sold went into contract in 30 days or less. Nine of the fast sellers were traditional resale units. 8 were developer units. In traditional real estate, 50% of the Las Vegas homes that are selling go into contract in 30 days or less. The longer time on market for the high rise condos is a reflection of the lack of demand in the high rise sector.
Financing
Cash was used in 24 (58.5%) of last month's 41 deals. Fifteen (36.6%) were bought with conventional mortgages. Two were purchased with alternative financing. The increase in conventional financing is a good sign for this segment of Las Vegas Real Estate.
Las Vegas Luxury High Rise Condos SOLD in September 2015