Las Vegas Luxury Homes - Defining Luxury
Posted by Debbie Drummond on Saturday, March 30, 2013 at 3:00 AM
By Debbie Drummond / March 30, 2013
Comment

Las Vegas Luxury Homes come in all styles and sizes. As someone who works in the "luxury" home market, we do run into the question of "what is a luxury home" on occasion. A a few months ago, a client who was referred to me by an out of State Realtor, asked "do you work with homes that aren't luxury?"
I assured her that we do but in hindsight, I like to think that every home we sell is a luxury home. Typically luxury homes are considered to be the most expensive homes in the market. (Top 10% of the price ranges in general.) And, yes, we do work with those multi-million dollar estates. At the same time, I believe the old saying of beauty is in the eye of the beholder.
One person's Las Vegas luxury home may require a Strip view. Another person's may require total privacy in the backyard with a beautifully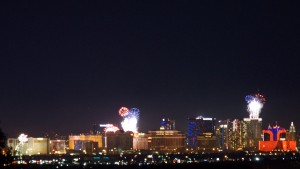 landscaped garden. Someone else may want to see the sun rise on the TPC Summerlin golf course.
I've had clients who adored the ultra contemporary homes we find in the Ridges. Others consider them sterile and prefer something more traditional like the homes in Queensridge, Spanish Trails, Seven Hills, etc.
One of the best views we've ever found was for one of our clients who was stationed at Nellis AFB. The home was a tri-level foreclosure that was in especially good shape. The carpet, appliances seemed almost new which is rare for a foreclosure. The thing our client loved best about the home was the location. It was just North of the 215 Beltway and elevated so that he had incredible Strip views.
The night views from his $145,000 home could easily rival those of the $5 Million homes in the Ridges or MacDonald Highlands. Yes, it was close to the freeway, but the sound wall insulates it from too much traffic noise. That was in 2009. In today's market, this home would be more expensive but, still a bargain for a view that many owners of a Las Vegas "luxury" home would envy. As my partner described the home, it was a "$145K home with a million dollar view".
Ultimately, we feel that a true luxury home is the home where you feel comfortable. It's the home that allows you to invite your family and friends over to enjoy watching the game or throwing something on the grill or ordering a pizza. It's the place you look forward to coming home to after a vacation. A Las Vegas luxury home can be several million or it can be a small tri-level with a great view. It's the home that suits your taste and budget.