Las Vegas Neighborhoods: Las Vegas, NV Neighborhoods and Districts Guide
Posted by Debbie Drummond on Thursday, April 1, 2021 at 10:43 AM
By Debbie Drummond / April 1, 2021
Comment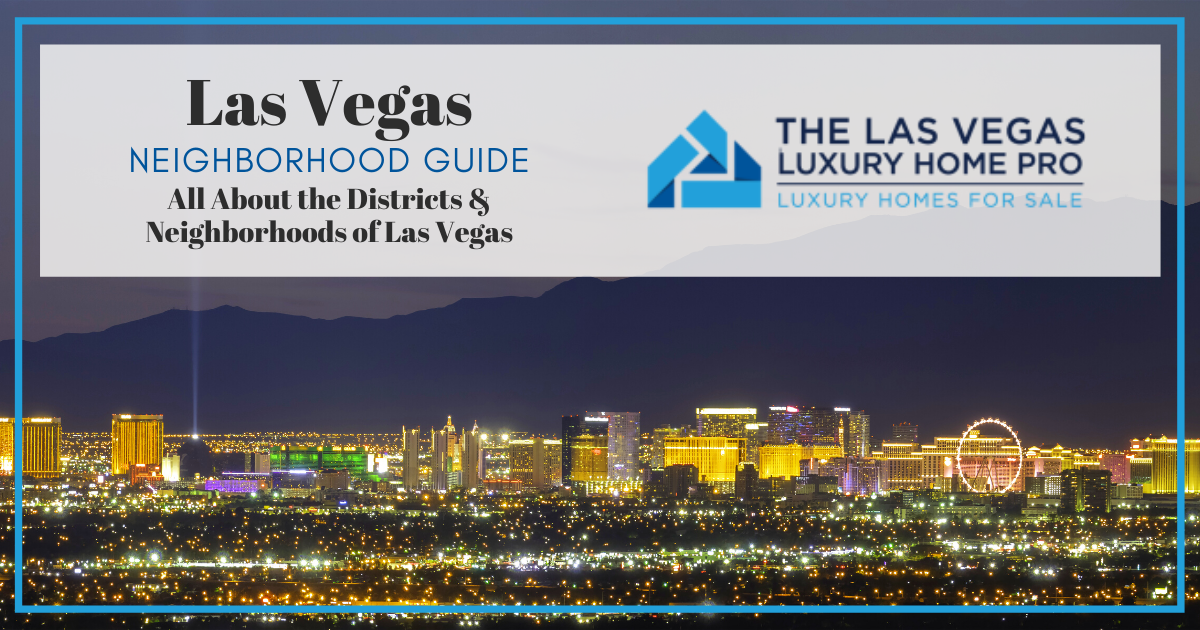 Las Vegas is Nevada's largest city, with a population of 651,319 residents and a greater metro area of 2,227,053. The city is the anchor of the Las Vegas Valley and is known around the world for its casino gambling, entertainment, shopping, and fine dining, making it a top tourist destination.
But there is more to Las Vegas than downtown and The Strip. New residents are drawn to acclaimed restaurants, a multitude of outdoor activities, mild winters, and a growing arts and culture scene. Combined with all the entertainment Las Vegas has to offer, these amenities have increasingly attracted new residents to the great neighborhoods of Las Vegas, as well as the residential districts of its nearby suburbs.
Want to know more about areas in Las Vegas you could call home? Here's a guide to Las Vegas' districts and neighborhoods.
Table of Contents
Sections of Las Vegas
The Las Vegas Valley is home not only to Nevada's largest urban area—the Las Vegas metro —but also to other Clark County communities. In addition to three incorporated cities, there are 11 unincorporated communities in the Valley, all governed by the county.
Dotting the Las Vegas Valley are a number of master-planned communities, including Summerlin, the Valley's largest. These communities offer a suburban lifestyle, with a broad number of amenities and conveniences for residents such as recreational opportunities like golf courses, jogging and hiking trails, and man-made lakes, right in their own neighborhoods.
Las Vegas
The Las Vegas area is known primarily for downtown Las Vegas and The Strip districts. But the city also has a growing Arts District.
In addition to the neighborhoods in Las Vegas, there are a number of nearby suburbs with thriving neighborhoods all their own. Perhaps the most well-known of these is Henderson, Nevada's second-largest city.
The City of Las Vegas was founded in 1905 with the auctioning off of 110 acres that would become the downtown area. In 1911, it was incorporated as a city.
In 1931, the state of Nevada legalized casino gambling at the same time that construction of the Hoover Dam got underway, bringing throngs of construction workers and their families to the region. The combination of those two events helped the city survive The Great Depression.
For residents of the city, there is more to life in Las Vegas than casinos and night shows. Downtown Las Vegas has some of the region's best dining opportunities, and the city is also known by residents and tourists alike for its many shopping options. The city's natural beauty is another draw, with destinations like Lake Mead National Recreation Area and Red Rock Canyon.
Las Vegas Neighborhoods
Las Vegas is divided into many individual neighborhoods, but the following are six of the most prominent, including one of the area's newest master communities, Aliante. Built on just 1,905 acres in North Las Vegas, the plan is for the Aliante neighborhood to accommodate 7,000 homes and 20,000 residents when finished.
Queensridge is a popular luxury neighborhood, located near the Summerlin community. The Estates at Southern Highlands is an exclusive, gated community, part of the larger neighborhood of Southern Highlands. Built around a golf course, ongoing development is to ensure the community includes everything needed in a high-end residential community.
The Spanish Hills neighborhood was developed in the 1980s and 1990s. It features large lots, a golf course and country club, community swimming pools and spas, and a fitness center.
The rise of master communities in the City of Las Vegas has offered residents the opportunity to enjoy suburban living with a full slate of amenities, while still being close to the glitz and glam of Las Vegas.
List of Las Vegas Neighborhoods
Aliante
Estates at Southern Highland
Queensridge
Spanish Hills
Henderson
Henderson Zip Codes
89002
89009
89011
89012
89014
89015
89016
89044
89052
89053
89074
89077
Henderson is a community with about 320,189 residents, making it the second-largest city in Nevada. It is located in the southeastern portion of the Las Vegas Valley.
Henderson got its start in the 1940s as a mostly industrial development, first with a magnesium plant during WWII and later as the site of a rocket fuel factory. It has since transformed into a commercial and residential development and remains so today. The city was incorporated in 1953.
Residents of Henderson find its award-winning, master-planned communities appealing. As a result, Henderson has seen an increasing number of shopping centers, music venues, restaurants, casino resorts, and movie theater complexes developed in recent years. The city is also home to the state's largest recreational facility and its only scenic bird preserve.
The community offers scenic beauty with its borders at two national parks, Sloan Canyon and Lake Mead, opening the area to a multitude of recreational pursuits.
Henderson Neighborhoods
Henderson is home to a number of planned master communities. Anthem is one of Henderson's more popular neighborhoods, as well as one of its largest. It is known as an upscale community, with about 22,790 residents calling the Anthem neighborhood home.
Lake Las Vegas is named for the 320-acre artificial lake serving as the focal point of a 3,592-acre development that makes up the neighborhood. Because of its vacation-like setting, the neighborhood is sometimes referred to as Lake Las Vegas Resort.
MacDonald Highlands is another popular neighborhood in the Las Vegas Valley. This neighborhood lays claim to being one of the highest points in the valley. The gated community of luxury homes is separated from the rest of the community of Henderson by the DragonRidge Country Club.
Henderson is a community known for its outstanding master-planned neighborhoods, but residents also appreciate the city's outstanding trails system, outdoor activity opportunities, and proximity to the city of Las Vegas. Known for its high quality of life, Henderson has also focused on building a progressive business climate.
List of Henderson Neighborhoods
Anthem
Lake Las Vegas
MacDonald Highlands
Summerlin
Summerlin Zip Codes
89128
89134
89135
89138
89144
This master-planned community is spread out across about 22,500 acres in the Las Vegas Valley. Part of Summerlin lies within the Las Vegas city limits, and part of it lies within unincorporated Clark County. The community has a population of around 100,000 residents.
Summerlin has a unique history. It traces its roots to 1952, when casino mogul, film director, and aviator Howard Hughes bought 25,000 acres in southern Nevada with the intention of relocating his company there. However, the relocation never happened, and Hughes passed away in 1976. In 1988, the corporation formed by Hughes' heirs to oversee his vast empire announced it would be developing the land that would become Summerlin.
Between 1997 and 2007, Summerlin was number one in the nation for new home sales. The community is made up of over two dozen commercial and residential villages, with thousands of acres still available for future development.
Summerlin is known as a bicycle-friendly city, with bike lanes bordering most of the community's streets. There are about 230 parks of all sizes in Summerlin, with amenities ranging from playgrounds and athletic fields to walking trails and water features. Several of the parks have community centers, which host camps, classes, and community events.
The community also features nine golf courses and a thriving retail and entertainment district.
Summerlin Neighborhoods
The community of Summerlin is divided into three distinct associations: North, South, and West. These associations are charged with overseeing about two dozen commercial and residential villages.
Bellacere is a gated community of luxury homes in Summerlin. It is known for its tree-lined streets and landscaped walking path that passes through the development's center. The neighborhood includes its own tennis court and is near TPC Las Vegas and the Badlands Golf Club.
Canyon Fairways is another gated community in Summerlin. Its custom estate homes are known for their treed lots. Neighborhood residents enjoy a park, lighted tennis courts, and a half-court basketball court. It is surrounded by three golf courses: TPC Las Vegas, Angel Park Golf Club, and Tournament Players Club Summerlin.
Summerlin residents also enjoy the community's shopping, dining, and entertainment district in its downtown, which is home to over 125 shops, restaurants, and bars. Downtown is also home to the Las Vegas Ballpark, home of the area's minor league team, and the City National Arena, the practice facility for the Vegas Golden Knights.
List of Summerlin Neighborhoods
Bellacere
Canyon Fairways
Discover Neighborhoods in Las Vegas Today
Although the entire valley is often referred to as Las Vegas, the valley actually includes the cities of Las Vegas, North Las Vegas, and Henderson, as well as a number of unincorporated communities in Clark County.
The Las Vegas Valley has experienced brisk growth since the 1990s, tripling the area's population. Residents of the Valley enjoy a number of outdoor activities year-round, thanks to the area's mild winters. Many of the valley's communities feature their own prospering business and entertainment districts. At the same time, residents of these communities have ready access to downtown Las Vegas and The Strip, with all of its world-class restaurants, entertainment, and luxury casino resorts.
If you're not sure which Las Vegas neighborhood might be the best fit for you, contact Debbie Drummond at Simply Vegas Real Estate with The Las Vegas Luxury Home Pro at (702) 354-6900 to get more information and discover your Las Vegas dream home today.