Las Vegas Parks - Valley of Fire
Posted by Debbie Drummond on Thursday, February 23, 2012 at 3:25 AM
By Debbie Drummond / February 23, 2012
Comment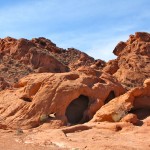 Las Vegas parks range from the smaller little grassy areas positioned throughout master-planned communities to larger State and Federal parks where one can go hiking, camping and exploring our desert. One of the most colorful is also the oldest and largest State Park in Nevada.
The Valley of Fire State Park is only an hour from Las Vegas, located just East of the 15 Freeway on the way to the Lake Mead National Forest at Overton, NV. Even for those who aren't into outdoor activities like hiking and camping, this park is worth the drive just for the scenery.
The park gets its name from the red sandstone formations and shifting sand dunes that developed during the age of dinosaurs 150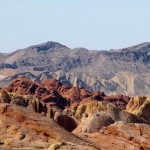 million years ago. Although, the red sandstones are the predominant formation, there are limestone and shales. The park is open year round and along with hiking trails, camping and picnic areas are scattered throughout the park. RV camping is also available with full hook-ups.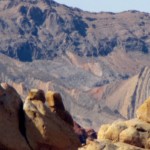 Best time to visit this park is typically in the Spring and Fall, although we were there on a sunny, day in the mid-60's in February and found it had more green shrubs than we would expect at the end of summer. Pets are allowed in this park, but must be kept on a leash no more than six feet long.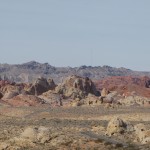 Our idea of a nice park getaway is to drive over in the morning so that you have time to go exploring the different areas and maybe do a little hike up to some of the rock formations and petroglyphs in time to work up an appetite for the picnic lunch we brought along. After a nice picnic, there's plenty of time to take another hike or to really make a day of exploring parks, instead of heading back to the freeway, drive through the park to start exploring the Lake Mead National Forest.
Another option is to drive towards the Lake Mead Forest, but head North to drive through Overton & Logandale on the way back to the freeway. Logandale is a charming, small little town where you can see that even in the desert we do have agriculture as you drive past cattle grazing and fields of crops.
One of the things we love about living in Vegas is how easy it is to find a nice park to go enjoy a hike or picnic with our dogs. The Valley of Fire is a favorite for us. We'll have to go back in April or early May when the desert cacti are in bloom.