Las Vegas Premium Outlets North
Posted by Debbie Drummond on Thursday, August 2, 2012 at 3:00 AM
By Debbie Drummond / August 2, 2012
Comment
Las Vegas Premium Outlets North is the newest of our Outlet/Discount shopping malls. Located on Grand Central Parkway, between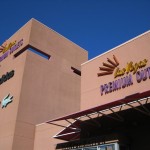 Charleston and Bonneville, it's easy to spot the center from the 15 Freeway.
The Simon Group which operates the mall has acquired the old Beltz Premium Outlet Center on the South Strip. They've recently given what is now known as Premium Outlets South a facelift with updated flooring and lighting, but we still prefer the stores and the outdoor environment of the Las Vegas Premium Outlets North. Even on the hottest day, you'll find lots of shoppers strolling through the mall, enjoying the over-head misters in between stops into the various stores.
The stores that you'll find here represent a wide array of styles, products and budgets. Casual attire ranges from Levi's Jeans to Nike and Addidas. Nicer attire includes stores like Brooks Brothers, Chicos, Kenneth Cole. For the higher end, there's Tory Burch, Dolce & Gabbana, St. John, and even Burberry. In one section of the mall, you'll find a great selection of handbag stores, ranging from Coach to Stuart Weitzman to Cole Haan and even Kate Spade.
A food court offers refreshments including Starbucks, Subway and Makina for Sushi. For those who have done well at the tables, there's even jewelry stores like Zales, Swarovski, TAG Huer and Ultra Diamonds to treat yourself to a reminder of the trip. And, if you get carried away with the shopping, you can always pick up new luggage for your finds at The Luggage Factory, Tumi or Samsonite.
While a good deal of the clientele at Las Vegas Premium Outlets North is tourist, we locals like it too. Follow them on Twitter and Facebook to keep up with special offers. The good news is they have recently announced an expansion that will be completed by 2015. The expansion will add 35 additional stores and an addition to the parking garage. Parking is the only negative we have encountered at this location. On busy days, we've learned to opt for valet rather than circling for a space.