Real Estate News: Las Vegas - July 2014
Posted by Debbie Drummond on Wednesday, July 9, 2014 at 12:40 AM
By Debbie Drummond / July 9, 2014
Comment
Recent Las Vegas Real Estate News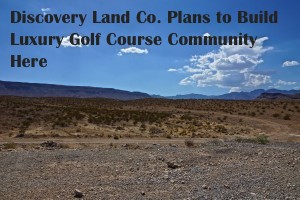 Discovery Land Company announced plans to build a Golf Course community South of the Ridges in Summerlin. The new community will feature homes on 1-3 acre lots, a private golf course and services equal to what you would find at a luxury resort. Ground breaking is scheduled for 2015 with the community slated to open in 2016. Prices and the name of the new community haven't been set. The Review Journal reports that lots will be starting at 7 figures. Everyone expects that this new community will be the "Ridges on Steroids". The 1-3 acre lot size will be an advantage. It's hard to top the views and stunning homes in the Ridges. We'll see if they can.
Summerlin builders are offering new subdivisions in the Paseos. Toll Brothers is quickly completing their Santaluz, all single story home community. The new Toll Bros Montecito subdivision will be an all single story community at the top of the Paseos. Woodside homes has started construction on their models just up the hill. They still have a few lots in their Andorra in the Paseos subdivision. Other builders who have started subdivisions at the top of the Paseos include KB Homes, Pulte and Ryland Homes.
Cadence, a New Master Planned Community in Henderson is beginning to take shape. Signs are now up on Lake Mead Pkwy at Mojave. Land prep has started. Builders are signing on. This development that will benefit the neighbors. Nearby Tuscany has long been one of our favorite affordable golf course communities. One drawback at Tuscany has been the lack of shopping, dining and entertainment nearby. The new homes being built at Cadence will help support new shops and restaurants that owners at Tuscany get to enjoy as well.
Las Vegas & Henderson Homes For Sale in July
We have 6889 single family homes available for sale in the MLS. Condos and town homes offer another 2351 options. Total homes for sale today is 9240. This is another month with a slight increase in homes for sale over the last month. In June we were at 9040. In May we had 8717 listings.
Short sales are involved in 1141 of today's listings. Only 484 of the current listings are foreclosures. Distress sales are down to only 17.6% of the current listings. That's .8% lower than last month's short sale and foreclosure inventory. Distressed listings are declining each month while traditional listings are increasing.
Homes Sold in June 2014
We sold 2675 single family homes through the MLS in June. Condos, town homes and high rise condos added another 600. Total homes sold through the MLS in June was 3275. The number of homes sold in June was up by 96 homes over the number sold in May.
Compared to a Year Ago - The number of homes sold in June, 2013 was higher with 3497 closings compared to 3275 closings in June 2014. It's a lower number than last year. Considering that prices are higher, it's still within a healthy range.
Median Price - The Median price for June was $199,900. Up 14.2% over June 2013's median of $175K and 2.5% over last month's $195K.
Short sales were involved in 356 of the homes that sold in June, a decline from previous months. Foreclosures made up 333 of the deals that closed in June. This is down from previous months. Traditional sales accounted for 79% of the homes sold in June.
Financing - 1138 of the homes sold in June were purchased with cash. That's a drop to 34.7% of the market, lowest number of cash deals we've seen since 2009. Conventional mortgages were used to purchase 1091 (33.3%) of the homes that sold. FHA, Homepath and VA mortgages were used to purchase 963 (29.5%) of the homes sold in June.
The increase in homes purchased with mortgages represents a market shift. We are seeing traditional move up and first time buyers coming back into the market as cash investors pull back.
SOLD in 30 days or Less
The best homes sell quick. In June, 1678 homes sold with less than 30 days on the market. That's 51.2% of the homes sold. 1109 (33.8%) of the homes that sold were on the market 15 days or less. Home buyers should get their pre-approval letter and act quick when they find a home they want in today's market.
If your home isn't getting offers after months on the market, you should read "Sell Your Home in 30 Days or Less".
How's The Las Vegas Housing Market?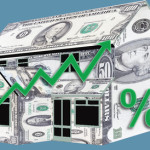 We now have 9240 homes listed for sale. We sold 3275 in June. That translates into 2.8 months of inventory if no new listings came on the market. It's up from a 1.5 month supply in July of last year. We're still in a seller's market and will be until we're closer to a six month supply of inventory. At today's rate of sales, that would require about 19,650 homes for sale. So, when you see all the homes that are listed for sale, don't assume you can drag your heels because there are "so many homes available".
Las Vegas Luxury Homes For Sale
We have 424 luxury homes and high rise condos listed at $1 Million or more. Last month, we sold 25 single family homes and 11 high rise condos that closed for $1 Million plus. Seven of those closed for $2 Million or more.
Top 3 Luxury Deals in June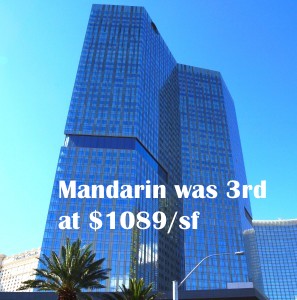 Most expensive closing in June was 6671 Tomiyasu Lane. This custom home in a historic area next to Sunset Park, was listed for $3.2 Million and sold for $3.227,400. This home was built in 2011 by Blue Heron Homes, one of our most popular custom home builders. It offered 4 bedrooms, 8 baths in 8480 sf of living space. It included a pool, spa and guest casita. The home was on the market 127 days when it sold on June 13, 2014.
9713 Winter Palace in Queensridge was the second most expensive closing in June. This 7645 sf home offered 4 bedrooms, 6 baths on .72 acres with golf course frontage. The home was listed for $3.425M when it sold for $3.119M after 78 days on the market.
Unit 4705 at The Mandarin Oriental took the third place for over-all price. The $1089/square foot was the highest price per square foot. This penthouse offered 2 bedrooms, 3 baths and a den in 2755 sf of high rise luxury. It was listed for $3.85M and sold for $3M on June 12th after 49 days on the market.
The Las Vegas Real Estate Market is a monthly update. It covers homes sold in Las Vegas and Henderson with latest news and market trends.